Have you ever dreamed of seeing India? Experiencing the wildlife, cultural history and cuisine are just a few of the reasons people are lured to India. For many, travelling through the subcontinent is the trip of a lifetime.
Recently, we started organising trips that give people an experience that they can only have by travelling with Wildlife SOS. The opportunity is only offered to our supporters, and is in our humble opinion the best way for animal lovers to experience India. Here are 5 reasons why we believe this is the best way to experience India and why we hope you'll join us on one of our Founders Trips.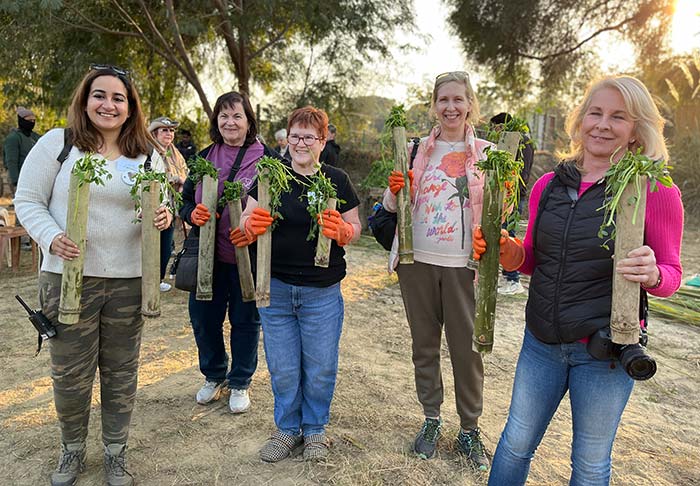 Only on the Founders Trip do you get an in depth behind the scenes tour of our bear and elephant rescue centres. You'll be able to see the facilities in a way few people have the chance to experience. This includes meeting many of our 'famous' team members and animals in person. Have you always dreamed of seeing first hand the elephants and bears getting the amazing care you've supported? On this trip you'll get to view procedures and speak with our vets about the animals you've followed over the years.
Meet like minded people who also care about helping India's elephants, bears and other wildlife. The group you travel with are people who care deeply about conserving wildlife and helping animals. For many who travel on this trip, they create lifelong friendships.
Have multiple opportunities to converse with Kartick and Geeta (the founders of Wildlife SOS) about their experiences that collectively span many decades saving India's wildlife. This is truly an opportunity that is priceless. Their knowledge about India's wild habitat is unparalleled by anybody and their stories of their work to save wildlife are captivating. You'll be able to connect with them at meals, safaris, our centres and travelling between adventures. You'll never have a dull moment.
From the minute you deboard the plane, you'll receive the VIP treatment. This includes staying at 5 star hotels with delicious food and relaxing spas. You'll be kept comfortable on a luxury coach with AC and Wifi. You'll take safaris in private jeeps. We take care of you so you can get the most of your India trip.
Spend time viewing wildlife with some of India's most well known wildlife conservationists. You'll know where to look for tigers and leopards by being guided by those who've done it for years. You'll also be able to identify many countless bird species that live or migrate through the rivers that are where we have our rescue centres. Our wildlife biologists are some of the best in the world and they will be able to share their knowledge with you.
We have dozens of more reasons why you should join our Founders Trip. If you'd like to know more about the upcoming trip in February of 2024, please write to Kip@wildlifesos.org
Learn More About The 2024 Founder's Trip
See travel plans, schedule and other details at travel.wildlifesos.org.
VISIT TRAVEL.WILDLIFESOS.ORG