Sweet, energetic and charming – Kamli is a very enchanting bear, but she wasn't always this way. She has had a painful past, just like most of the others at Agra Bear Rescue Facility. She was stolen as a cub from her mother, who was probably killed by poachers, to be sold into the barbaric 'Dancing Bears' tradition in the city of Varanasi in Uttar Pradesh. Kamli was 5 months old when she was rescued by Wildlife SOS, but she already suffered the brutality of being deprived of a natural diet, being beaten and tortured to make her fear humans, having her teeth smashed with a pestle and her muzzle pierced by a red hot iron poker!
This wonderful bear has now grown up to be a healthy and youthful bear, whom we are declaring as our Bear Of The Month for May 2022!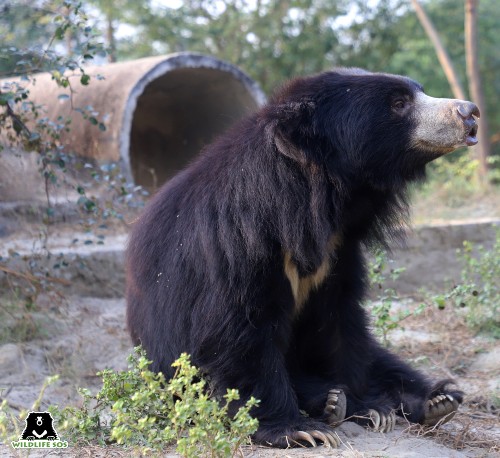 When she arrived at the center, her physical and emotional condition was deplorable; she had all her incisors and molars broken and was extremely thin with a poor appetite. The painful muzzle wound had been inflicted on her with no proper anesthesia or medical backing and the throbbing pain made it difficult for her to eat and rest peacefully. Our veterinary team had to put her on an intensive treatment course and gradually she started to regain her weight by eating nutritious, healthy meals and was cured of the parasitic infestation and mouth ulcers.
Aside from her physical injuries, Kamli also suffered from a great deal of stress and trauma due to the life that she had lived. The initial months following her rescue were quite challenging for her. Kamli was scared of her new surroundings and would continuously sway her head. This is a common behaviour displayed by animals that are under immense stress or kept in harsh captive conditions.
The bear care staff at Wildlife SOS worked extremely hard to gain the trust of this young bear and her caregivers, painstakingly made sure that Kamli's every need was met. Slowly, but surely Kamli came out of her shell and became more comfortable with her surroundings.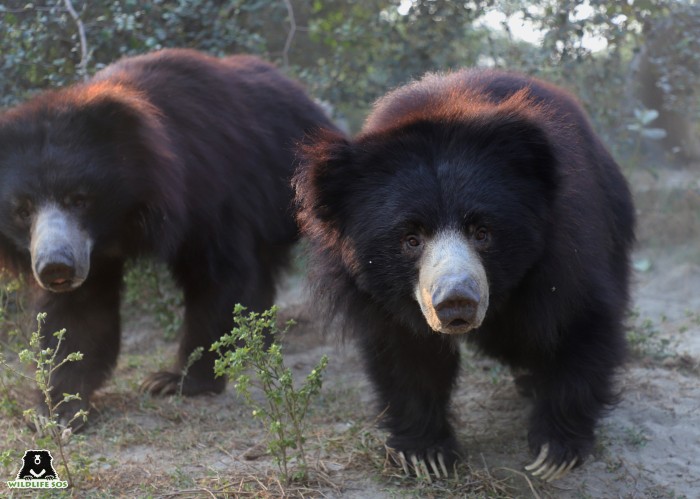 Now that Kamli is about 15 years old, she is under special geriatric care. Despite her advancing age, she has remained a very active and healthy bear. She is docile in nature and is very amicable towards the other bears that live in her enclosure. She seems to be especially fond of Suri, and the two can be seen mock-wrestling together quite often. The two also spend most of their day having their very own game of treasure hunt, looking for the various enrichments that are hidden in different corners of the enclosure for the bears to find. They express immense joy when they stumble upon one of these random gifts that have been strategically placed by the bear care staff.
Kamli seems to be especially smitten with rice puff balls filled with jaggery that are placed around her enclosure and concentrates hard to sniff these out. Her nose never betrays her and her trusty companion, Suri, is always right beside her on these quests. The only time that the two can be seen separate is during mealtime when they rush towards their own bowls of porridge and slurp up the delicious mix in record time! Kamli loves to snack and has been maintaining a healthy weight due to a diet rich in nutritious porridge and her favourite fruits like watermelon, muskmelon, sun melon, grapes, papayas etc!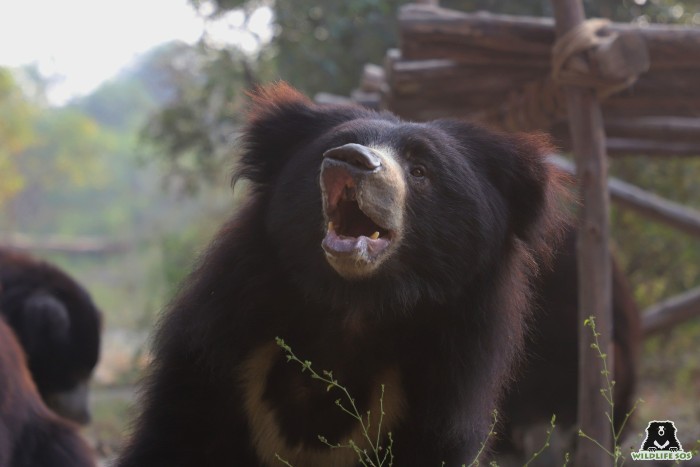 Kamli also enjoys various treats like coconut, honey, dates, jaggery, peanut etc in the form of food-based enrichments. In fact, it was precisely due to her love for honey that the veterinarians were able to ensure her cooperation during medical checkups! As the veterinary team regularly measures the weight of the bears, provides treatment and draws blood for analysis, it is important that they have the cooperation of the bear! In Kamli's case, her caregiver would be ready with a generous dollop of honey, which would make Kamli very amicable during treatments!
Besides her love for food, Kamli also spends a lot of time playing with structural enrichments in her field! Like most sloth bears, she is a talented climber and loves to cling and hang on to the structural enrichments as a form of play and exercise. Once she has had her fill of playtime, she can also be seen lounging about within her tunnel enrichment or lazily swinging on her hammock.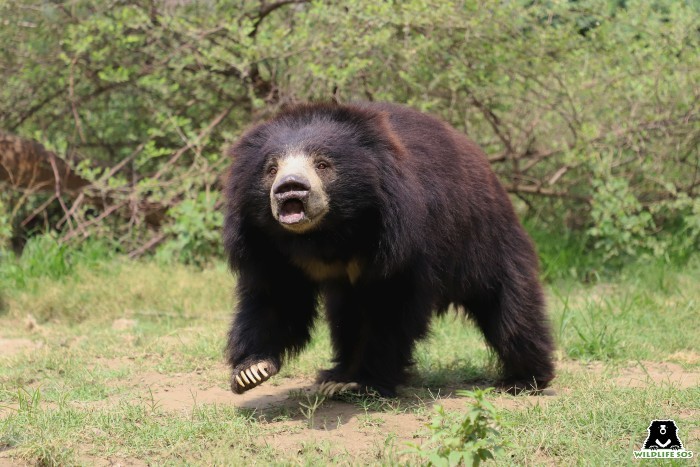 This resilient bear has come a long way from her traumatizing time as a dancing bear in 2007. It has been a great journey both for us and Kamli, from the place where all hope seemed to be lost to this little haven where Kamli and hundreds of other bears have found a home, free of fear and pain.
We thank everyone who supported us in our journey to end the practice of bear dancing in India, and for allowing us to provide a safe home to Kamli!
To support the care of our rescued sloth bears, you can donate to us here!