As the sun rises over the Agra Bear Rescue Facility, a distinctive sound is heard across the centre. The keepers know who it is, and merely say, "Oh there goes Kandi, again." The early riser makes his presence known the minute his eyes open and he's not the lazy type at all. Waking up to a bright morning, Kandi rushes out into his enclosure and stats playing with the double story enrichments.

Kandi has been under the care of Wildlife SOS for seven years now, and in this period, has blossomed into a healthy, happy bear who enjoys playing and hanging out under the open blue skies. Very much an outdoor bear , he is rarely spotted inside his den. In fact, Kandi is one of the few -bears that can be viewed frolicking outside in his enclosure even during light showers in the monsoon! He has a very peculiar habit of sticking his tongue out to catch the shining droplets; it's an adorable sight to watch! Looking at Kandi today, it is impossible to believe that his life was quite unrecognizable once.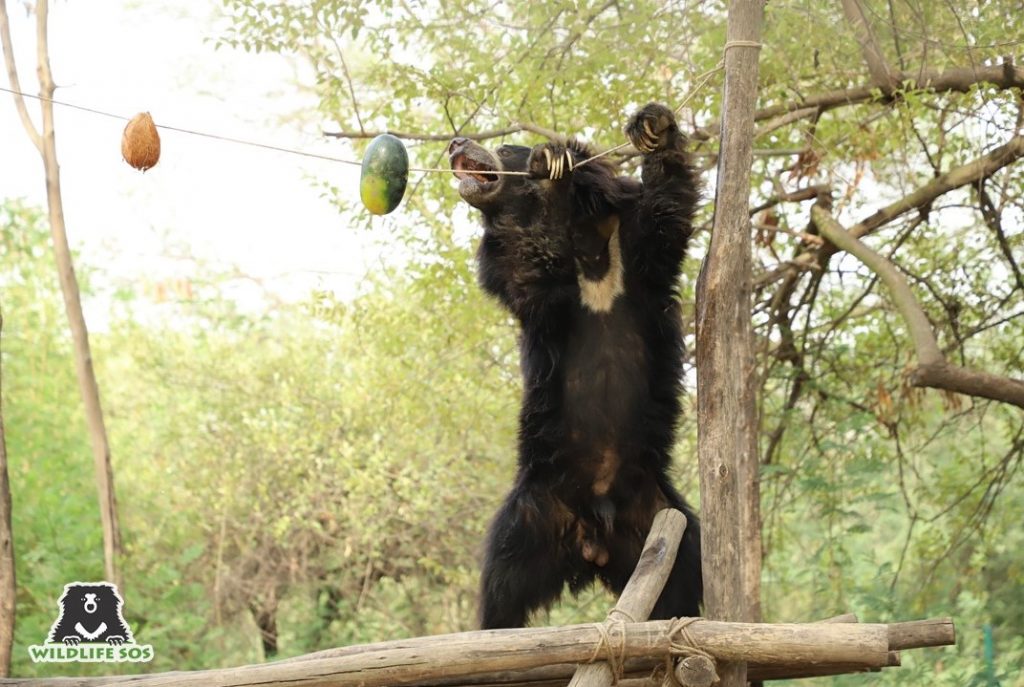 Kandi was born in the lush tropical deciduous forests bordering the state of Jharkhand, and would have spent his whole life there, had fate not sketched a different path for him. Like most sloth bears that are unfortunate to chance upon humans in their territory, Kandi was captured as a cub and sold into the 'Dancing Bear' practice where life changed drastically. His indoctrination into the trade was incredibly painful, and his scars when he was rescued are testimony to the agonized past he lived through. Poked with a hot rod iron and having a rough, coarse rope thrust through his delicate muzzle was only the beginning of his story.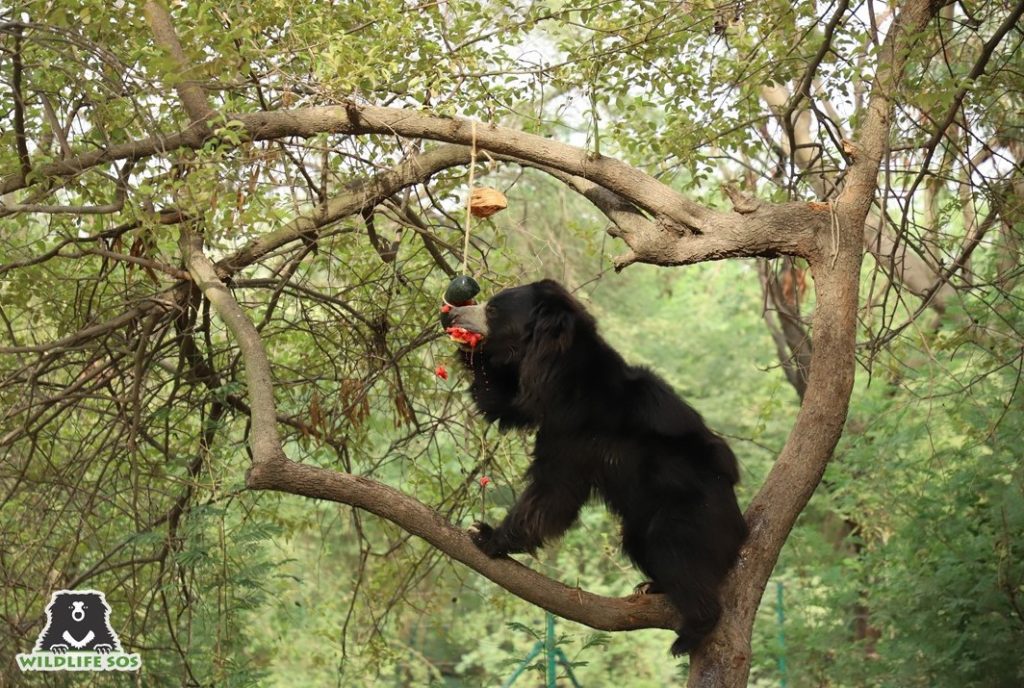 Fortunately for Kandi, he soon came under the radar of Wildlife SOS, and was rescued and brought to the Agra Bear Rescue Facility- His condition brought tears to his rescuers' eyes – the thin, bony frame, shaggy dull coat and open wounds on his muzzle had been witnessed many times before, but each new case was like a fresh wound, painful and cankerous. However, we weren't going to give up on him, and his journey of recuperation started the minute he stepped into our centre.
With dedicated care on behalf of his veterinarians and keepers Kandi's health started taking a turn for the better. His coat gained lustre, his wounds started healing and the stereotypy that resulted from years in the 'dancing bear' trade such as head bobbing and swaying gradually receded. With the best medical and emotional care available for Kandi, he soon realised that here he wasn't going to be harmed and began trusting his keepers.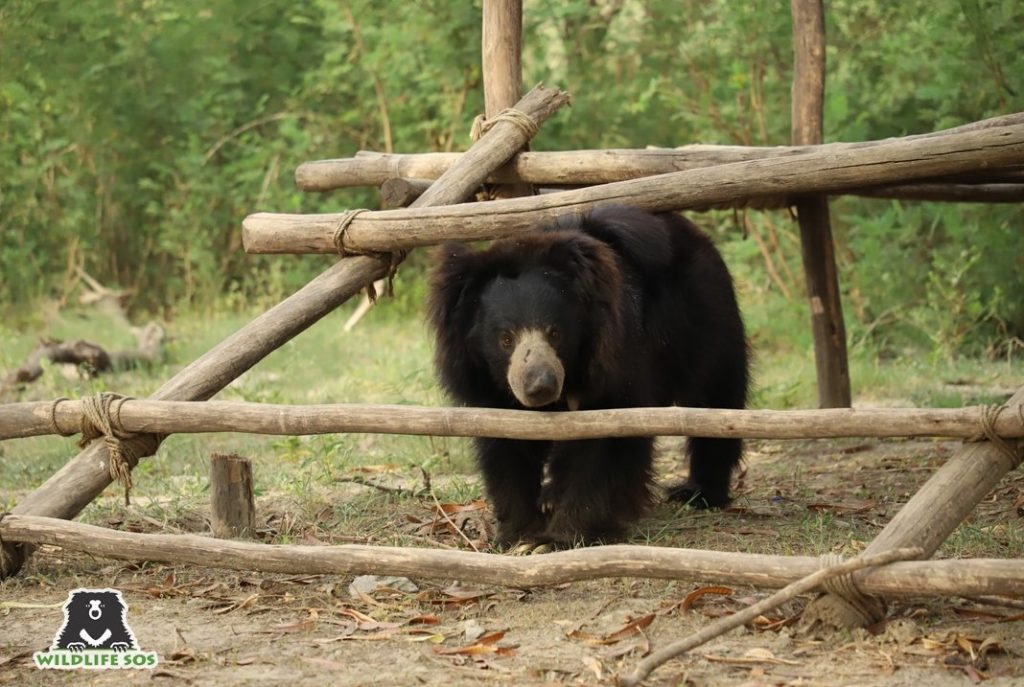 Seven years later, the playful bear has developed a very different personality. Kandi loves spending time scaling the structural enrichments installed in his enclosure. These bamboo platforms are covered with honey by his keeper and Kandi can be seen licking them from head to toe, ensuring that not even a single drop is left out! Honey is a very integral part of his diet; a generous helping laces the milky porridge served to him every morning. Of course, where there's Kandi, you'll always find coconut shells. The bear is absolutely nutty for coconut. He has quite a hearty appetite and has been known to consume as much as 3 kilograms of food in a day! Grams and dates form a great treat for Kandi, and he's sure to try to steal some when his keeper swings by!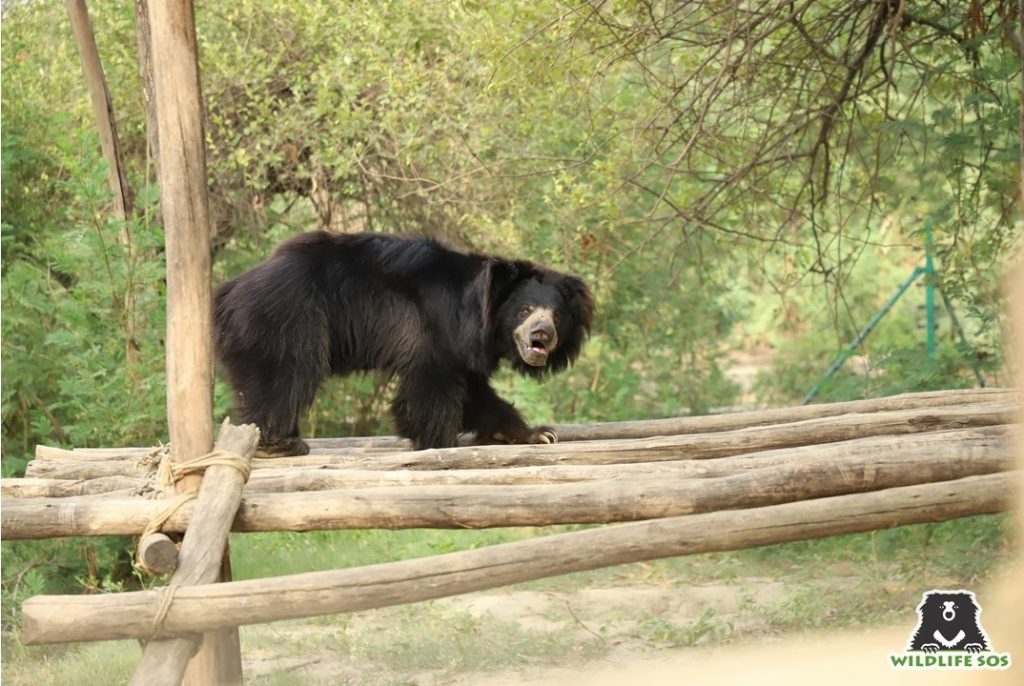 As the planet struggles in the vice-like grip of Covid-19, every keeper in the centre is constantly on their toes. They employ essential practices including using protective gear and other precautionary measures to ensure safety. Routines around the centres have been drastically changed to add extra levels of protection, and the keepers are constantly on the alert for unusual signs exhibited by the animals under their care.