Harsh. Sweltering. Unforgiving. Scorching. These are just a few of the many words being used to describe the heatwaves that have blanketed India in the last two months. The average temperatures, especially in the Northern parts of the country, have reached a shocking 50 degree Celsius! We've found solutions to beat the summer heat for ourselves by using refreshing coolers or air-conditioned homes. But what does this ghastly heat mean for the birds around us? Unprecedented and prolonged temperature changes have indeed taken a toll on urban wildlife, especially the avifauna.
How Do Birds Keep Up with the Heat?
Birds can biologically adapt to weather conditions. Being warm-blooded, they are able to maintain their body temperature in accordance with the surrounding environment. Birds have their own unique ways to cool themselves in the summer heat:
Gular fluttering by nocturnal birds like owls involves rapid, open-mouth breathing and vibrations through the gular (throat membrane). This helps bring down body temperature through a cooling evaporation, in the same way as sweating helps humans lose heat.
Special feathers on the belly of a sandgrouse allows the bird to soak up water and store it for later use.
Defecating on their feet and allowing it to evaporate helps vultures keep themselves cool and clean.
Standing on one foot not only conserves the bird's energy, but also allows lesser exposure to heat.
Water bath is taken by most birds in water bodies like lakes, rivers, streams, and even puddles. This helps them to dissipate body heat and cool off.
Flying at great heights allows raptors to stay for long periods of time at levels where the air temperature is cooler.
Migration is a way millions of birds move to suitable habitats where environmental conditions are apt for feeding and breeding.
Adults shade their chicks to protect them from direct and excessive heat.
Dust baths in cool dust helps birds in summers. It is also a practice that helps them maintain their feathers, and frees them from lice or grease.
Birds limit their activities during the day when the sun is at its peak, which is why they are particularly active during early morning and evening hours.
Seeking shade in trees or bushes with cooler microclimatic conditions provides respite to the birds from heat.
Puffing out feathers aids birds to circulate air through their entire bodies.
Fluttering wings is similar to fanning, and allows cool air to reach the warm body parts of birds.
However, when temperatures in the summer season are unusually high, avian populations too require instant assistance.
Bird Rescues by Wildlife SOS
Wildlife SOS is frequently contacted about birds in distress – from owls and raptors to fowls and aquatic birds. As the summer season announces itself, the Rapid Response Unit gears up for rescues from human-dominated landscapes. Our team safely rescued a total of 165 birds in the month of April and over 100 birds in May. Birds experience dehydration, exhaustion, and even heat stroke due to lack of shade and feeding sources. Our team often finds these birds collapsed, lying unconscious on the ground.
Raptors like the Black Kite have a tendency to soar at high altitudes (reaching even up to 500 metres above sea level!) This makes them more vulnerable to the impact of the scorching sun. Often, when they descend in search of prey and water sources, they are found lying motionless due to heatstroke. Fledglings and nestlings also fall victim to the harsh summer and being young, are found in critical conditions.
The first and foremost task of our team is to offer these birds some clean drinking water which helps them hydrate. Soon after, these birds are taken to our transit facility, where they are kept under medical observation for a few hours (depending upon their condition). Once deemed fit, our team members carefully release the birds, ready to take over the sky yet again.
How You Can Help Birds This Summer
High temperatures this summer can adversely impact birds, and each of us can help the winged ones survive the heat too. We can make the best use of our balconies, window sills, gardens, and residential complexes in many simple ways:
Bowl of water: You can put out fresh drinking water in earthen bowls or vessels. Birds don't stop by only to drink it, but may also enjoy a little bird bath in the bowl! Don't forget to replenish the bowl with clean water every day.
DIY Birdhouses: You can install easy-to-make bird houses using items like coconuts and cardboard boxes. By using materials easily available at home, you can create an environment-friendly shelter for them! Don't forget to carve out a hole for the bird to enter and exit the birdhouse with ease!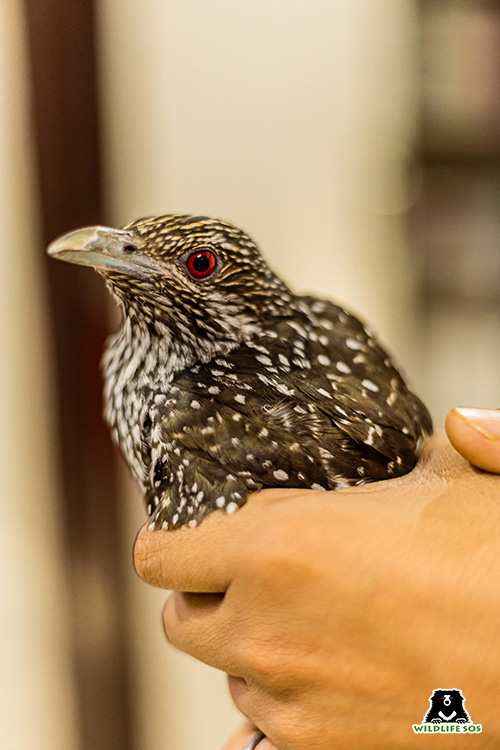 Bird Feeders: Along with water, a hanging bird feeder in your balconies or gardens is sure enough to invite birds to your backyard. To build one at home, you can reuse plastic bottles, glass jars, milk jugs, cutlery items, or even wine bottles! Seeds and grains work best for the birds. Fallen or cut fruit can also be kept in the bird feeder!
Plant Trees: Plant trees or saplings native to your area, which provide shelter and feed to the birds. Fruit and flowering trees, like Kadam, Jamun, Ashok, Neem, and Curry, are among the native plants that one can grow in India. You may even grow vines and climbers at your residence.
Share and Care: It helps to create an awareness of how summers can impact birds and how we can help them beat the heat.
Rescue And Rehabilitation of Distressed Birds
In case you come across birds lying unconscious on the ground, stuck on a tree, or a nestling fallen from its nest, try not to interact with the bird directly. If the bird is found on a busy road or in areas that are subject to potential danger, you may carefully relocate the bird, but keep in mind that you do not interfere with their natural behaviour. It is advised not to feed or handle the bird with bare hands, as it could cause serious infection and prove to be detrimental for the bird. Observe the bird for a few minutes to understand its health condition and if you find it in distress, immediately contact a local rescue and rehabilitation organisation.
Wildlife SOS runs a 24×7 helpline that provides aid to animals in distress. If you are based in either of the following cities, please contact us:
Delhi NCR – +91-9871963535
Agra & Mathura in Uttar Pradesh – +91-9917109666
Vadodara, Gujarat – +91-9825011117
Jammu & Kashmir – +91 7006692300, +91 9419778280