We are organising our first Ele Earth Walk for Elephant Appreciation Day! We've wanted to have an event that anybody could participate in and wouldn't be limited by geography. This is why we decided to do this as a virtual event where everyone can share their experiences and find motivation from other like-minded elephant lovers.
We wanted to do something that was both fun and could unite our supporters around a single cause. We've noticed that it doesn't matter where people live, whether they live in a heavily populated city like Tokyo, a tropical island in Polynesia or high altitudes in the mountains – people love elephants and want to protect them. Wherever you find people, you'll find somebody who loves elephants.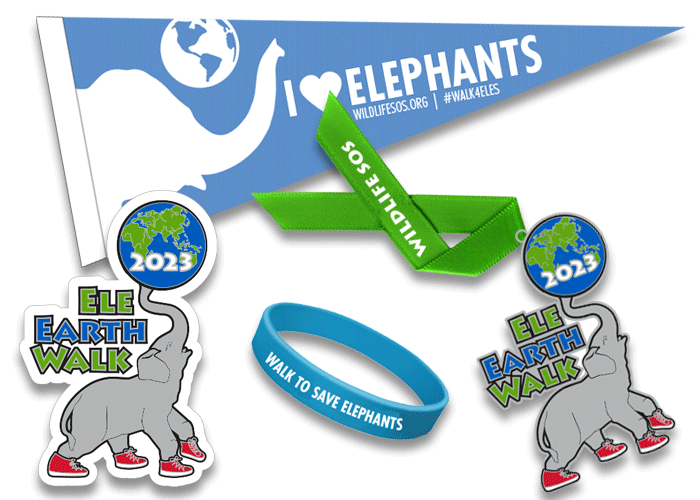 We're excited for this inaugural event in celebration of Elephant Appreciation Day, so let's unite around the globe for the Ele Earth Walk. We hope you'll participate, and have your favourite two and four-legged exercise buddies to join you. Register now and get limited edition 2023 Ele Earth Walk swag!
Event Details:
WHERE: Anywhere you want it to be, treadmill, trail,track, highwire–you choose! 🙂
DISTANCE: You decide, 5K, 10K Marathon – challenge yourself for the eles
PACE: Walk, Run, Hop or incorporate it into a pub crawl … You decide how to sweat! 🏃 🥵
DATE: Find a day around Elephant Appreciation Day September 22 – Oct 9, 2023
REGISTRATION FEE: With the discount code ELEWALK (case sensitive) it is only $25 (without code cost is $50, which just means more bananas for the eles )
FEE INCLUDES: You'll get a wristband, participation medal, sticker, pennant and the great feeling that comes from doing something great for elephants! 🏆 🏅
CONNECT WITH OTHERS: Join our Facebook group page, post photos of your accomplishment, cheer on others, be included in weekly drawings.
MORE INFO: email kip@wildlifesos.org
We believe this will be the first of many to come, so you'll want to start your collection of all the fun swag in this inaugural year.