During Diwali, the subcontinent of India is ablaze with festive gatherings and elaborate rituals to appease Lakshmi, the Hindu goddess of wealth and prosperity who is believed to visit the homes of devotees during this auspicious time. To welcome Goddess Lakshmi, the homes of those observing this festival are lit up with delicate string lights and reverberate with the laughter of family and friends. The five-day festival marks the beginning of a new year in the Hindu calendar and is famously known as "the festival of lights." However, this joyous occasion is a dark time for the owls of India that fight an uphill battle of survival against a myriad of superstitions and beliefs that endanger them.
According to Hindu mythology, the owl, specifically a barn owl, is the vehicle or "vahana" of Goddess Lakshmi. It is said that Lakshmi is always seen with her owl, which symbolizes wisdom in using the wealth and prosperity that she bestows. Others also believe that the owl symbolizes Alakshmi, Lakshmi's sister who stands for poverty and strife.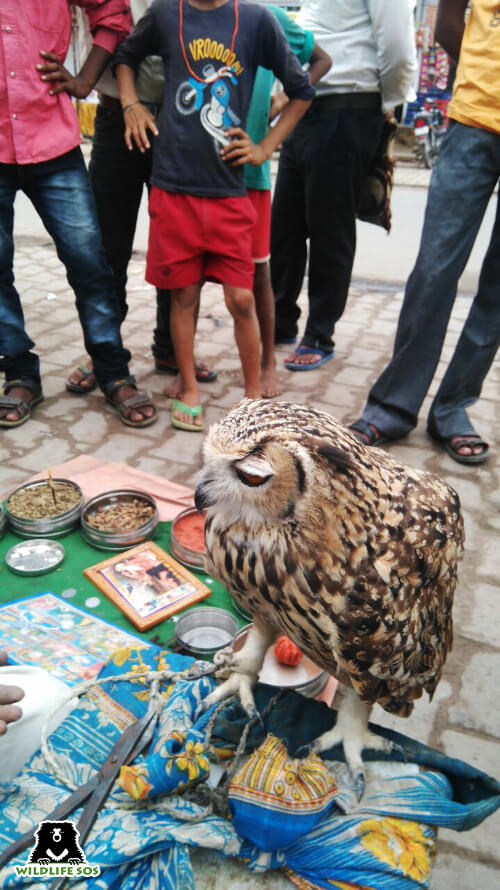 On the occasion of Diwali, guided by malicious Tantriks (occultists), some indulge in ritualistic sacrifices of the owl in hopes that such brutality will bring them good luck and wealth. Some hope they will take away Lakshmi's vehicle by killing the owl, forcing her to stay in their homes all year round and bestowing on them the most splendid fortunes.
While the logic behind the ritualistic sacrifice of the owl may sound ludicrous to some; The reality remains that such ignorant beliefs and myths lead to an increase in trafficking, poaching, and harming of owls during the time of Diwali. These sacrifices begin on the days preceding the festival of lights that are dedicated to the worship of goddesses like Lakshmi Pooja (worship) or Kali Pooja ( worship of Goddess Kali).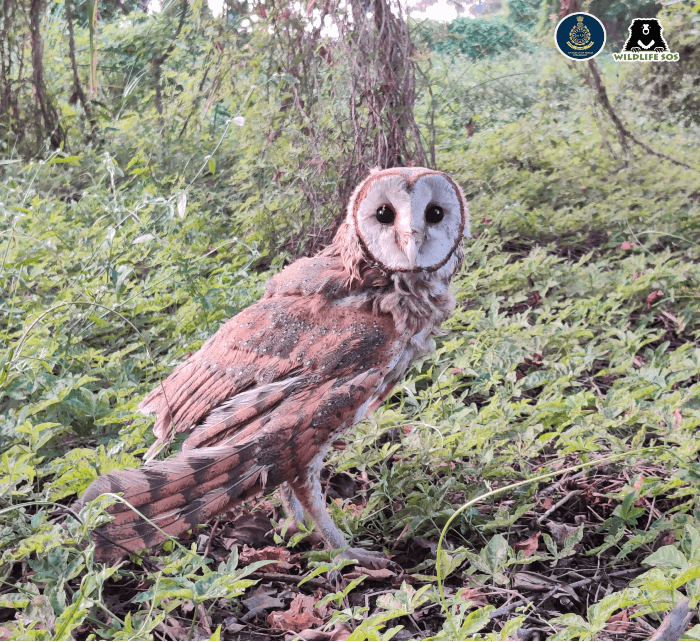 Every year during Diwali, the Wildlife SOS Rapid Response team run in collaboration with the Gujarat Society for Prevention of Cruelty to Animals (GSPCA) assists the Forest Department in curbing ritualistic sacrifices of owls in Vadodara. Last year, in a scintillating rescue operation, the Wildlife SOS- GSPCA Rapid Response team rescued eight Indian Eagle Owls from smugglers suspected to be part of Gujarat's illegal wildlife trading community. The rescue resulted from months of surveillance on behalf of Wildlife SOS' undercover informants, who spent countless hours gathering information about suspects and their movements.
After getting information about a religious ritual wherein a large number of owls were to be sacrificed to a local deity, the team sprung to action by posing as buyers interested in obtaining the bird for another religious ritual. Accompanied by undercover officials, they were able to capture the suspects and as a result, nineteen perpetrators were apprehended by the Forest department and Police officials.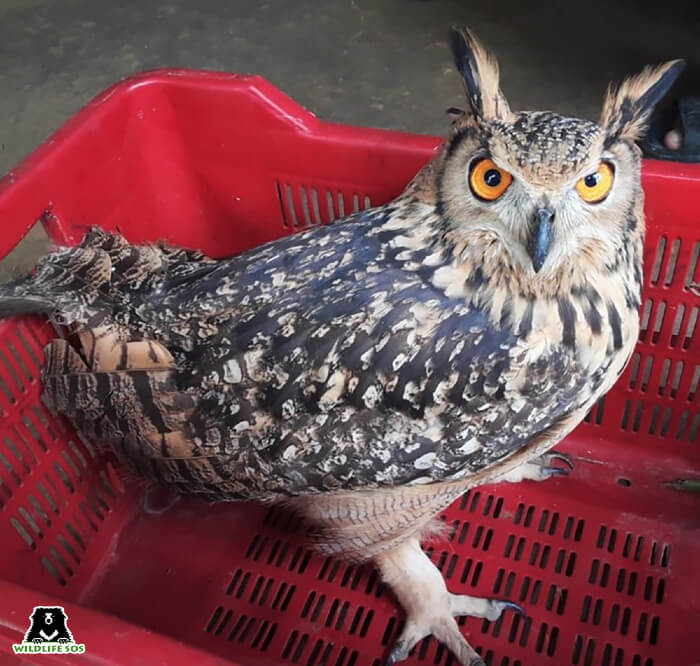 This Diwali was no less harrowing for owls. Our Wildlife SOS-GSPCA team rescued a barn owl found outside Swaminarayan Temple in Harinagar, located in Vadodara city, Gujarat. The owl was found the day after Kali Puja which coincides with Diwali.
The owl was found with part of its left wing clipped off. The wings or tufts of owls are assumed to possess magical powers and thus are often used in occult practices. Therefore, it was suspected that the bird was used in a Tantrik ritual to appease the goddess Kali. The owl is currently undergoing treatment and will be released back into its natural habitat once deemed fit.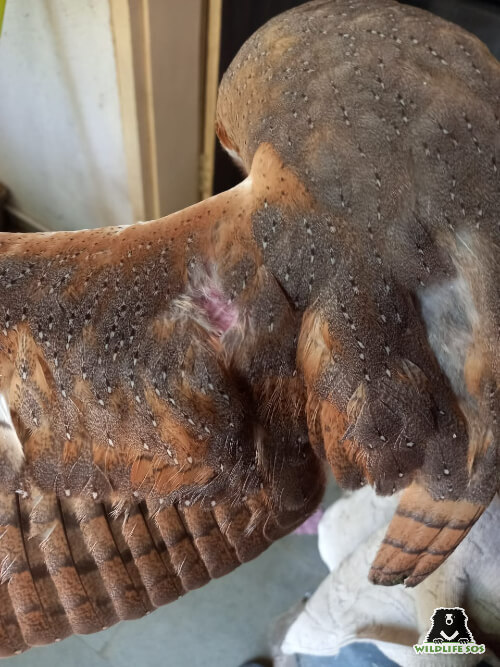 Contrary to popular belief, the domestic trade of owls does not stem from mere devotion but is a very lucrative business that benefits poachers and traffickers. Their trade often occurs in unorganized black markets and bird markets where people buy and sell these owls, as well as a covert network of middlemen and smugglers who are part of an organized wildlife crime syndicate that operates in smaller cities/villages. Hotspots for these trades include North and Central India, Andhra Pradesh, Gujarat, and Rajasthan.
While we do not know the exact number of owls poached, every year, we do know that the most common owls poached in India are the Indian (Rock) Eagle-owl, Barn owl, Brown. Fish owl, dusky eagle owl, Indian Scops owl, and the Mottled wood owl.
Human greed or ignorance is leading to a loss of these magisterial creatures who have existed since 50 -60 million years ago! Did you know? There are also 100 species of owl in the world, each with its peculiar quirks. These fascinating raptors are integral to the ecosystem. Owls prey on rodents and control their population, inhibiting the spread of lethal diseases and even damage to crops.
While owls won't provide devotees with their wish for wealth and prosperity, preserving the owl might make our world a more prosperous place!
Find out about Wildlife SOS' anti-poaching efforts HERE!