Sloth bear (Melursus ursinus), one of the four bear species found in India, is widespread across major parts of the country. With a population between 6,000 and 11,000 individuals, a large proportion falls outside the designated Protected Areas. Endless incidents of human-sloth bear interactions have been recorded from villages, forest fringes, etc. Interactions are generally recorded in the form of injuries and fatal consequences for both species. Although protected under Schedule I of Wildlife (Protection) Act, 1972 and under Appendix I of CITES, the sloth bear population continues to trickle down steadily. Several threats have placed the species under the Vulnerable category in the IUCN Red Data List.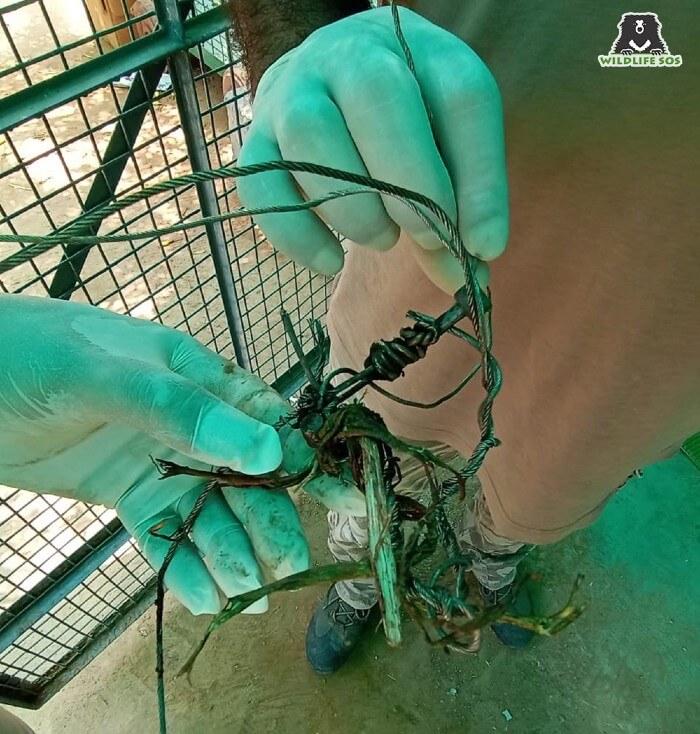 Across various states of India, sloth bears are labelled as problematic and locals have devised measures to respond and retaliate. Owing to the unpredictable nature of the species, the public has developed a sense of fear and contempt. To deter these bears and other animals from entering human habitation and agricultural fields, locals often set traps, snares, food-laced explosives, pellets, and place barbed wires and fences which prove to have severe consequences for the animals.
Millie, A Victim Of Conflict
In 2021, Forest officials spotted a young sloth bear limping around a rocky terrain in Kora Hubai, Tumkur district of Karnataka. Concerned for her safety and well-being, the Forest Department rushed to investigate and immediately contacted the Wildlife SOS team based out of the Bannerghatta Bear Rescue Center for reinforcements. It turned out that the bear's leg was caught in a deadly snare trap and in such precarious situations, every second counts so the teams had to act quickly. Geared with safety nets, tranquilising equipment, and protective gear, the Wildlife SOS team set out to rescue the ensnared animal. Snare traps are widely used owing to the low manufacturing cost and ability to trap all kinds of animals, even elephants weighing a thousand pounds. These traps are often utilized by farmers to prevent crop-raiding from wild boars or by poachers to trap an unsuspecting animal. Occasionally snares are also used for bushmeat hunting.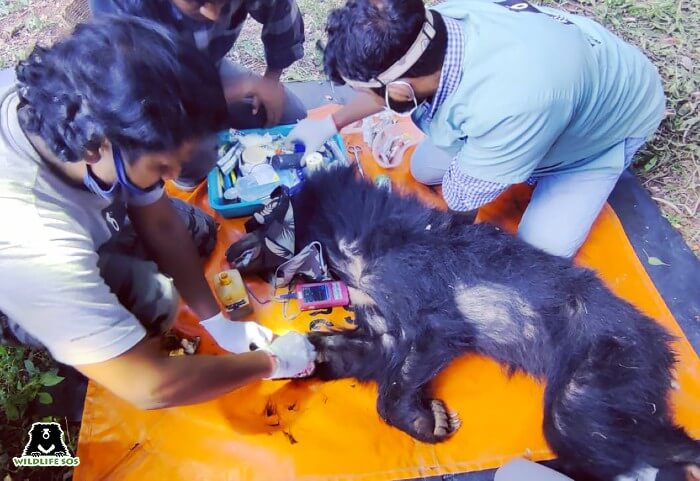 The bear was successfully immobilised using a sedative injection from a safe distance and a detailed medical examination was conducted by Dr. Arun A. Sha, Director – Research & Veterinary Operations. The snare was tightly wrapped around the bear's right forelimb leading to a gangrenous wound with bacterial infections. Identified as a female, the bear was also left severely dehydrated, malnourished, and anaemic. Although our veterinary team removed the life-threatening snare, it resulted in a bacterial infection. In dire need of medical attention, it was decided to transport the sloth bear to the Wildlife SOS Bannerghatta Bear Rescue Centre.
Her physical, as well as psychological condition had to be considered and a recuperation plan had to be designed accordingly. Our team carried out critical treatment and kept the injured bear under constant observation. As the bear was in need of long-term care, we decided to ask our supporters to help name her. Millie, as she is called now, has come a long way since her rescue.
Millie's Road To Recovery
In the first few days, our team noticed that Millie was reluctant to consume her meals, which impeded her overall recovery. Given her wild instincts, Millie would growl when approached by the staff, indicating that she was scared and wary of them. Our bear care staff left no stone unturned to aid in her recovery and gradually, she began eating and regaining strength. Previously unable to walk due to the grave pain in her limb, she also began taking measured steps around her enclosure.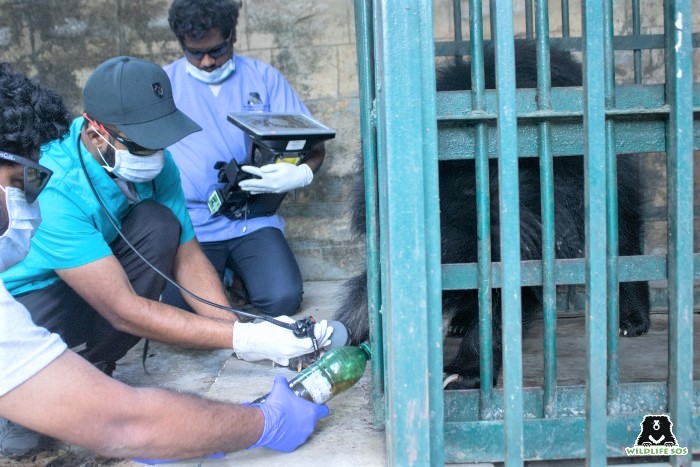 Our staff at BBRC has charted out a meticulous plan for Millie, which comprises nutritious meals served twice a day. With the addition of porridge, eggs, and a variety of fruits like watermelons make her diet wholesome. The veterinary officers also provide her with regular laser therapy and antiseptic dressing sessions to help her heal physically. Now a strong and thriving bear, she has now gained weight and remains calm during her treatment. We have observed a measured, yet sustained improvement in her well-being.
Items provided in the form of enrichment keep the animals psychologically and mentally active and suggest a speedy recovery. As she is now able to bear weight on her limbs and walk with ease, Millie has been shifted into a new enclosure with an outdoor field. Her caregiver has diligently installed a wooden platform for Millie to climb on and rest. She spends her day exploring and fiddling with an enrichment ball filled with treats that has been hung above the platform. From a terrified sloth bear who was rescued a few months ago, Millie has transformed into an active one.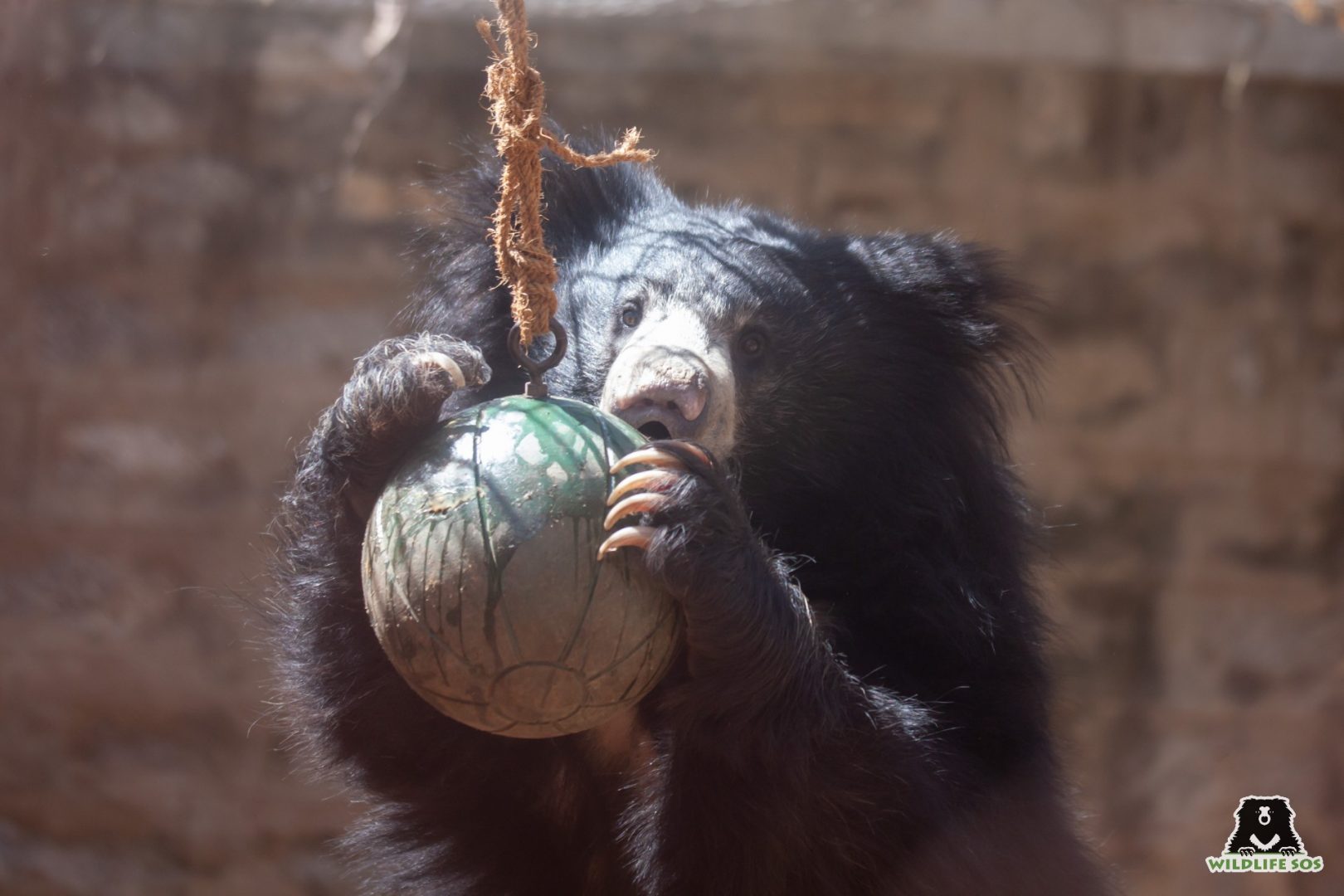 With years of experience at their hand, our team is aware of the crucial role that companionship plays in the lives of rescued residents. Recently, Millie has also been introduced to another victim of human-wildlife conflict, rescued in 2017. A perfect addition to Millie's life, the duo's spirited side has come to light since they have begun spending time together. As they embark on a healing journey together, they move from exploring one enrichment to the other.
Lessons Learnt From Millie
The rocky terrain and deciduous forests of Karnataka serve as crucial habitats for sloth bears of India. The use of inhumane do-it-yourself tools has time and again proved to be fatal for wild species that call the region their home. You'll be surprised to know that snares are devices that can be easily fabricated and assembled from motorbike chains in less than 3 minutes! The lethal embrace of strategically placed traps can leave animals like bears, jackals, hyenas, leopards, tigers, etc. struggling in pain for hours and eventually exposing them to death.
Wildlife SOS frequently encounters such situations and our teams are equipped to undertake quick, yet effective actions for the same. The female sloth bear's will and determination to lead a healthy life have been forever engraved in our hearts. As our team put their best foot forward in ensuring a better life for Millie, she did the same by not giving up despite the horrific circumstances.
They say the journey of a lifetime begins with the turning of a page, and we truly believe the page in Millie's life turned the day Wildlife SOS found her! The life-saving decision of caring for and treating the sloth bear at our Centre proved to be successful. You too can be a part of Millie's journey to recovery by donating for her.