20-year-old Pari could barely take a step without experiencing excruciating pain in her legs, yet she was forced to beg on the streets and used in wedding processions. Her poor condition and abnormal gait indicated that she has suffered severe neglect, lack of medical attention, and was chained for long hours leading to a permanent disability. Wildlife SOS rescued Pari from this painful and cruel life on the 1st of December, 2021. She has now been with us for over one month. Before that, her life consisted of walking endlessly on tarmac roads not meant for elephants to walk on, and begging for alms until she was at the point of collapsing. A heavy saddle was strapped onto her back and she was made to carry another person on top despite the fact that her forelimbs can barely take on her own weight.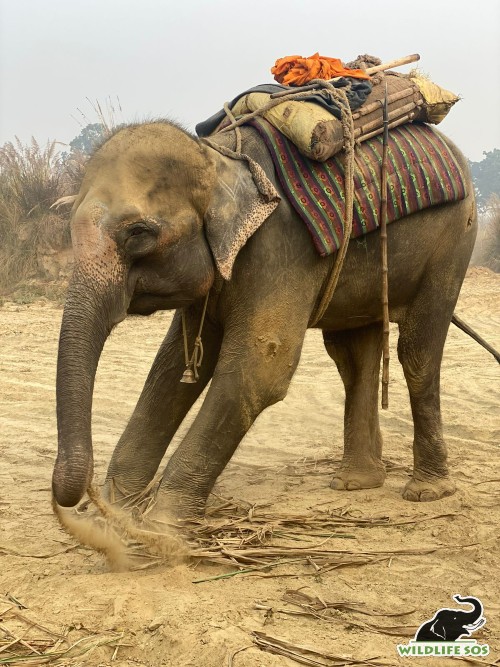 To see a young elephant like Pari suffering from such crippling injuries was heartbreaking for our team. We can only imagine the extent of physical and emotional stress she has endured. After extensive planning and a tremendous effort by the Wildlife SOS rescue team, Pari safely arrived at the Wildlife SOS Elephant Hospital.
As she took careful steps out of the Elephant Ambulance, Pari seemed to know that she was away from her traumatic past. Since her first interaction with the rescue team, we could see that Pari was not a nervous or anxious elephant and she has now adapted well to her new life.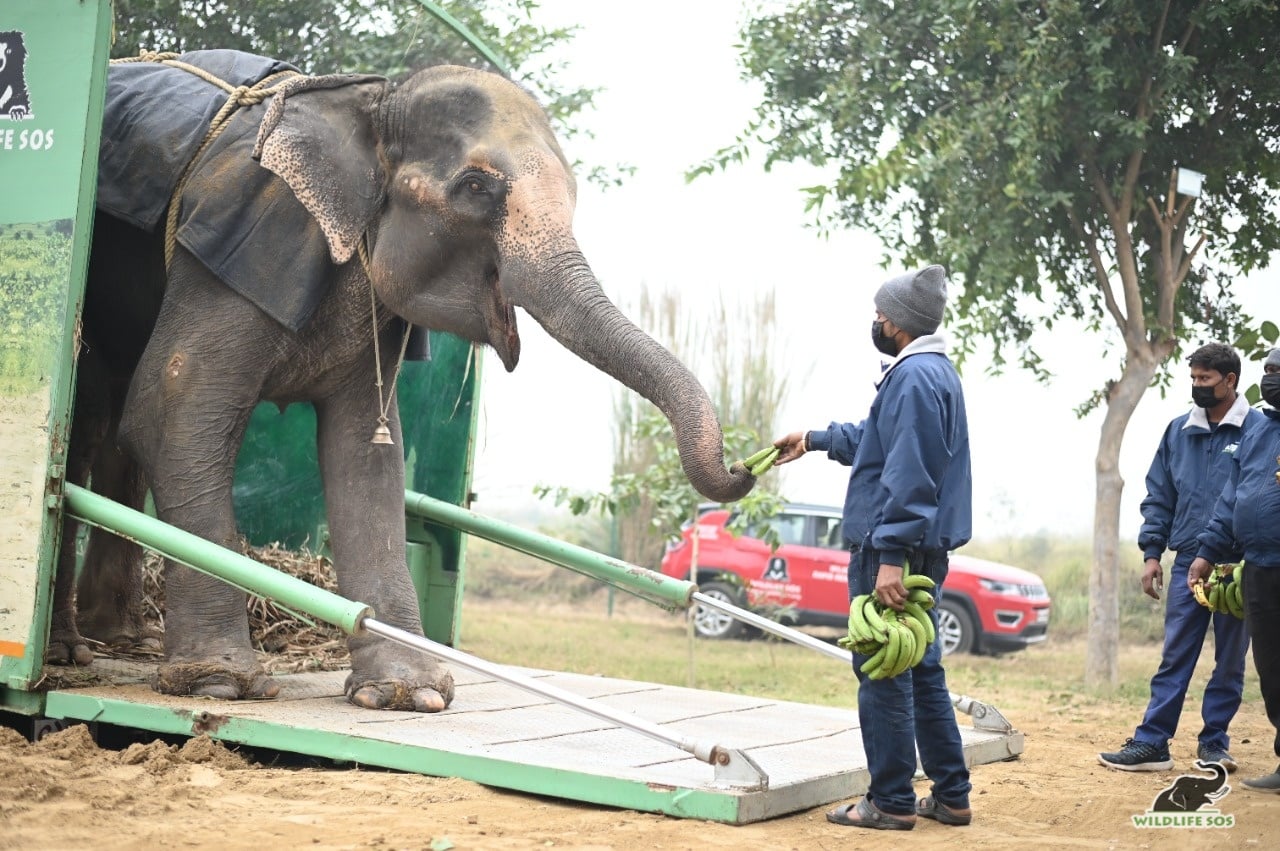 Pari's initial health examination brought to light her various ailments. She suffered from severe bone degeneration and ankylosis in her limbs, and suffering from necrotic abscesses on her toenails and body. She had severe cracks on the footpads of all four limbs. It was clear that Pari was going to require intensive care to treat her abused footpads and toenails.
The veterinary team worked hard to come up with a diet plan to help Pari regain the weight that she had lost after living in a constant state of exertion and starvation. She was fed a variety of fruits and vegetables like bananas, papayas, watermelons, sugarcane, and cucumbers. To add warmth to her body, her caretaker also fed her jaggery mixed with some masalas.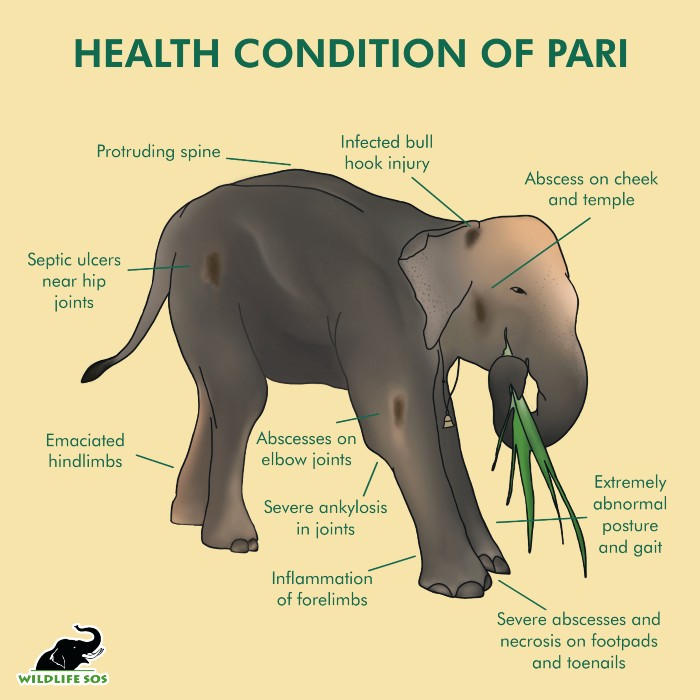 A few days into her journey with us, we could already see Pari morphing into a playful and happy elephant. Though a victim of unspeakable trauma, Pari continued to maintain her kind and trusting nature. Not only is she healing mentally, but we can also see the gradual progress in her physical healing.
The wounds on Pari's body are also showing signs of healing, thanks to the expert care of our veterinary team. However, Pari still has a long way to go, due to the terrible condition of her forelimbs and her toenails.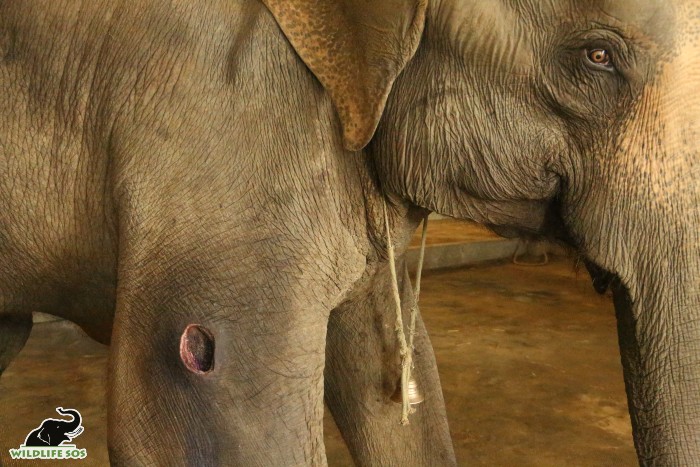 She has begun trusting and interacting well with her caregivers and the veterinary staff. She can be seen enjoying long walks, exploring different parts of her vast forested enclosure and taking frequent mud baths.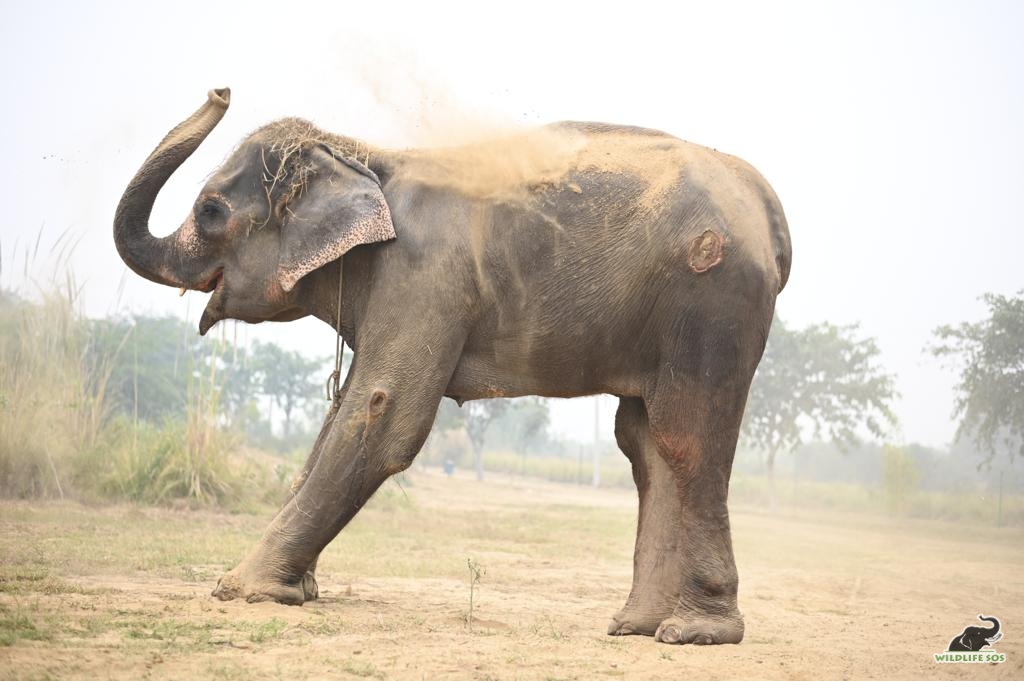 Elephants are very intelligent animals and Pari is a prime example of this, as she knows exactly when her caregiver had treats with him. She notices the pouch slung across his body and has come to understand that this is a sign of him carrying some food with him. She tries to playfully reach into the pouch and sneak chickpeas from him. Upon spotting her caregiver at any point during the day, she would notion with her trunk for more chickpeas. Her caregiver always chuckles and obliges her request because he adores her dearly.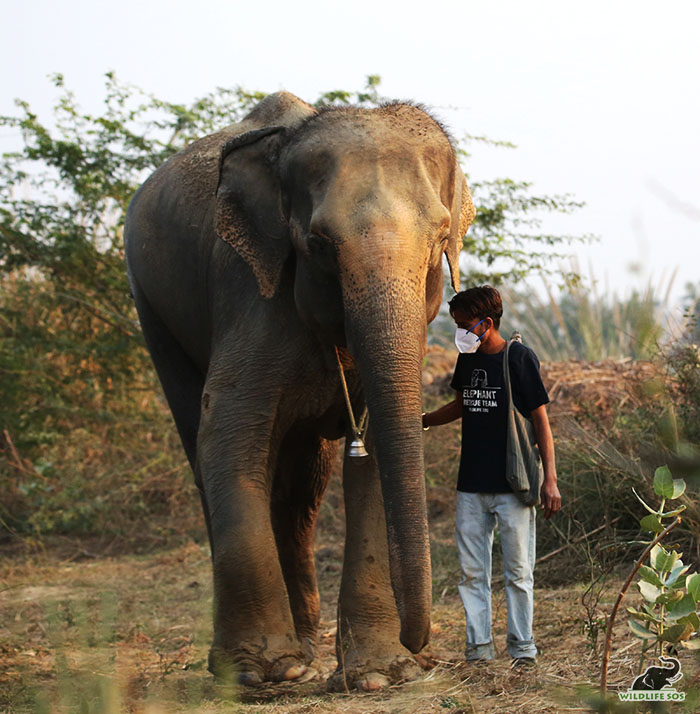 Our veterinary officers and elephant caregivers leave no stone unturned while caring for our rescued elephants. Their routine revolves around providing meticulous care and treatment for Pari's healing. Her limbs, which display signs of severe inflammation and pain, require special attention. Silver Sulfadiazine ointment, an antibiotic medicine, helps in preventing the growth of infection caused by bacteria. Moreover, the application helps in alleviating her pain and inflammation.
The vets clean her footpads regularly and apply antibiotic and anti-fungal creams following which her feet are covered with shoes so the medication stays on for longer. This helps fight against any foreign infection that she may encounter.
The vets apply this twice a day followed by gentle massages, to expedite the healing process. She certainly feels more at ease after treatment and resumes with her daily walks around the hospital campus.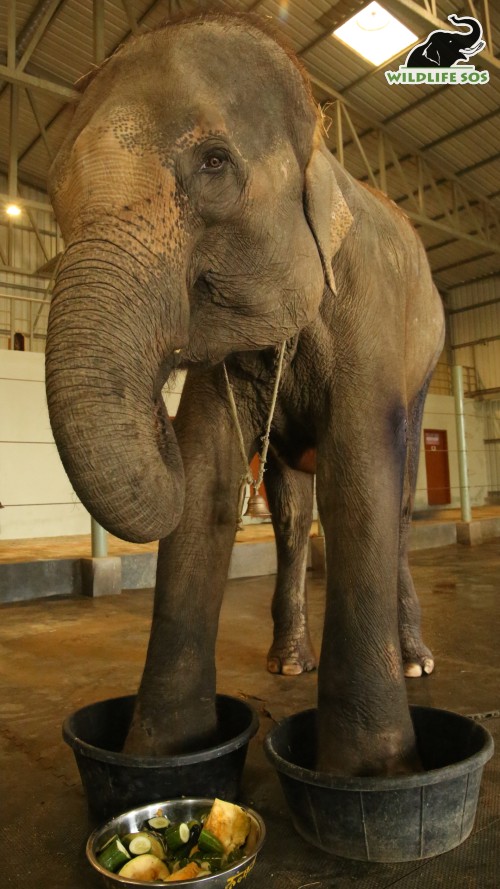 A few days into her stay at the Wildlife SOS Elephant Hospital, it became quite clear to us that Pari was highly food-motivated and that she would seamlessly get her treatments done by the veterinarians as long as she had some food to munch on. Now, Pari continues to get her medicated footbaths and treatments for her infected toenails twice every day, while munching on some bananas or sugarcane! She also receives laser therapy to help with healing. Additionally, we are administering pain management medication for her limbs and supplements to make her bones stronger.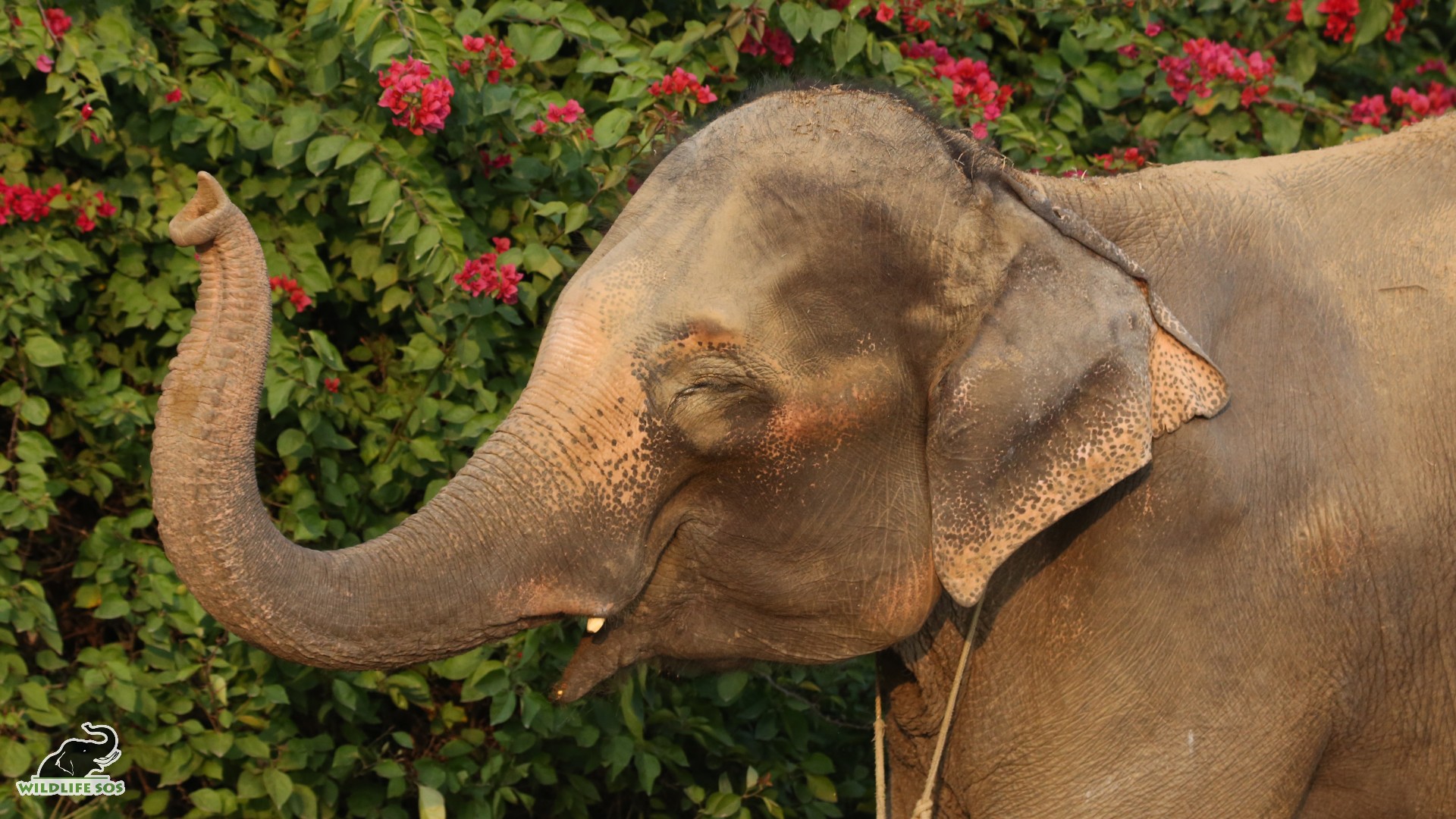 Pari goes gaga for bananas and loves meal times! She is currently enjoying a diet of sugarcanes, papayas, cucumbers, watermelons and berseem (green fodder).
Pari also knows her way around the Elephant Hospital Campus and navigates the space with ease. She has a favourite spot in front of the hospital where she stands to munch on some sugarcane and take mud baths. Her joy is very obvious in these instances as she happily flaps her ears and tail around. She also joined in on Christmas celebrations at the Wildlife SOS Elephant Hospital!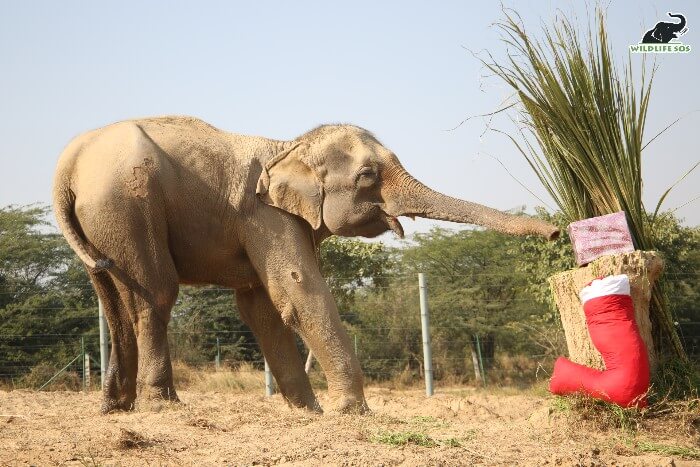 The veterinary team has been monitoring Pari's health closely for the one month that she has been with us. They are very pleased with her progress. We are glad that she is healing not only physically but also mentally, and showing all the aspects of her vibrant personality to us! We urge you to become a monthly donor for Pari and tag along to see her healing journey in full bloom!