In the month of December 2021, our dedicated teams at Wildlife SOS in Delhi, Vadodara, Agra and Jammu & Kashmir continue to remain hard at work to mitigate human-animal conflict to the best of our abilities. There is no shortage of instances where the paths of humans and wild animals have overlapped. Every month, people flood our helpline numbers with distress calls and this December was no different.
Wildlife SOS operates 24×7 emergency rescue helplines in three cities:
Delhi NCR – +91-9871963535
Agra & Mathura in Uttar Pradesh – +91-9917109666
Vadodara, Gujarat – +91-9825011117
If you come across any wild animal in distress, please alert our rescue team on these numbers as soon as possible!
Agra, Uttar Pradesh
The Rapid Response Unit in Agra was hard at work and rescued a total of 100 animals in December 2021, out of which 16 were birds, 21 were reptiles and 63 were mammals.
The team rescued an Indian Rock python from near Baad railway station, in Mathura. The python had camouflaged itself within dry leaves. Our expert team carefully extricated the reptile and took it to our centre for medical observation.
The team rescued various birds like injured barn owls and injured black kites. They hope to release them safely into the wild soon.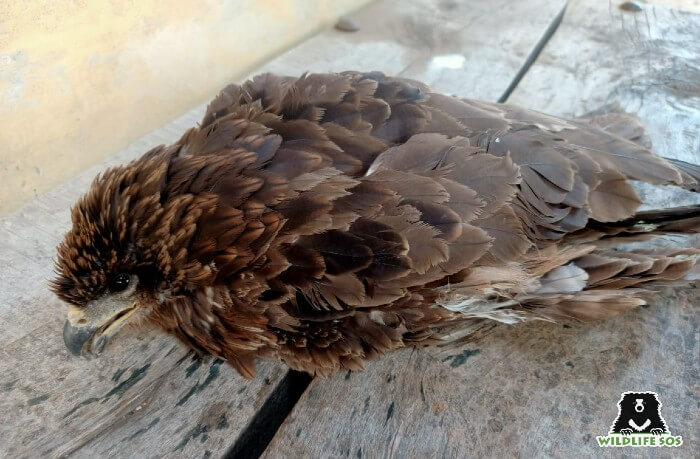 The team also rescued a monitor lizard from a residence in Agra. Monitor lizards often wander into houses, so it is important to remain calm and contact the concerned authorities. There are a lot of myths surrounding the Monitor Lizard, but contrary to popular belief, the animal is not venomous.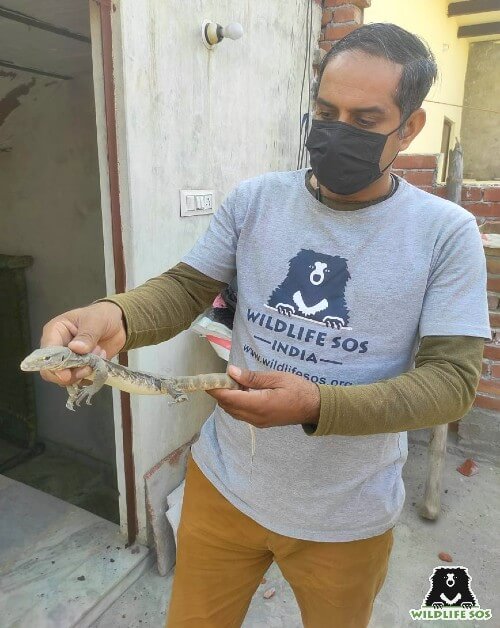 Delhi NCR
Meanwhile, the Rapid Response Unit over at the Delhi headquarters rescued a total of 99 animals. The team undertook various rescues with calls coming in for many different species of animals. The calls on the helpline ranged from sick monkeys, civet cats, and injured black kites to venomous and non-venomous snakes. Out of the 99 animals rescued, 20 were mammals.
Wildlife SOS has been regularly rescuing civet cats in distress. These elusive animals have been coming into conflict with humans more frequently. The Rapid Response Unit in Delhi rescued an Asian Palm civet from a farmhouse in Westend Green Farms.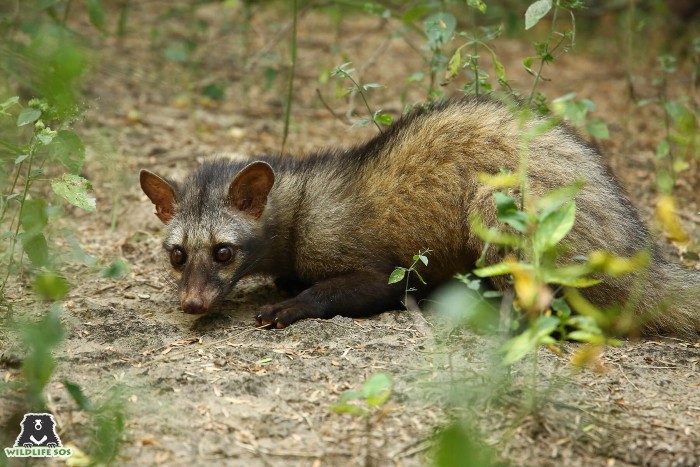 Wildlife SOS also worked jointly with the Forest Department to rescue a Nilgai from Delhi Jal Board premises! The Nilgai (blue bull) had an injured leg and is currently receiving treatment at the Asola Bhatti Wildlife Sanctuary.
In a surprising instance of reptiles being found in unexpected places, our helpline number received a call about a 12-feet-long Indian Rock Python that had wandered into Delhi's Jal Board's Bhagirathi Water Treatment Plant. The massive python weighed between 35-40 kg. Our trained rescuers followed all the safety measures while extricating the snake from the intake chamber. Snakes prefer damp, dark places, close to water bodies, hence, the python must have found the area ideal for nesting.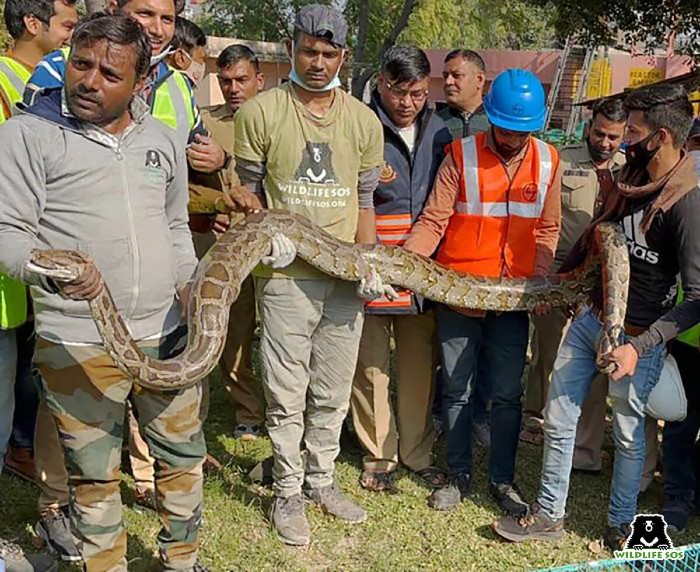 In another incident, our team rescued a cobra from a construction site in Ghazipur. Though the rescue process was tricky, our rescuers patiently extricated the cobra , which was nestled under a pile of concrete blocks.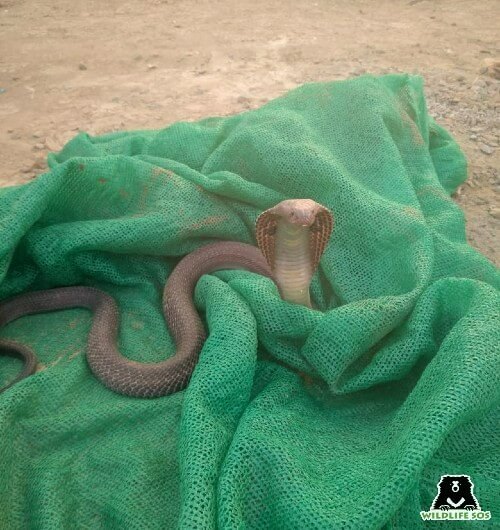 Out of the 63 birds rescued in December, one was a barn owl rescued from Nizamuddin East, New Delhi. We suspect that the nocturnal bird was unable to navigate its way during broad daylight. However, the vets wanted to make sure that the owl was completely fine so it is currently under medical observation.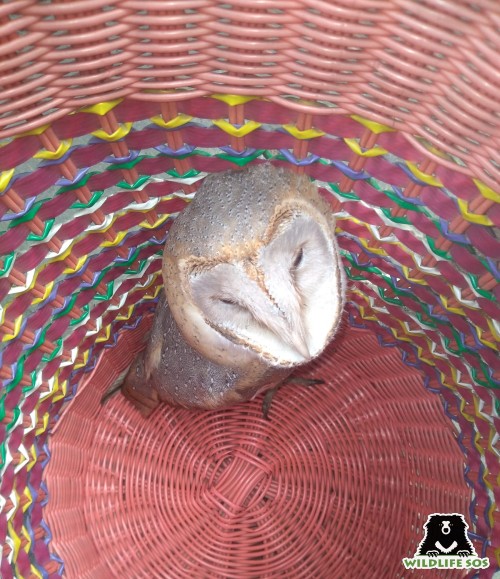 Our Rapid Response Unit also rescued an injured Indian Grey Hornbill from Yusuf Sarai, New Delhi. The bird is currently undergoing treatment for wing injuries suspected to have been caused by a manjha (glass-coated kite string).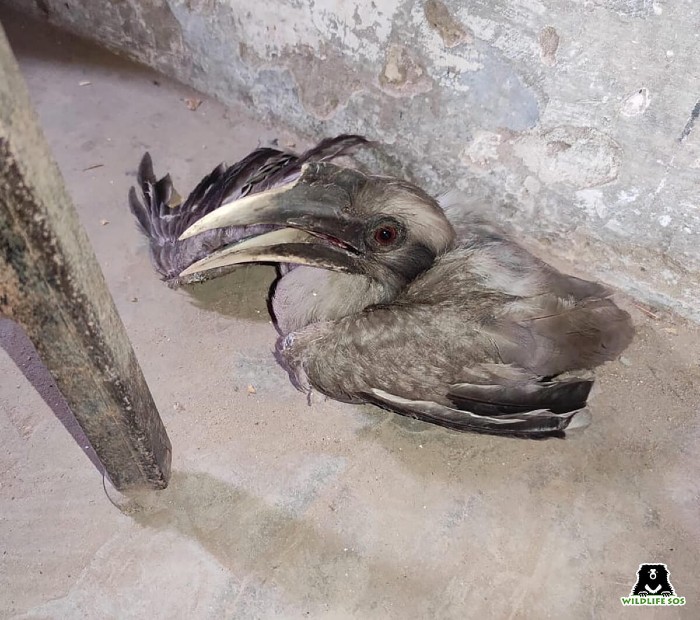 Vadodara, Gujarat
The Vadodara team, jointly run by Wildlife SOS and the GSPCA (Gujarat Society for the Prevention of Cruelty to Animals), rescued 58 reptiles, 13 mammals and 59 birds in December.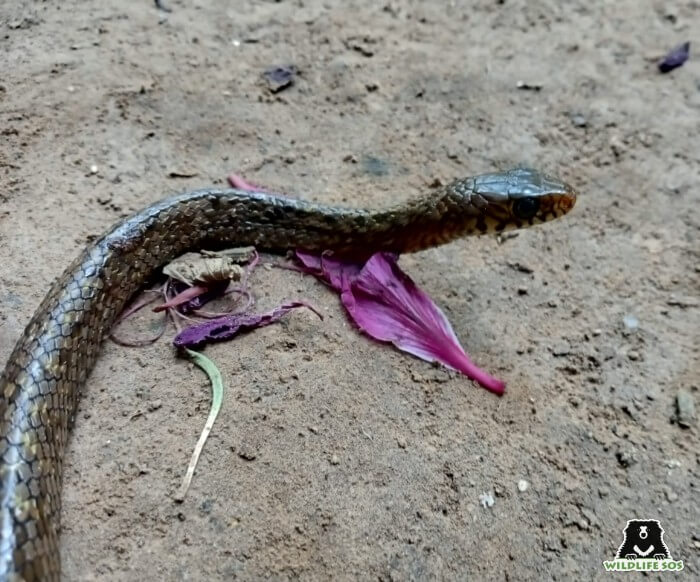 The Vadodara team brought in a rat snake stuck in a glue trap. The team carefully cleaned the glue stuck to its body and provided it with hydration. Once the snake was free of the glue covering its body, the team released it back into the wild.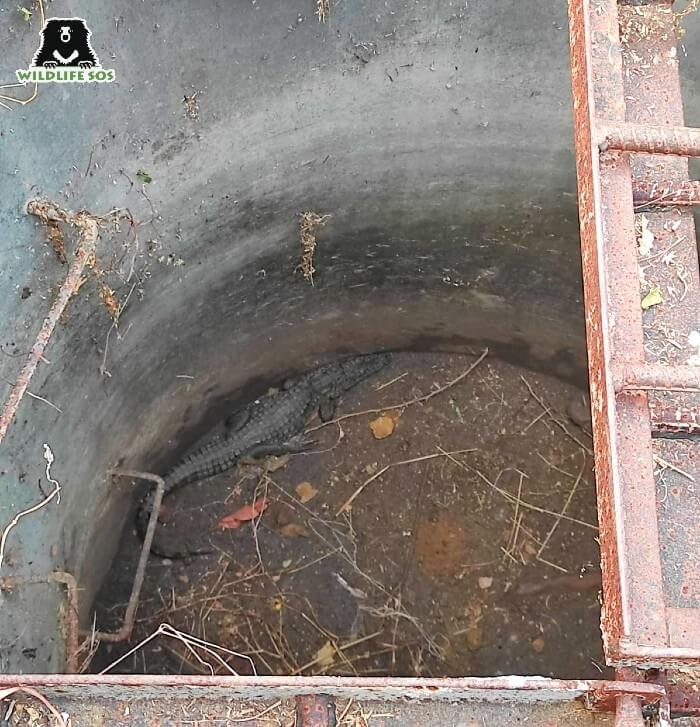 The team also conducted two crocodile rescues in December. In one instance, the team had to enter a well to extricate a mugger crocodile. There are often situations where rivers overflow due to flooding. Hence, the crocodiles that live in the rivers get displaced and end up in sewers and wells. The team has to be very careful during such rescues as they have to confront a scared and defensive animal in a very small space. Hence, they need to keep all precautions in mind.
Jammu and Kashmir
Up in the northern state of Jammu and Kashmir, our team rescued three birds in December. The team rescued a female Parakeet from a house in Srinagar which is currently undergoing medical treatment.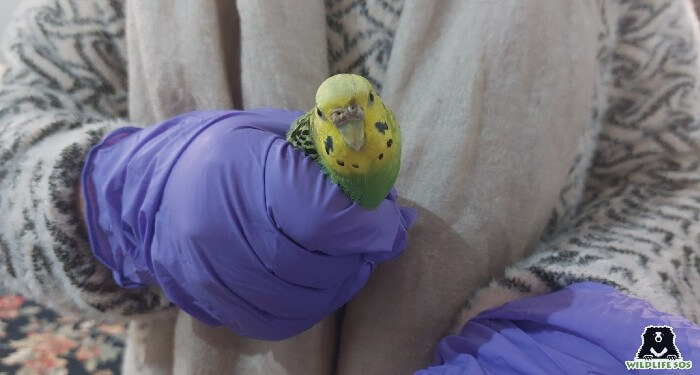 The team also rescued two Himalayan Monals, that are currently in our care for the duration of the winter. They will release the two when the weather is warmer. The team is keeping them in a safe environment as their chances of survival in this climate are low.  The Himalayan monal is a large colorful pheasant native to Himalayan forests. The adult male has multicolored plumage throughout, while the female is more subdued in colour.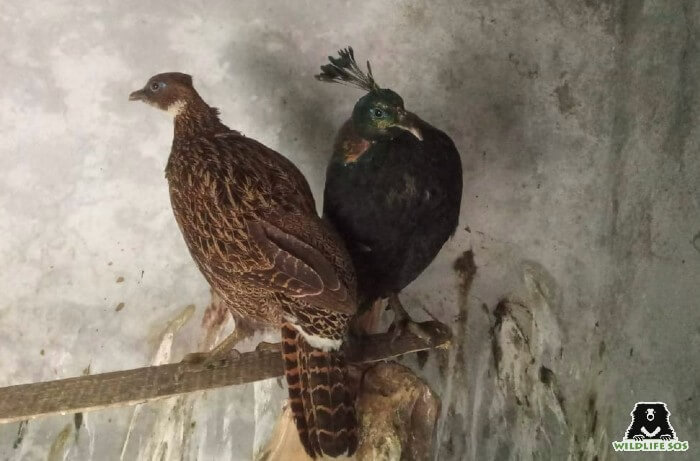 The Wildlife SOS helpline number is open to any concerned citizen that wants to report an animal in distress.