Sonamgarg literally translates to a " golden meadow." True to its name, this picturesque valley located in Kashmir is a sight for sore eyes. In ancient times, Sonamgarg was a part of the famous silk route that connected India to Tibet. Today, Sonamgarg is right at the boundary of Kashmir, making it a strategic location for military defense posts. Surrounded by the enigmatic peaks of Amarnath, Sirbal, and Kolhoi mountains, Sonamgarg is also a popular spot for hikers and trekkers.
In recent years, the popularity of Sonamgarg has only grown, luring in people from all over the world to experience its natural charm. While Sonamgarg's appeal to humans is understandable, the rapid expansion, habitat encroachment, and deforestation has displaced a particular denizen of Sonamgarg that hails from one of the most ancient brown bear lineages – the Himalayan Brown bear. These bears inhabit the higher chilling cold peaks of the Himalayan range in India, Pakistan, Nepal, China, and Bhutan. In India, they live in small isolated and fragmented populations in the alpine and subalpine areas of Jammu and Kashmir, Himachal Pradesh, and Uttarakhand. In Jammu and Kashmir, these bears have been coming into conflict with humans. Rapid urbanization, habitat fragmentation have been forcing these bears to venture into human-dominated settlements in search of food. This species is listed as 'Critically Endangered' under the IUCN Red Data List and is protected under Schedule I of the Wildlife Protection Act, 1972.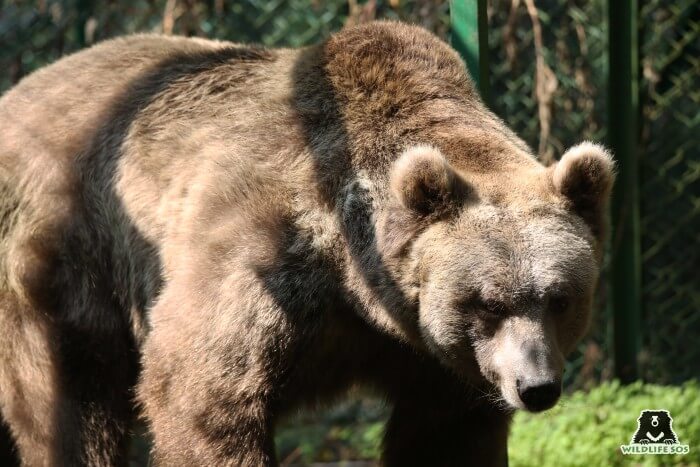 One such bear that was rescued from a human-bear conflict in Sonamarg is our beloved Sebastian. In 2018, the Himalayan brown bear, merely three years old at the time, was found frequently preying on livestock and raiding crop fields and even garbage bins behind hotels and residential areas. . Afraid of the economic loss the bear could cause, locals contacted the Wildlife Protection Department. Acting promptly, officials rescued the bear and relocated him into a forest reserve close by.
Owing to its endangered status, the Wildlife Protection Department became increasingly concerned when Sebastian returned to Sonamgarg for the second time! Once again, the department did the needful and diverted the bear to the reserve. Yet, the ravenous bear returned for the third time, hoping to find some food to sustain itself. Concerned that the bear had become dependent on crops and livestock for food, the Wildlife Protection department knew that the majestic creature would no longer be able to survive in the wild.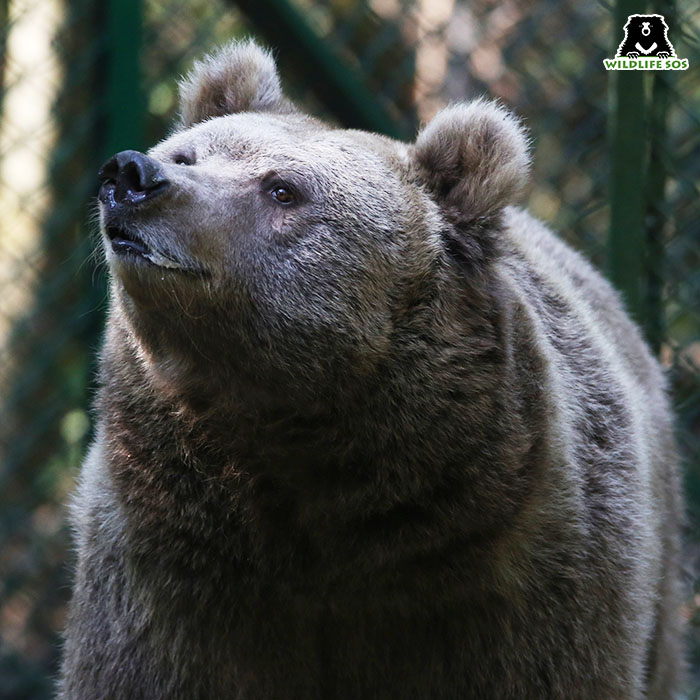 Thus Sebastian was rehabilitated at Wildlife SOS's Dachigam Rescue Center. This would ensure the bear would remain safe from possible retaliatory killings and would save the locals from the devastating economic loss of crop-raiding. Three years later, Sebastian, has become an integral part of the Wildlife SOS family. The gigantic bear no longer wanders in search of food but enjoys delicious treats prepared for him by his Wildlife SOS family! 
Unrecognizable as the ravenous bear that first entered the Dachigam Center, Sebastian is now 6 years old and weighs more than 250 kgs! Being the largest brown bear in our care, Sebastian holds a special place in the heart of every Wildlife SOS team member. Caring for Sebastian has made us familiar with his peculiar likes, dislikes, and quirks! It has also given us the opportunity to understand the behavior and physiology of the elusive Himalayan brown bear.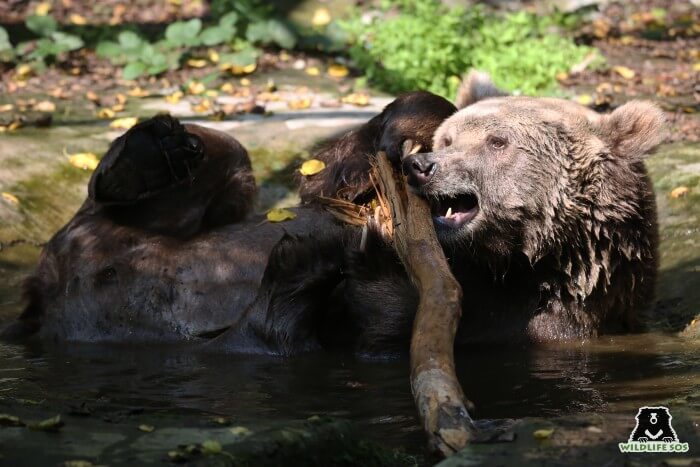 Sebastian's favorite snack is dry fruits – specifically dates. Cover the dates in honey, and there is no one who can stop Sebastian from gobbling up an obscene amount of his favorite snack! His second favorite is walnuts that Sebastian devours within seconds! After having consumed a plethora of dry fruits, Sebastian lazes around in his enclosure refusing to move unless absolutely necessary.
Apart from his love for food, Sebastian is also a true water baby. When the weather is right Sebastian spends most of his days splashing around the pool in his enclosure, refusing to leave until the sunsets.
The gentle giant has even formed a unique relationship with his caregiver who instinctively understands the bear's needs. He works round the clock ensuring his enclosure is clean and his pool is always full of freshwater! Recently, his caregiver noticed that Sebastian's enclosure was becoming too small for the ever-growing bear and hence decided to find him a more spacious enclosure. His new enclosure has all the same amenities but is merely larger in size, allowing Sebastian to live comfortably while not feeling dislocated.
Sebastians' health has also remained stable throughout the years. The bear receives regular medical checkups from veterinarians and is administered supplements to ensure he remains fit.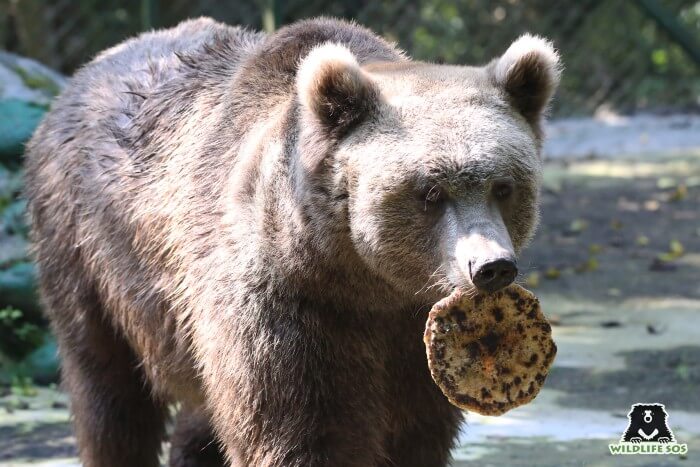 Watching Sebastian live a life of dignity and freedom at our Dachigam Center reminds us at Wildlife SOS to continue working towards conserving the wildlife of India. However, Sebastian's story also reminds us of the damage humans can inflict on wild animals without even intending to. The rapid unbridled expansion of Sonamgarg debilitated Sebastian, breaking his natural behavioral patterns of feeding and forcing him to rely on crops and cattle for sustenance. Sebastian reminds us of the need to create a world where human development can occur in tandem with the conservation of animals.