It is true that to work in the field of wildlife conservation, one must possess a unique compassion and drive to preserve our forests and its inhabitants. An epitome of these virtues is Arinita Sandilya, Manager- Press and Media with Wildlife SOS, our honoured staff member of the month. Armed with an unwavering love of animals and invaluable communication skills, Arinita seamlessly transforms media into a tool for wildlife conservation.
In her 6 years with Wildlife SOS, Arinita has anchored herself as a force to be reckoned with. Here, through an in-depth conversation with Arinita, we follow her profound journey with the organisation.
How did your journey with Wildlife SOS begin?
I always say that fate brought me to Wildlife SOS. I first heard about the organisation when I was in college and a team from the organisation had come for an awareness talk. My friend and I attended the talk and were amazed at the work being done. I had always wanted to work in the field of wildlife conservation but never thought it was possible. But when I saw the work Wildlife SOS was doing, I knew I could be a part of it. I joined the organisation in 2016 and have been here ever since.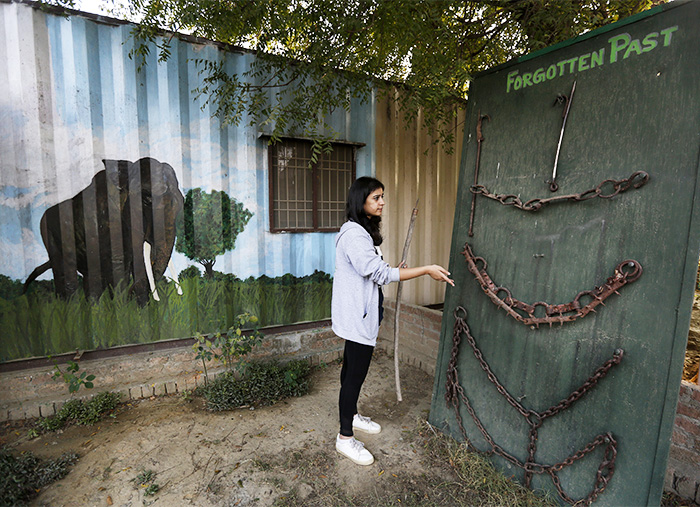 What was your driving force to work in the field of wildlife conservation?
I think there have been multiple reasons for me to work in the field of wildlife conservation. One major source of inspiration for me were National Geographic magazines. We used to get them in school every month, and I would rush to get a copy. I was in awe of the photographs and stories that were so beautifully put across.
Moreover, growing up in Northeast India also gave me a unique perspective. My home state is Assam and it consists of a plethora of unique wildlife such as the Greater one-horned rhino. I grew up hearing about how the population of these animals were declining and knew something had to change. At the same time, I saw exemplary work being done with indiginious communities to conserve wildlife.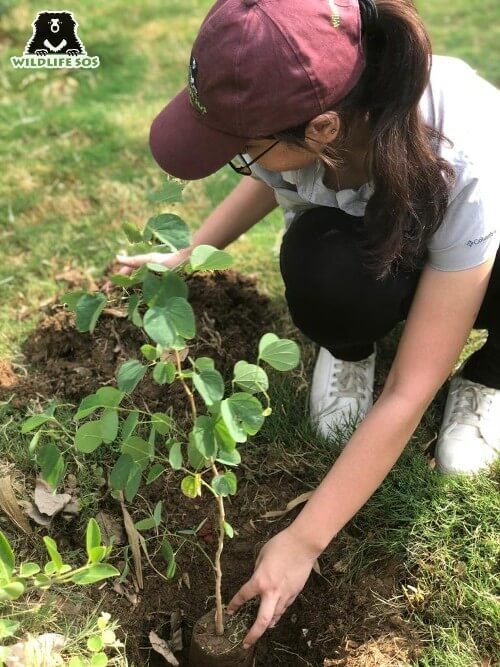 I was raised with an immense respect for animals, a value that has never left me. Yet, I realised, people don't pay much heed to India's wildlife even though we have such a rich biodiversity.
When I was pursuing my post graduation in Social Communications, Media and Public Relations, I realised that the field of media could fill in this lacuna. We could bring more attention to India's wildlife and in turn, help conserve it.
What was it like meeting the rescued animals for the first time?
I remember being completely overwhelmed when I first saw the rescued animals. My face had turned red— half because of the heat, but mostly because I was so exhilarated. It was the first time I saw elephants not as a part of a safari or a zoo, but as free animals. They were in an environment as close to their natural habitat as possible. They were being themselves and had everything they needed to live like elephants. I was grateful to be working with an organisation that could provide them with such a life. I also felt extremely tiny in front of these giant mammals— both physically and metaphorically. Despite all the trauma they had undergone at the hands of humans, in their eyes, humanity still seemed worthy of redemption. They displayed this compassion by trusting their caregivers and veterinarians, something that was amazing to watch.
As I observed them, I realised that nature will forgive but never forget and we must do what we can to make up for all the damage done.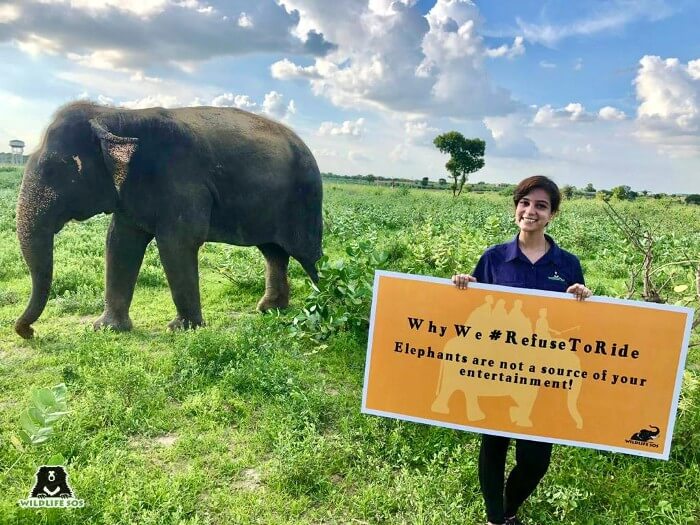 Do you have a favourite animal in particular that you connect with?
I will say I am very inclined towards bears and leopards. I have a soft spot particularly for Rose. She arrived at the Agra Bear Rescue Facility a month after I began working with Wildlife SOS and her rescue gave me insight into how serious the issue of poaching is. Rose was caught in a snare trap, a device commonly used to trap animals. Unless you see it first hand, you don't realise how large scale and rampant this issue is. Rose's story opened my eyes to this harsh reality.
At the same time, Rose inspired me. She was missing a paw and when she first arrived she seemed scared of what the future held for her. However, she emerged victorious and triumphed over all her troubles. She went from being a meek bear to a bear with a vivacious personality. Today, Rose is one of the most spirited bears at the facility! Her story gave me hope to keep fighting. It taught me that even in the darkest times, if you believe in yourself, you can achieve anything.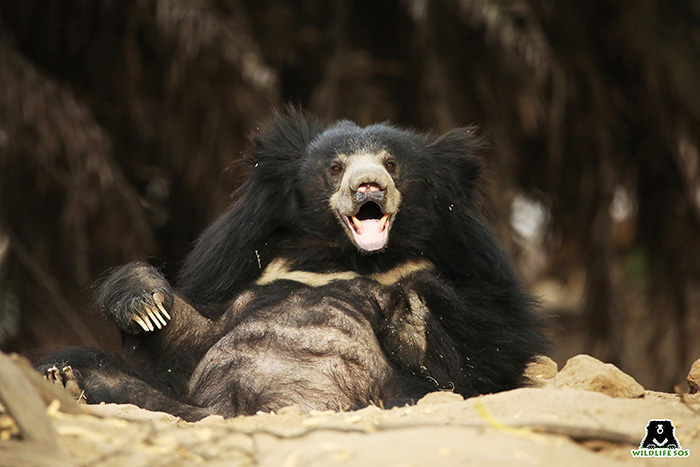 Rose encompasses our organisation's mission. We don't want to see any other wild animal suffer like Rose did and that's what we strive to do here at Wildlife SOS.
Why do you think communication is important in this field?
Effective communication plays an integral role in wildlife conservation as it can push efforts towards success. It acts as a bridge between people and projects. Through articles, press stories, media coverage and other content, we can highlight the work an organisation is doing and give it credibility. It is also a way of bringing to the forefront stories on our environment that often take a backseat. The more people learn about conservation efforts, the more sensitised they become to these issues. We can use visual aid to simplify complex research work on wildlife and make it more understandable to a large audience. It is a way of disseminating knowledge, and knowledge is power.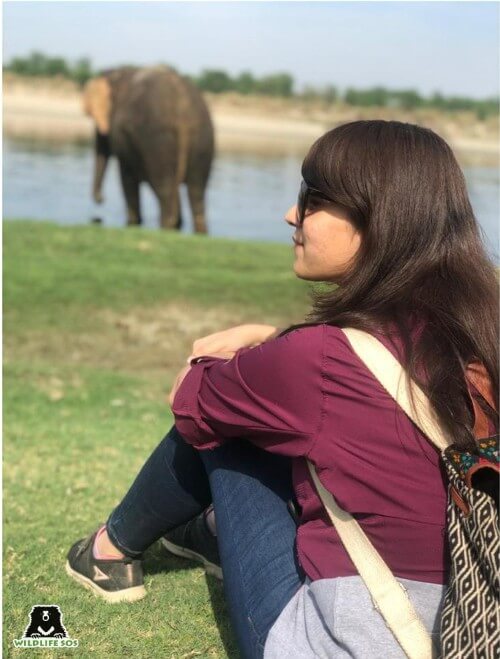 What have been some obstacles you have faced in your work?
Challenges in the field of wildlife conservation are plenty! But the hardest task is convincing people to give importance to wildlife conservation. This requires them to alter certain core beliefs and that is definitely not an easy task and definitely can not happen overnight. It requires consistency and persistence. The work our co-founders Kartick Satyanarayan and Geeta Seshamani have been doing is a culmination of 25 plus years of utmost dedication!
The other challenge is, of course, being a woman in a male dominated field. We have to fight much harder to be heard and respected.
You were involved in the Star Tortoise Repatriation Project. Can you tell us a little about that and your role in the project?
The project essentially involved the repatriation of 51 Indian Star Tortoises that were being smuggled from India to Singapore and different parts of the world. They were confiscated by the Singapore airport authorities and placed under temporary quarantine at ACRES, a wildlife rescue centre in Singapore. Although getting these tortoises to safety was a victory, they faced possible culling as the laws in the island nation are very strict in this regard. Wildlife SOS worked with ACRES to repatriate these tortoises and ensure that they could continue to live a free life. When we went to Singapore, we got to learn about these tortoises and the conditions that they need to survive in. Wildlife SOS veterinarians were able to provide them with all the care they needed.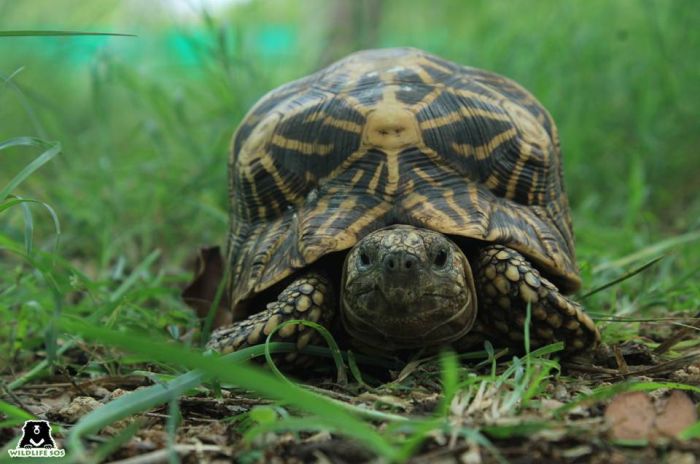 My role in the project was documenting this process and making our supporters and the public more aware of these often ignored species and the rampant illegal wildlife trade they fall victim to. It was a great opportunity to raise awareness and showcase to people the larger issue of wildlife trafficking. So many animals are trafficked and this has a huge impact on their population. Thus, by documenting this operation, we could raise awareness. We could also share some positivity by showcasing how these tortoises on the brink of being culled were saved and released back into their home turf!
Who is your work inspiration?
One of my biggest inspirations is Geeta Seshamani, Co-founder and Secretary of Wildlife SOS. I am constantly in awe of Geeta ma'am and how she works everyday with genuine and pure love for animals. It feels like her natural calling she was born with; she can push all boundaries to create a world where humans and animals live in harmony. She has spent her life working with local communities and doing abundant field work at a time when it was even harder for women to do so!
I take inspiration from wildlife photographers as well, who tell stories through pictures and help bring attention to the plight of wildlife.