Eight years ago, four elephants were rescued together from a circus in Maharashtra. These innocent souls had been forcibly removed from their natural habitats to experience agony under cruel captivity. Scarred, exhausted, and dispirited, the pachyderms were coerced to execute unnatural stunts for an audience. However, fate had other plans for them. In 2015, the circus that had held these elephants was shut down on grounds of criminal activity. Wildlife SOS immediately rushed in to make sure that these four elephants had a safe haven to go to. Among them was Peanut, who at the tender age of six, became the youngest elephant rescued and rehabilitated by Wildlife SOS. Along with her were Coconut, Walnut, and Macadamia — lovingly named the Nut Herd. This month, we focus on Peanut, the most sprightly 'nut' among them all!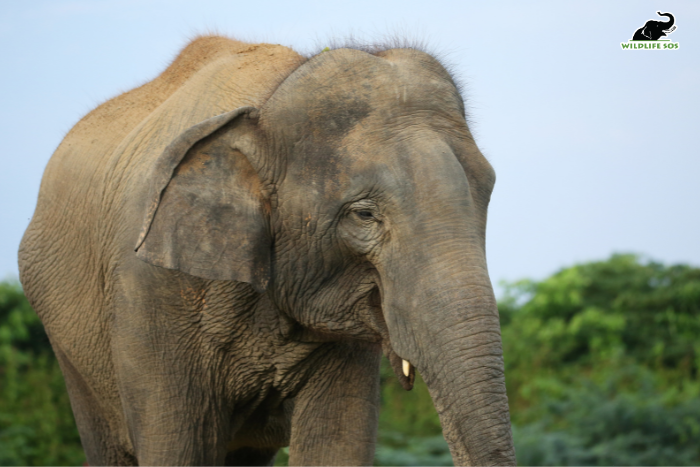 At Elephant Hospital campus, Peanut and her companions receive love and care, unlike the neglect that they faced in the circus Having suffered harsh captive conditions, young Peanut would display stereotypic behaviour that would include an aggressive bobbing of her head. Peanut is nearly 13 years old now, and even though such memories from the past tend to remain deeply ingrained among elephants, she has gradually, and successfully, overcome most of them. She has grown up to become a pachyderm with boundless energy.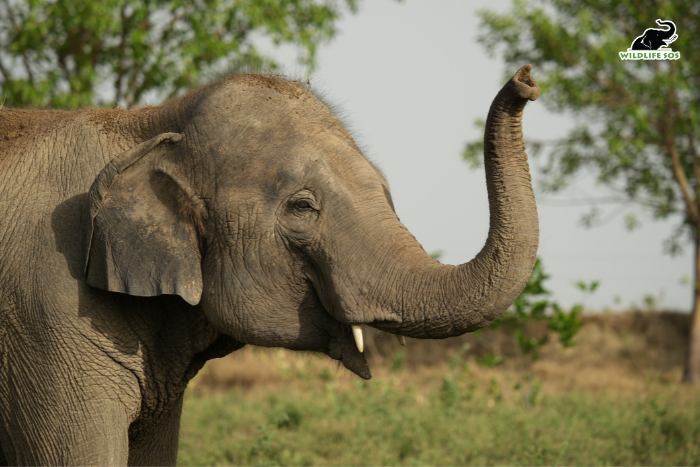 Peanut walks around in a playful manner, with Coconut always by her side. Coconut shares her enclosure with Peanut and over the years, she has assumed the role of an elder sibling, keeping a constant eye on Peanut. The two are frequently spotted enjoying long strolls with their caregiver, with Coco usually leading the way. Being a young elephant, Peanut likes to spend a lot of her time with her enrichments, especially the ones that contain her favourite treats such as the pipe and hanging feeders. But her athleticism is best displayed when she plays with the tyre enrichment. She flips and swings it around, and when the tyre is about to fall to the ground, she catches it with her hind leg! Coco joins in on the fun too. Enrichments are installed by our caregivers to strengthen the elephants' muscles and keep them mentally active. The caregivers of Peanut and Coconut are always coming up with new and exciting enrichments for the two frisky elephants to play with.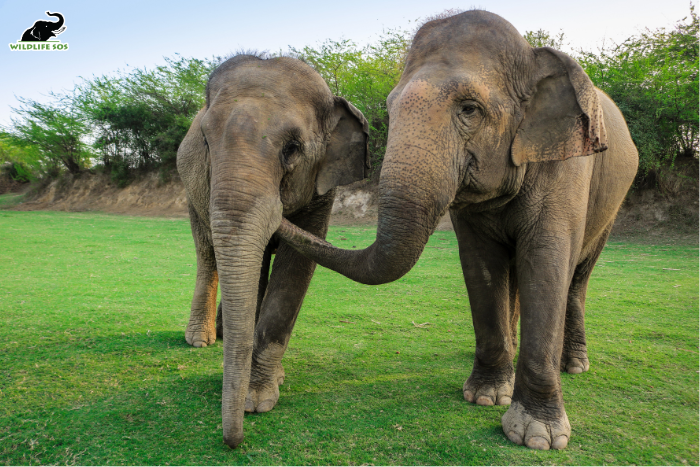 Peanut's enclosure is located at the further end of the Elephant Hospital Campus, closer to the Yamuna river bank. She has a huge fondness for water baths, and a cool shower is exactly what she is looking for when it gets hot in the summers. She also has a water tank inside her enclosure from which she frequently loads her trunk with water to spray it behind her ears. This is a fast way for elephants to cool down the circulating blood.
One of the many popular stories about Peanut is that she is quite impatient when it comes to food and begins to eat her treats as soon as the caregiver starts loading the cage feeder! Coconut, on the other hand, is more patient and waits for the caregiver to complete filling the shared enrichment before rushing in! The duo feels more at ease eating in each other's company and exhibits no competitive or possessive behaviour for the enrichments.
Peanut was barely the height of an adult human when she first arrived! She is a growing elephant, and eagerly chows down sugarcane and fruits from her cage feeder to power up. Seasonal fruits such as watermelon, papaya, raw bananas, cucumbers, and pumpkin are included in her meals, and she meticulously selects which ones to devour first from her bucket. After a fun morning and delicious food, Peanut heads for an afternoon nap on the mud bed.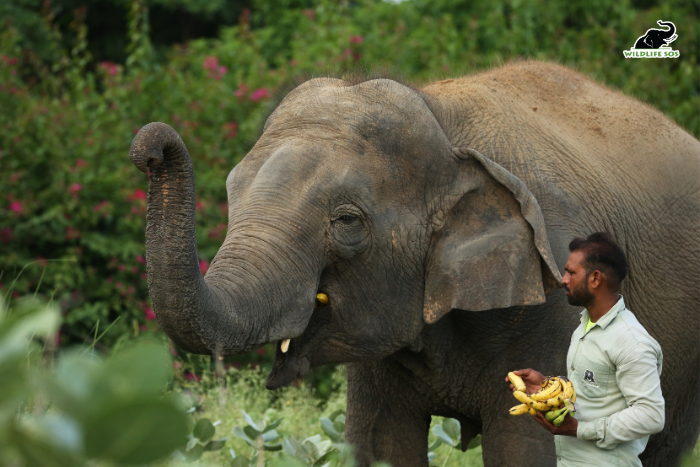 Even though Peanut is not undergoing any major treatment at the moment, our veterinary doctors take all necessary precautions. They provide her with oral medicines and multivitamin supplements so that she remains in the best of health. Regular health checkups, as well as health supplements, aid in her overall well-being. Her toenails are trimmed on a regular basis following a medicinal foot bath, which softens her cuticle area. 
In the month of May 2023, the Nut Herd completed eight wonderful years of freedom with Wildlife SOS! For all these years, Peanut's vibrant nature has lit up the centre. She, along with other rescued elephants at our centre, was fortunately saved from a life of apathy. However, elephants in India still continue to suffer from deprived lives and confinement, while being used to provide rides for tourists, perform at weddings and beg on the streets. To combat malpractices towards elephants, Wildlife SOS has launched the #RefuseToRide campaign, and we urge you to show your support by signing and sharing our petition.