On Saturday, November 4, Wildlife SOS took the City of Angels by storm for our first annual Tusk After Dusk extravaganza at Hollywood's historic Avalon theater. The lively, sold-out event was a big success, with a great cast of writers, directors, actors, musicians, lawmakers, and, of course, our very own cofounder Kartick Satyanarayan helping raise about $90,000.
Presenters at Tusk After Dusk included filmmaker Kip Andersen (Cowspiracy, What the Health) and actors Sean Marquette (The Goldmans) and William McNamara (NYPD Blue, Feel the Dead). The honorees were Modern Family star Nolan Gould as well as animal rights luminaries Jennifer Conrad and Patty Shenker. And throughout the evening there were amazing musical performances from moody instrumentalists Maetar, celebrated rock violinist Lili Haydn, and provocative avant-pop artist ANML.
Of course, we think the highlight of the evening was Kartick's presentation, and the touching memorial video of Mohan that  he introduced. And at the end of that, Kartick received an official proclamation from the City of Los Angeles, signed by the mayor and presented by L.A. City Council Member Paul Koretz for "the tireless efforts of Geeta Seshamani and Kartick Satyanarayan, and their organization, Wildlife SOS, and for their contributions to the improvement of conditions for all living things."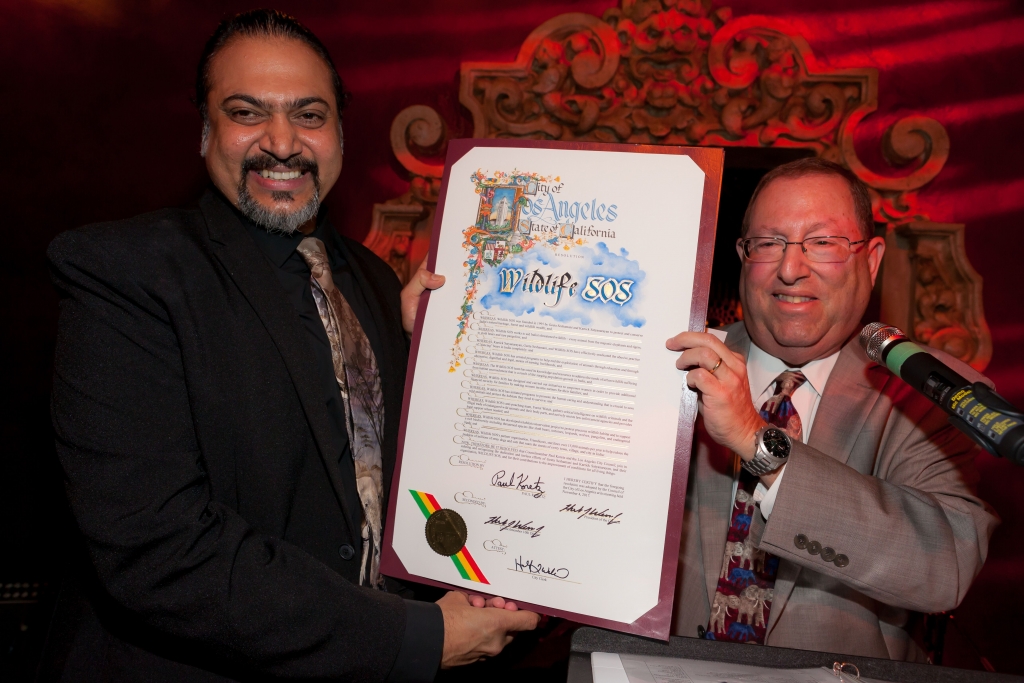 What a night for India's wildlife! So many amazing people gave their energy and time (and opened their pocketbooks as well) to help out. We'd like to thank all of them, and extend a huge shout-out to our volunteer staff. THANK YOU ALL for an unforgettable evening in Los Angeles!
Keep scrolling for more highlights of the event!