Years of working and begging on the streets for her cruel master had broken down Kalpana's body immensely and caused her a great deal of mental trauma. After nearly four decades of abuse and suffering, she finally found the much-deserved and needed respite in her life when she arrived at the Wildlife SOS Elephant Hospital for treatment and care. She was finally at a place where her well-being mattered the most, unlike in her stressful past where she was merely a pawn for commercial gains.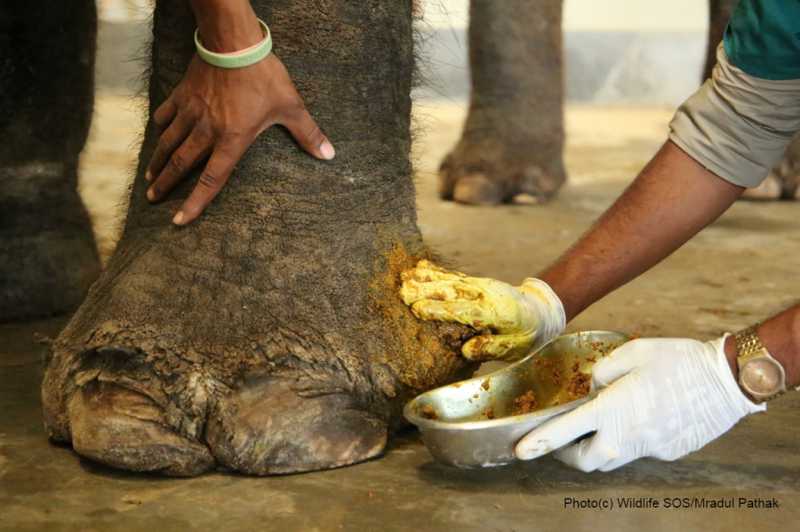 Kalpana had never experienced kind hands. She was an 'investment' and she needed to live up to her worth. In a bid to squeeze every penny out of her, Kalpana's health became secondary. Her nutrition was severely compromised with and despite her large size, Kalpana had a shockingly lower weight than the ideal weight for her stature, worrying our team greatly. It, thus, became our team's priority to put this pachyderm on a healthy nutritious diet comprising of fresh sugarcane, barseem (sorghum), and seasonal fruits and vegetables. Kalpana is not at all a picky eater and eats everything given to her as if every bit is precious. She evidently has a soft spot for yellow ripened bananas and can often be seen quickly taking away them from her keeper's hands when he is not looking!
Begging on the streets came at a difficult price to Kalpana: with every step that she took on the tarred roads, her delicate feet got a step closer to degradation. It did not matter whether it was scorching hot outside, for she walked for as long as her master wished. Unsurprisingly, our team found out that all four of Kalpana's legs were in need of intensive care. Her footpads have thinned considerably that makes her prone to infections. In fact, the footpad of the left front leg has come off that has caused her an immensely painful injury. As such our team of veterinarians have devised an elaborate footcare routine for Kalpana that comprises of trimming of toenails and cuticles, medicated footbaths and the application of antiseptic ointments on her left front leg.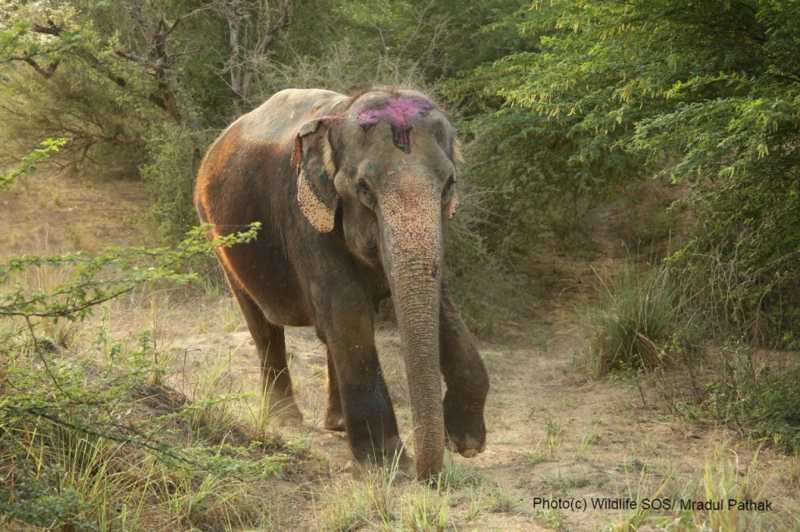 It is also ensured by our team that Kalpana spends maximum time on soft mud floor. This is not only good for her dilapidated feet, but it is also good for her ankylosed right front leg. About nearly half a year ago, while on her way from another stressful wedding that she had 'graced', Kalpana accidentally stepped into a ditch. Due to dis-balance from the heavy decorations, she ended injuring her right front leg. This injury was never allowed to heal and she now has a permanent physical disability. This disability has also come with her share of pain that is chronic. Although an anti-inflammatory ointment is applied on her leg daily, she is still given painkillers to ease out the chronic pain and make her more comfortable.
Kalpana's abusive past is pronounced by the bull-hook scars that cover her entire body. In fact, our team with the help of the Forest Department confiscated an axe and a spear that Kalpana's owner used, to tame her. Between the daily beatings from the axe and the direct scorching sun, Kalpana's forehead is covered in skin lesions. To relieve her irritation and dryness, our veterinarians apply a mixture of coconut oil and calamine. Since the mixture is pink in colour, it sometimes appears as if Kalpana has crushed a watermelon over her head!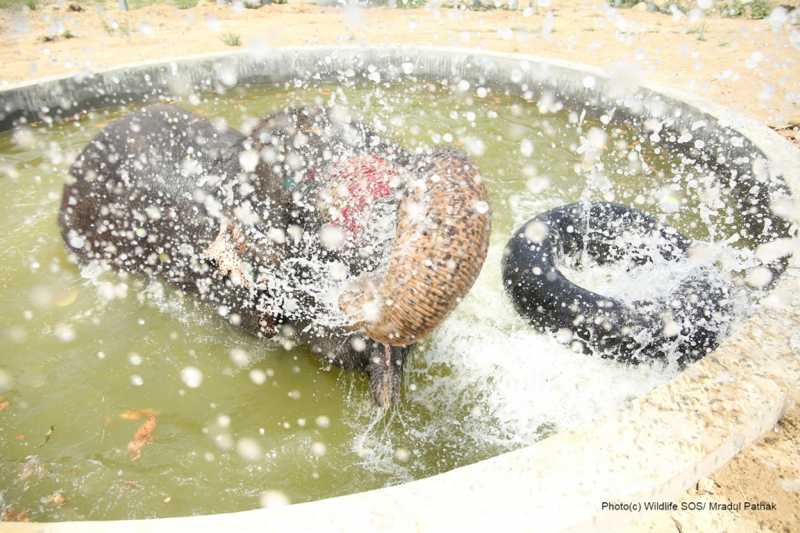 From the very first day of Kalpana's arrival, we knew that she had a boisterous personality. Whilst inside the treatment pen of the Wildlife SOS Elephant Hospital, she would sneak a quick scratch by rubbing her trunk against the girders. Kalpana is quite a curious elephant and believes in the policy of exploring every nook and corner of her new home. Her favourite spot inside her enclosure is the pool- she absolutely loves submerging herself or splashing water everywhere in the pool for hours straight. This is not only refreshing for her but also provides vital hydrotherapy by taking the weight off from her aching joints. She has so much energy in her that sometimes her keeper just gives in whilst she happily goes about uprooting grass or giving herself dust baths.
Life had not been easy for Kalpana where her spirit had been suppressed. Today when we see this elephant take steps towards healing herself, we cannot help but be filled with warm hope. There is a long journey ahead of Kalpana, and we hope that you will continue to support her.