05th February2015. Everything around her was darkness. She could hear scuffling, urgent whispers, and the low rumble of a large vehicle pulling up beside her. She could feel hands on her tiny body, reassuring her and easing off the chains that held her in place. But she couldn't see anything, it was all dark.
The hands felt unfamiliar but friendly, and the blind female elephant did not panic. She just shuffled a little on her feet, and used her trunk to investigate the strangers in her surroundings.
Dr. Vibha Raghuram ran a gentle hand down the outstretched trunk, then coaxed the elephant towards an awaiting truck. Wildlife SOS was saving Suzy.
After 60 years in captivity, the latter portion of which was spent as a performing elephant in a circus, Suzy had borne witness to more than her fair share of cruelty at the hands of her human captors. Like all circus elephants, Suzy spent her childhood being beaten and abused to "break her spirit" and make her compliant to training, so that she could perform painful, uncomfortable tricks for the amusement of the circus audience. She was poorly cared for, often starved and forced to stand for hours on end in filthy, unhygienic conditions, with no immediate access to water. When she was not performing, Suzy would have spent a majority of her time chained to a single spot, with heavy chains digging into her aching feet, restraining her movement. She had grown old, weak and blind over the years, without the slightest taste of freedom. This changed in February 2015, as Wildlife SOS rescued Suzy from her abusive, cruel life- marking the first rescue of a circus elephant since the launch of the organisation's campaign to rescue all of India's 67 circus elephants.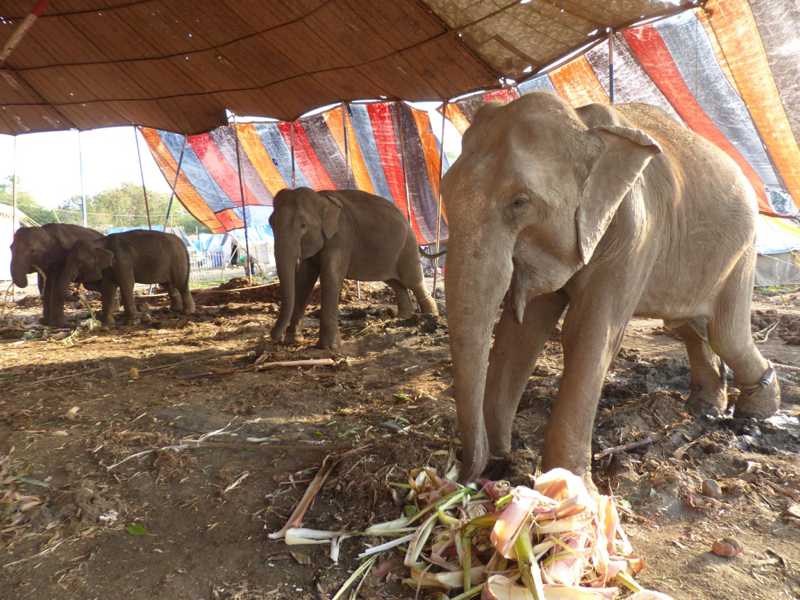 05th February 2016. Since Suzy's rescue, exactly a year ago, Wildlife SOS has resolutely stuck to its mission of getting all of India's circus elephants out of their painful world of circus tents and bullhooks, to the safety of our rescue centres. Two months after Suzy's rescue, the number of circus elephants remaining in India dropped to 62 as the adorable Nutherd made its way from the Moonlight Circus in Maharashtra to the Wildlife SOS Elephant Conservation and Care Centre, Mathura. The four circus elephants included two young bulls named Macadamia and Walnut, along with two females (including the youngest elephant to be rescued by Wildlife SOS), Coconut and 6 year old baby Peanut.

Aged and ailing, Mia and Sita followed in November, bringing with them a heartbreaking host of painful injuries and ailments acquired over years of abuse in the circus. With their rescue, the number of elephants in India's circuses dropped to 60- we had achieved more than 10% of our goal in a single year!
We realise however, that we have a long way to go, that 60 innocent lives languish in circuses across the country awaiting the safe, free life they deserve, and we remain determined to continue rescuing these amazing animals till none remain in the confines of the circus.
Help us save more lives this year, and bring these magnificent animals out of the circus and into our care along with Suzy, Mia, Sita and the Nutherd. Consider donating to our circus elephant campaign, by following this link.