There was an unusual storm at night on the 30th of March. Strong, dust-laden winds knocked on every door and window. It seemed as if the sky was angry, for the lightning was ferocious enough to make every living person stop in their tracks and wonder, "Is everything okay?" Perhaps the winds were merely the harbinger of the news that Luna's last breaths were close at hand.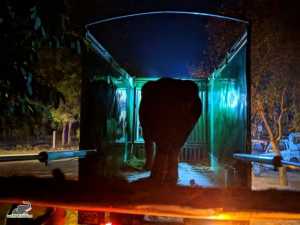 From the little time that Luna spent with us, we knew that life had been immensely painful for her. While we can never fathom the mental trauma that she endured as a calf when she was ripped from her mother, we knew that her adulthood, too, was marked with trauma at every step and turn. When our team first met her, they were moved by the dull aura that Luna had about her. She was always fixated in one place, not even making a single sound. Luna's stature seemed to be bending inward as if indicating that the mere weight of existence was too much for her to bear. With every part of her body riddled with ailments, it appeared as if she was fighting a tough battle all alone.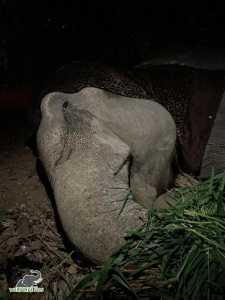 This battered pachyderm needed our help, and we mobilised quickly to get help to her. After nearly five decades of torture and negligence, Luna's delicate feet were failing her and getting the best of her. Her pain was a shadow that followed her everywhere. Many times, Luna would lay down to rest only to not be able to get up for many hours as her severely arthritic limbs would ache just too much. Right before she was being loaded onto the Wildlife SOS Elephant Ambulance, her feet gave away and a crane had to be mobilised to help her back on her feet. Yet Luna stepped onto the ambulance in anticipation of a kinder, healing future and moved us all with her strong determination and courage. Luna arrived at the Wildlife SOS Elephant Hospital on the 31st of January, during the wee hours of the morning and new dawn broke in her life.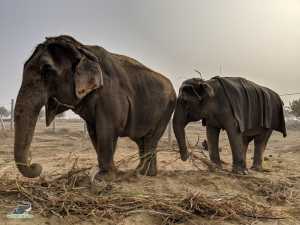 Luna was quick to accept her new home. Perhaps her strong sense of hearing quickly told her that there was a companion awaiting her next door. The two elephants clicked instantly and naturally like it was always meant to be. Perhaps the two friends understood the scars from each other's past in a way that no human could. During lazy afternoons, Luna and Holly would simply stand next to each other under a tree. Holly would delicately run her trunk over Luna, as their stomachs rumbled softly. Holly's enthusiasm would even coax Luna to explore her surroundings, and the two friends would eat fruits and vegetables standing right next to each other. Reassurances from Holly strengthened Luna's spirit and helped her become just an elephant.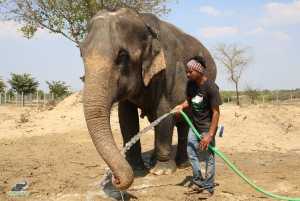 Her keeper, too, would go an extra mile to make sure that Luna got all the comfort possible. Under his dedicated care, Luna started to let go of her apprehensions. We soon found out that Luna was a complete water baby; she thoroughly enjoyed being hosed down with fresh, cool water. As her keeper scrubbed her body to remove dirt from her wounds, Luna would take the hosepipe in her trunk to collect water in her trunk and splash it all over herself and her keeper. Luna would then always finish off her showers with an earthy ritual of sprinkling a trunkful of dust all over herself. In fact, Luna thoroughly enjoyed the dust that surrounded her at her new home, and could always be spotted giving herself seemingly cathartic dust baths.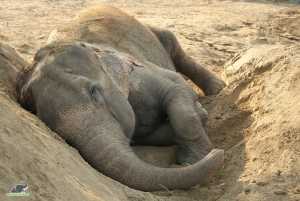 At the back of our mind, our concern for Luna never subsided, and we were always acutely aware of the pain that she was in. Our efforts to treat her chronic ulceration, severe arthritis and oedema continued, with our dedicated team working round the clock. Luna had several bad days due to her weak feet, which would render her unable to get up after lying down. Her strong and determined spirit would make her want to use all of her strength to get up at once, but this would also exhaust her quickly. In these moments, Luna's keeper would never leave her side and was always there with comforting and reassuring words that it would all be fine. He made sure that Luna got ample time to rest and relax her mind before any attempts were made to lift her with a crane. These instances assured Luna that it was okay to take a moment and rest, and not stress out. Slowly, this helped build Luna's confidence and she gradually started to get up on her own. This gave us a sense of hope and made us proud of the fighter that Luna was.
But maybe, some days are simply too bad. During the early morning hours on the 21st of March, Luna's keeper found that she was having trouble getting up. He quickly alerted the team, who soon mobilised the crane to give her external help. But the pain in her arthritic hind legs was much too great and she was unable to bear weight. It was important to let her rest, and with the help of a crane, our team laid her in a comfortable position on the mud bed. The veterinary team administered her with pain killers in the hope that it would help Luna become comfortable. Her keeper was by her side feeding Luna her favourite cucumbers and softly calling out to her. When the next attempt to help her stand failed, our team realised that perhaps Luna was now living her final days. Holly, too, sensed something was amiss as she walked past Luna's enclosure, and let out a soft wail. She proceeded to stand under their tree like she had every day in anticipation of her friend's arrival.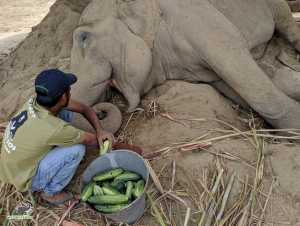 Our team stood by Luna throughout and worked day and night to make her last days as easy as possible. Luna's keeper hand-fed her favourite treats- cucumbers, papaya and watermelons every day, and electrolytes were administered to keep her hydrated. Big rubber tubes were adjusted under her so that her chronic ulcers did not add to her pain and to prevent her from developing any new injuries. Luna's appetite slowly decreased as her breaths became louder and slower. Luna died in her sleep in the morning of 31st of March. Her burial was simple, yet profound. The team who had cared for her during her short stay at the Field of Dreams laid flowers and garlands at the site and observed a two-minute silence.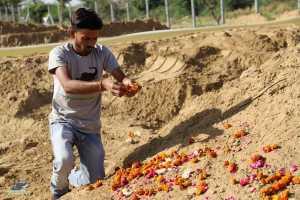 For the short, while that Luna was with us, she touched us with her gentleness and her heart full of forgiveness. We will all miss her, especially her friend Holly who still searches for her under their favourite tree. There is some comfort in knowing that she died surrounded by love and that though we couldn't give her more time, her last several weeks were more peaceful and joyful than any that she'd experienced before. We have been left with a void and an inspiration to work harder.
May you rest in peace, dear Luna.