Situated in the middle of Western Maharashtra, the Ahmednagar district is on the rise. Seen as a leader in the cooperative sector, Ahmednagar is responsible for more than half of sugar production in Maharashtra. A bitter side to the sugary rise of Ahmednagar is the expeditious decline of the natural habitat of their feline neighbor – the leopard.
Due to rapid human encroachment and habitat fragmentation, leopards often wander into human settlements for food or shelter, leading to numerous conflict incidents. In 2016, Ahmednagar saw a total of 30 leopard deaths in a short span of 9 months. Out of the thirty, 12 leopards died in accidents like falling into a well, and six perished in territorial fights. To steadily decrease the impact of human-leopard conflict on both the humans and the big cats, in-depth training of forest officials is a must.
To this end, Ahmednagar Forest Department invited Wildlife SOS to organize a training workshop on Leopard rescue and conflict mitigation for their officers. Through our team at the Manikdoh Leopard Rescue Centre (MLRC), Wildlife SOS has long been organizing training and awareness programs for key stakeholders in the area along with rescuing, treating and providing shelter to leopards in distress.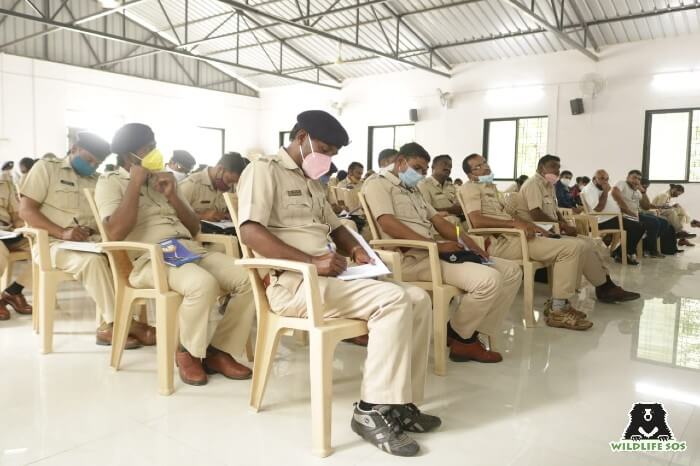 The training program was conducted by our Wildlife Veterinary Officer, Dr. Nikhil Bangar. We kicked off the session with a detailed factsheet on leopards. Rescue operations involving this elusive big cat, require meticulous knowledge of every factor involved, including the generic temperament of the leopard.
After becoming familiar with the majestic animal, the officers were taken through the various kinds of rescue scenarios possible. No rescue operation with a leopard ever looks the same. For example, if a leopard is stuck in a well, the rescue operation would differ according to the well's depth and water level. From road accidents to leopards trapped in schools, Ahmednagar forest officials were given a detailed view of each of these scenarios. They were further taught how to use various rescue equipment like the snare pole or blowgun in a safe and effective manner.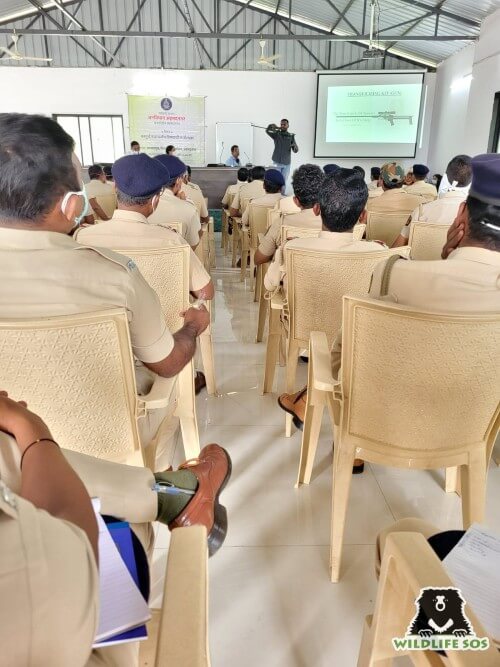 Dr. Bangar gracefully imparted the years of knowledge he had collected. What he emphasized in the session was a phenomenon he had observed over the years that gravely risked the wellbeing of the leopard – lack of public awareness. One of the major rescue challenges, public awareness towards leopards can either make or break a rescue operation.
When uninformed, people often react to the presence of a leopard with hostility leading to dire consequences for both parties. The officials were taught methods to educate and sensitize the public to instill in them a sense of responsibility towards their feline neighbors.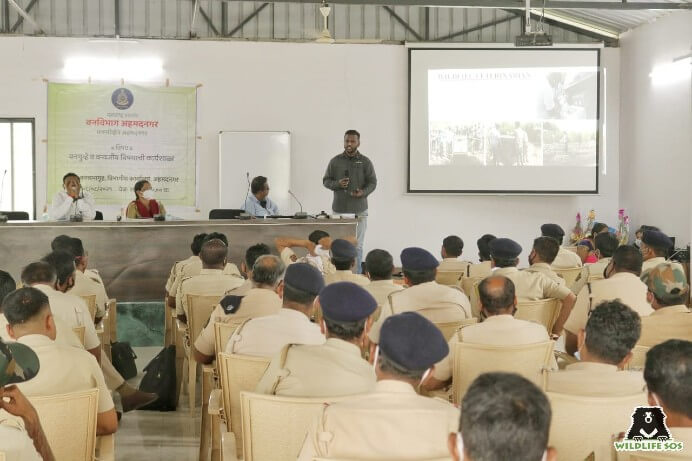 The session ended with all 87 officers brimming with excitement for their next session involving a visit to MLRC. Each session for us is a giant leap towards transforming Maharashtra into a region where leopards and humans coexist.
To donate to our conservation efforts, click HERE. To sponsor one of our rehabilitated leopards, follow this LINK.