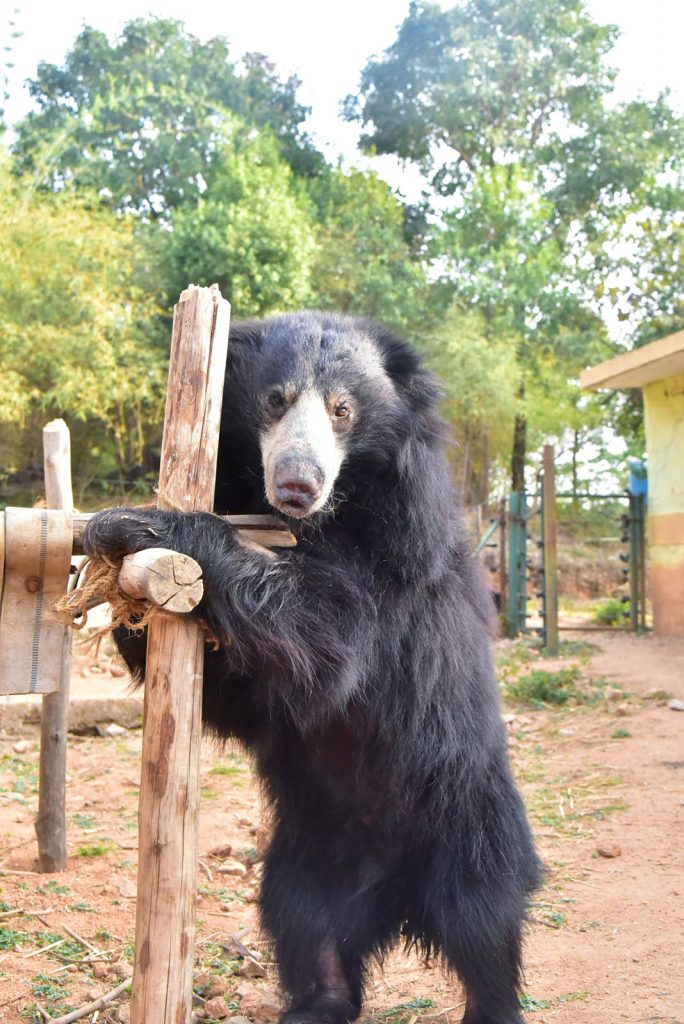 Age: 9 years old.
Sex: Male
Age at rescue: 2 months.
Personality traits: Friendly, playful, very sociable. Kuber suckles on his brother Nakul's ears when he is stressed.
Recognizable features: none so clear.
Physical condition and ongoing health challenges: Kuber's physical condition currently is good, but a few years ago, he started showing signs of weakness and significant body weight loss, so an MRI and detailed test were conducted; they revealed that he was suffering from muscular in-coordination and extensive cerebral haemorrhage. After months of treatment, uber was finally fit to be released from intensive care. Today, he receives regular physiotherapy and treatments on account of his previous illness but is doing very well.
Facility: Bannerghatta Bear Rescue Centre
Favorite foods: Coconuts, dates & honey.
Sanctuary friends: His brother and best friend, Nakul.
Favorite activities: mock-wrestling, demolishing structural enrichments and sleeping in freshly dug mud pits on lazy afternoons.
Special needs or accommodations: Kuber needs regular physiotherapy on account of his previous illness.
Keeper: Sreekanta.
Background history: Kuber was rescued in an anti-poaching operation by Wildlife SOS, law enforcers and the Forest Department along with his brother Nakul, after their mother had been killed by poachers. After their arrival at Bannerghatta Bear Rescue Centre, the two were hand raised and today are two healthy, happy bears who are inseparable and truly enjoy life to the fullest!