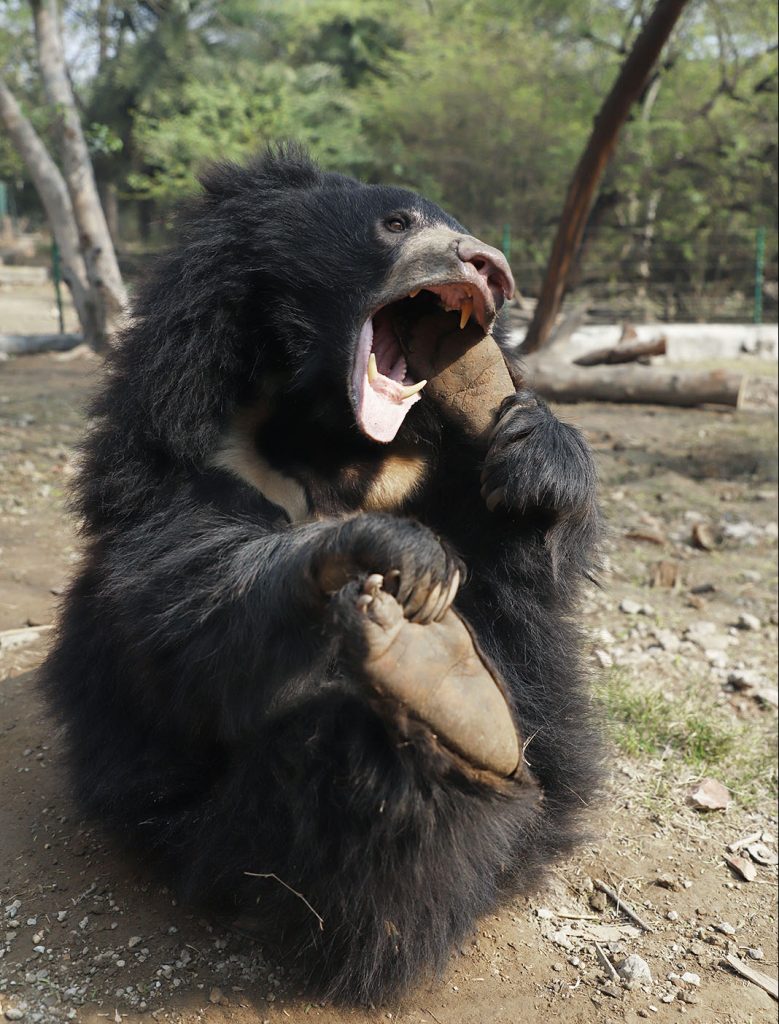 Age: 3 years old.
Sex: Male.
Age at rescue: 2 months old
Personality traits/quirks: Mowgli, though quite sociable, has a funny way of testing new visitors. He either mock charges them for fun or sneezes on them, as if expressing a playful challenge.
Recognizable features: Two faded scars on his forehead.
Physical condition and ongoing health challenges: Healthy; not undergoing any treatment
Facility (where the animal is): Agra Bear Rescue Facility.
Favorite foods: Honey laced porridge.
Favorite activities: Climbing trees, honey logs.
Special needs: Enrichments such as log platforms and hammocks
Keeper: Chandrashekhar aka Shyamu
Background history: Mowgli was found orphaned and struggling to nurse from the body of his dead mother who was electrocuted by poachers, when he was just 10 weeks old. Alone and defenseless, Mowgli would never have been able to survive without his mother, and had to be rescued by the Wildlife SOS team. Initially scared and confused, this tiny cub was terrified of human beings but with time, Mowgli slowly started trusting his keepers and the vets with regular bottles of milk and lots of love. Today, he's a healthy, stocky 3-year-old who feels like he's the king of the centre, and is treated like it, too!