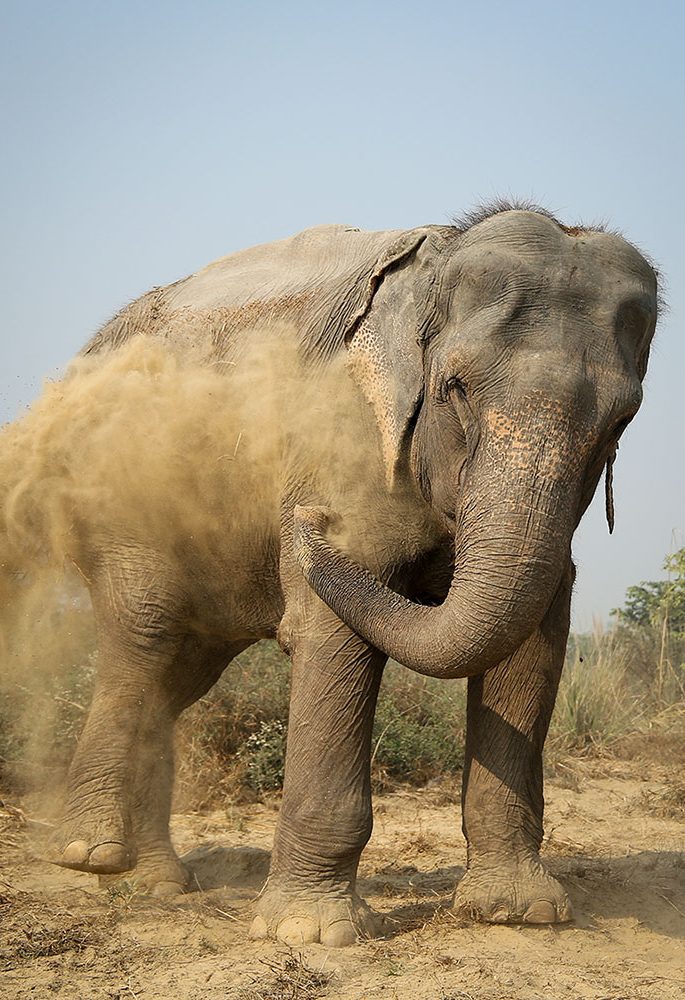 Year of arrival: 2018
Age at the time of arrival: around 60 years old
Sex: Female
Personality traits: Tranquil and reserved
Recognisable features: Compromised gait, diffused joint of the right leg, smallest of the trio that is Kalpana, Karma and Holly, completely blind in both eyes
Present health condition: Suffering from severe osteoarthritis for which laser therapy is administered; her right leg has regular x-ray examination assess the level of improvement in swelling; she is given medicated footbath for her thinning footpads and overgrown toenails
Facility: Field of Dreams
Favourite food: Green fodder and sugarcanes
Closest to: Karma and Kalpana
Favourite activities: Holly loves spending time in the hydrotherapy pool and enjoys taking naps there! The buoyancy of the water helps taking the weight off her exhausted, arthritic limbs and helps the relief run through Holly's legs.
Special needs: Due to her severely affected gait, Holly's walks take a long time as she takes slow and measured steps. To boost her inner strength and immunity, she is fed cooked concentrate which has nutritious condiments like ginger, garlic, turmeric and so on.
Mahout name: Surendra
Background history: Holly was rescued in December, 2018, as a begging elephant whose body hosted scars of a brutal and abusive past. Holly is completely blind in both her eyes, and has lived her life in isolation, walking endlessly on hot, tarred roads. Holly became the first patient of the Wildlife SOS Elephant Hospital, and urgent medical attention was rendered to her by our team of veterinarians.