Panic took over the villagers of Jalauke Khurd when news of a leopard sighted within their village rapidly spread. For some, this meant barricading themselves within their homes instantly. For most others, this was a fascinating event, and they ventured out to catch a glimpse of this feline. The Forest Department rushed to the location with protective gear, tracking equipment and a trap cage. The Wildlife SOS team soon arrived at the location to provide technical assistance.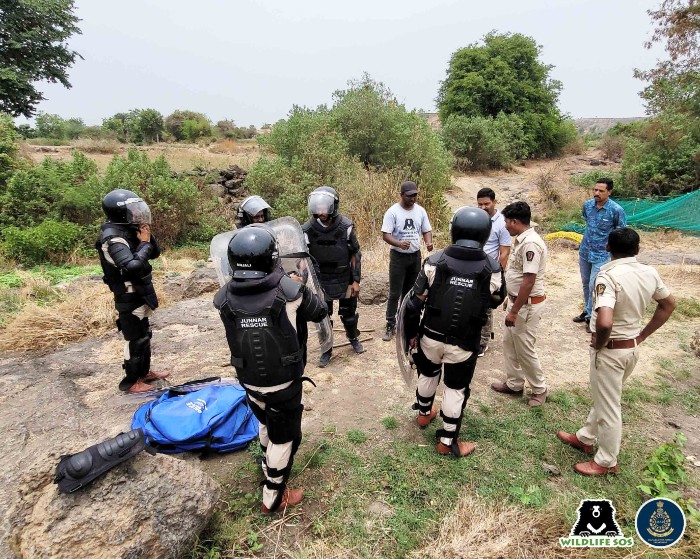 To track the leopard within the expansive village was bound to be challenging. Unlike other rescues from within open wells, cattle sheds and factories, this rescue was to be conducted on land where the leopard had free access. The Forest Department initially attempted to track the leopard using pugmarks and cameras, but the feline seemed to take them on a wild goose chase. It was then brought to notice that the leopard was last sighted going into a field with tall, unkempt grass.
With no sign of the leopard, the Forest Department decided to cover the area surrounding the field with mesh, in the event that the leopard attempted to escape. Wildlife SOS veterinary officer, Dr. Nikhil Bangar, was present there to help tranquilize the leopard when found. Together, the teams continued to track the leopard, while also ensuring that the villagers stayed away from the location.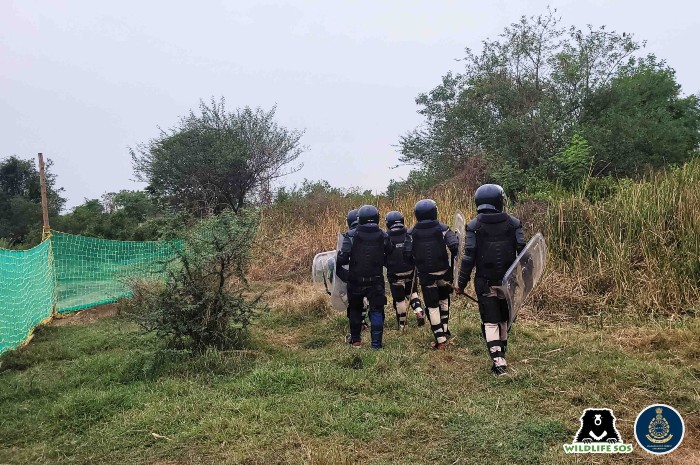 The search continued for hours, till the leopard was finally spotted. Attempts were made to dart the elusive feline, but the leopard would quickly vanish into the foliage. The Forest Department and Wildlife SOS teams knew that they had to change their tactics.
This time, the squad put on protective gear comprising of a shield, chest plates, helmets, shin and calf guards. The team discussed the formations to take, in the event of coming face-to-face with the feline. They then ventured into the grassy area. A few members of the team walked ahead while others carried the trap cage. The cage was then placed at an ideal spot, with food bait to lure the leopard in.  The team retreated from the cage, awaiting the leopard's arrival. A few hours later, a loud clang signalled that the leopard had entered the cage which had prompted its gate to shut behind it! The team finally breathed a sigh of relief and soon, the leopard was transported to Manikdoh Leopard Rescue Centre for observation.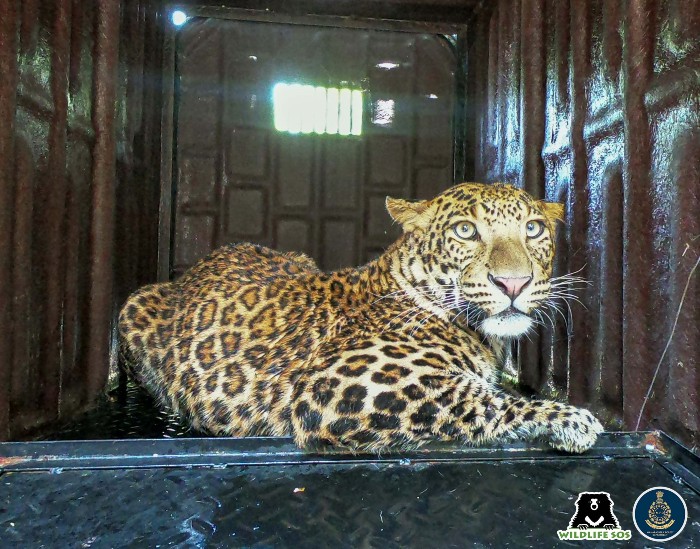 Take action to protect India's leopards here!