Mangee became one of the earliest members of the Wildlife SOS family when we rescued her in the winter of 2002 from a Kalandar family in Uttar Pradesh. Cubs being poached from the wild, while their mothers were killed when they tried to defend their young, is the most common story with regards to 'dancing bears'. Eventually the delicate muzzles of the cubs are pierced with a hot iron needle for entertainment purposes – Mangee also suffered a similar fate.
The young sloth bear was merely 5 years old when she was rescued, but had already experienced and suffered a life of unspeakable cruelty. Due to prolonged malnutrition, she appeared really weak and emaciated. Moreover, she was in absolute agony due to a muzzle infection caused by the constant tugging of rope that was pushed through the pierced hole in her delicate muzzle.
As she stepped into the Wildlife SOS Agra Bear Rescue Facility (ABRF), we remember her as a bear with a rough and dry coat, and her canines were missing. The wound on her nose was still fresh and she had slight opacity in both the eyes. All these are results of the stressful conditions they have to live in during their years as a dancing bear. But we try to provide them a comfortable life when we rehabilitate the sloth bears at our centres. After having spent more than 20 years at ABRF, Mangee has healed and has been living a life of freedom, in a near natural habitat.
Being an old bear, 25-year-old Mangee usually prefers to stay alone due to her solitary nature. During winters, she would slowly come out of her enclosure and walk up to the platforms in the field, although not climbing them. But during summers, she likes to stay indoors most of the time because of the air coolers installed inside her enclosure. Despite her solitary nature, Mangee can sometimes be seen interacting with fellow bear Champa.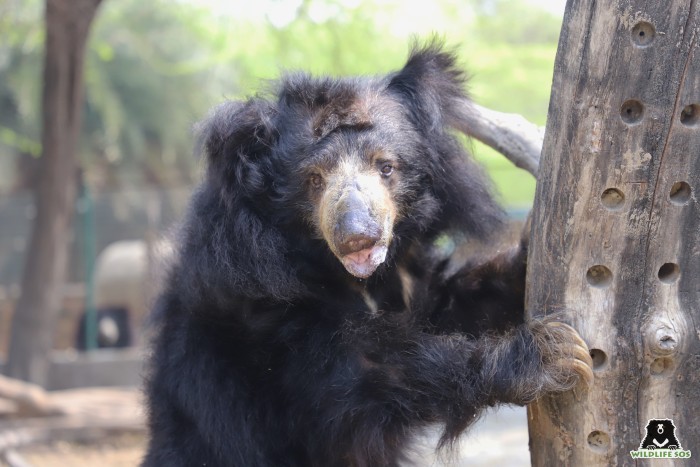 On an average, sloth bears can live up to 15-20 years in the wild but under captive care, they can live up to 25-30 years (even 35 years in some cases). Bears above 16 years are considered candidates for geriatric care depending upon their health condition, amount of activity and feed intake. Older bears have different physical and emotional needs, and go through behavioural changes, taking on a calmer demeanour. Their interest in playing with enrichments and interacting with other bears also reduces, and all these traits are clearly visible in Mangee.
However, understanding the needs, we have to provide her with the most appropriate care. As we see bears becoming less active with age, food-based enrichments take the place of structural enrichments gradually. In Mangee's case, coconuts do the job. We also have water sprinklers in the field which make the soil soft and ensure that she does not face any difficulty while walking. The caregivers also trim the claws to make sure the bears don't hurt themselves while playing or walking.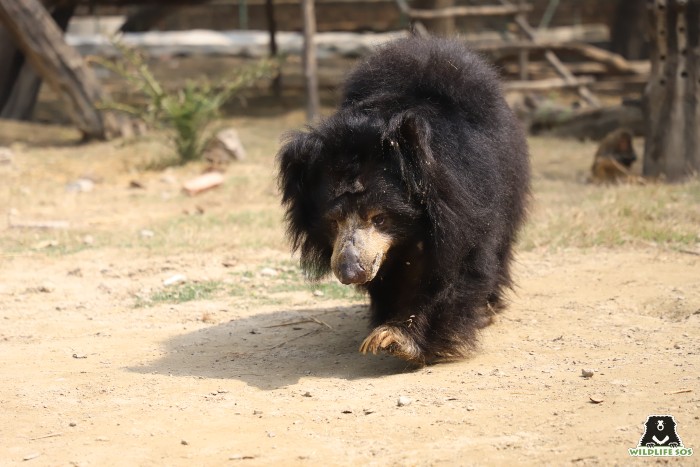 A real foodie at heart, Mangee is a generalist and is not at all a picky eater. During the winter months, she can be seen thoroughly enjoying her dates, coconuts, puffed rice balls, jaggery balls, and peanut and jaggery brittles! Whereas during summers, she will gobble down the fruits which include watermelon, papaya, muskmelon, grapes and apples. Our veterinarians prescribe a diet for a geriatric bear like Mangee, which is usually rich in protein, calcium and fibre, to help boost their metabolism and strengthen their immunity. Since cereal based porridge is high in carbohydrates we give her diluted porridge twice a day, and she would finish it without leaving a trace in her bowl.
All these idiosyncrasies make Mangee a very beloved member of the Wildlife SOS family and this veteran is our bear of the month! We are thankful to all those who have supported us till now, which allowed us to return Mangee's freedom from her days as a dancing bear. If you wish to see Mangee continue living her happy life, please consider becoming a monthly donor or sponsor.