Asia's first Sloth bear sanctuary, the Daroji Sloth Bear Sanctuary, is located in the Ballari district of Karnataka and is spread over 82.72 km2. While it was earlier known as Bilikallu reserve forest, the Government of Karnataka declared it as Daroji Sloth Bear Sanctuary in 1994. The Sanctuary area is located in the Deccan Plateau which is surrounded by dry deciduous scrub forest and thorn forest.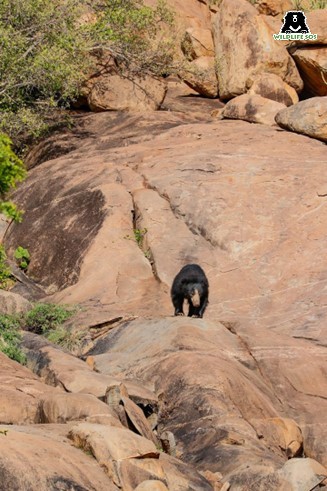 What makes Daroji well-situated for Sloth bears?
The landscape is majorly dominated by rocks and boulders with caves formation, which provide Sloth bears shelter in the extreme hot weather of this region.
I visited the Daroji sanctuary in March and during this time of the year, the maximum temperature can reach 40 degrees Celsius and a minimum of about degrees Celsius. While the temperature soars from March to mid-May, the monsoon season brings about a much-needed reprieve from the heat. The landscape transforms from a dry deciduous thorny forest to a vibrant green forest. The rains not only restore the soul of the Daroji forest by giving it a lush green colour but also provides a greater chance for animal sightings.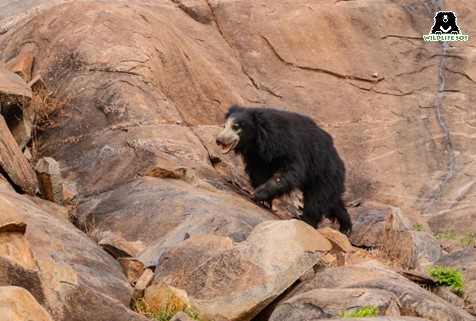 Wildlife enthusiasts can spot the otherwise elusive Sloth bears in a particular area of the sanctuary which is referred to as "the sweet lick area" while enjoying the spectacular views. The Forest department staff is tasked with smearing sweet honey all around the rocks of the sweet lick area and as it is evident from the name, it attracts the bears of that area. Bears generally come and lick the honey, making a slurping sound that can be heard from 100 metres away. After licking all the honey off the rocks, the bears crawl back down, drink some water from a nearby watering hole, scratch their bodies against the nearby trees, and go back to their day-to-day activities.
Some bears, especially females with cubs, stay in that area and take some rest. As you probably know, Sloth bears enjoy eating and resting, just like their cousins, Chinese giant pandas. Sometimes, one can see them engaging in other activities like digging holes in the ground in search of dung beetles, or insect mounds to feast on their favourite termites!
Adoption Behaviour amongst Sloth bears
During my time at the Daroji sanctuary, I observed and recorded a unique phenomenon — a female Sloth bear had adopted the cub of another female and taken care of it along with her own cubs. In 2021, the forest department of Daroji bear sanctuary also observed this unusual behaviour, one they had never seen before. They saw that a female Sloth bear who already had two cubs of her own and had adopted an abandoned cub.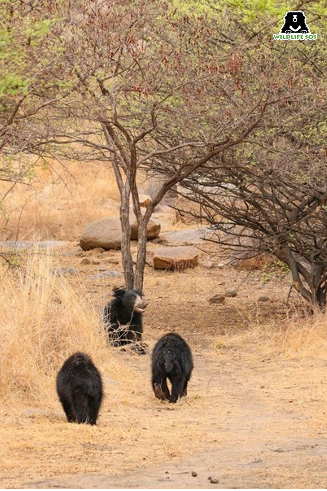 Adoption (often temporary) of cubs mainly in bear species has been previously observed in different parts of the world. An article by A.E. Derocher and Ø. Wiig, mentions their observation of adoption in Polar bears (Ursus maritimus) on Hopen Island, Svalbard, Norway. They specified that "the high density of maternity dens in the study area may increase the likelihood of natural adoption. However, we believe that the probability of adoption may increase when family groups are captured, and the scientific interpretation of such events is of questionable value".
Other Species at Daroji
Not just Sloth bears, but the sanctuary is home to many mammals like the Indian Leopard, Indian Fox, Indian Pangolin, Indian Crested porcupine, Indian Boar, Mongoose (Indian grey, Ruddy), reptiles like Indian Star tortoise, Monitor lizards, snakes, etc. and many native as well as migratory birds. Daroji holds a flourishing population of Sloth bears and has been home to them for centuries.
Moreover, a thriving leopard population has also been recorded in this terrain. Leopards have been living in this habitat for as long as Sloth bears. This landscape has two keystone species coexisting rather than competing with one another to survive, as the best example of coexistence.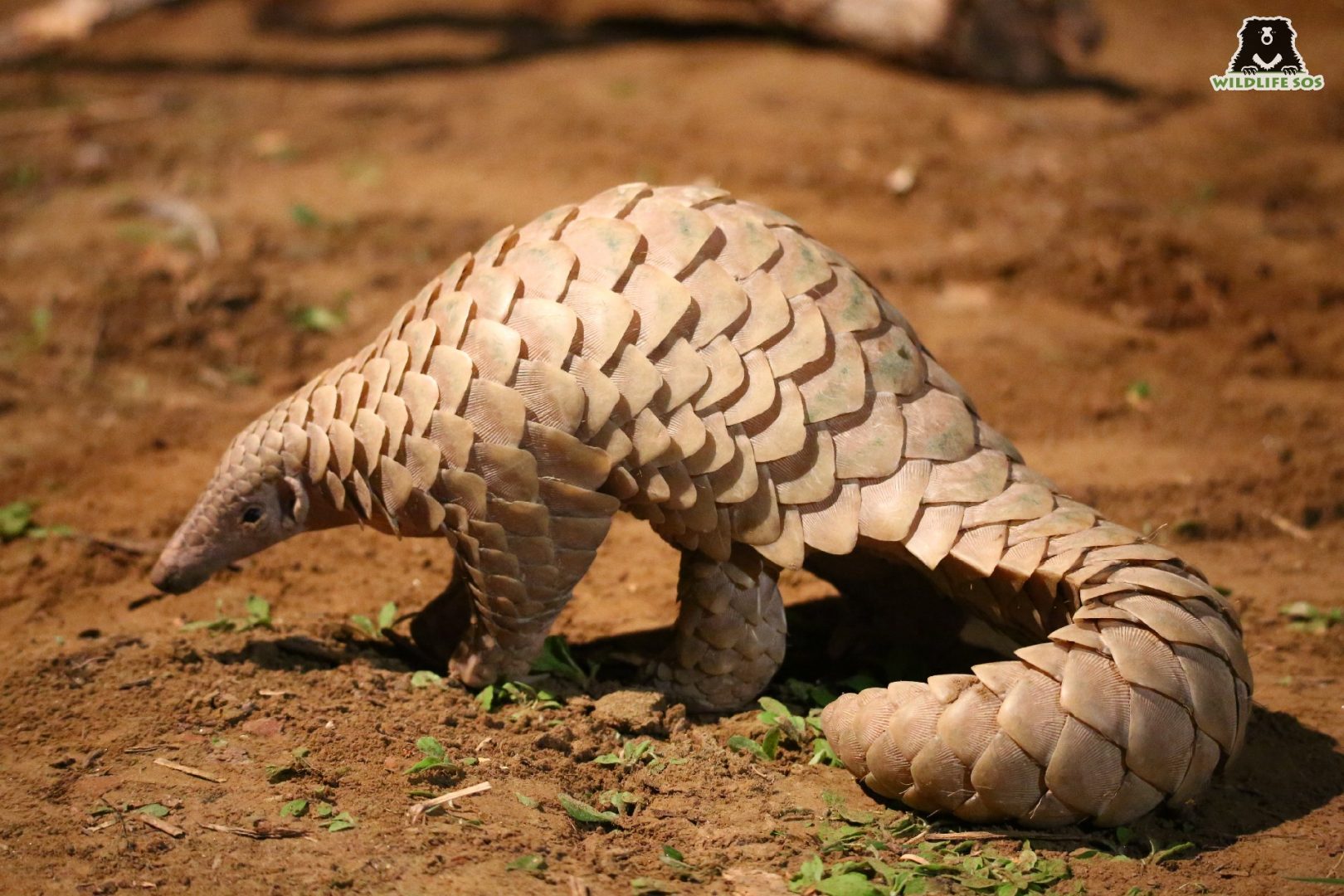 One may think that spotting the majestic bog cats on a rock or on the top of the hill is a frequent sighting, but leopards are not that easy to spot. My first successful leopard sighting in Daroji was after visiting almost 40 times. They are shy and prefer to sit somewhere far away and observe others, including those who live nearby. The landscape in this area supports them completely, by creating sufficient camouflage grounds for them to go unnoticed.
There is also a species of reptile you can find in this terrain in very good numbers, which is the Indian Star tortoise. Listed as 'vulnerable' in the IUCN Red List, this tortoise species is frequently sighted, often trying to cross the sanctuary roads. I have been able to sight the tortoise in all sizes, from an infant less than a year old to a 13-year-old adult.
I spent three months working in this beautiful landscape and watched it change from nothing to everything you can wish for.
The article is written by Wildlife SOS field biologists, Richa Kumar and Dr. M Ashok Kumar.