With over 25,000 being seized at Indian airports nearly every year and an unimaginable number actually making it out of the country and into the illegal pet trade, it's unsurprising that the Indian Star Tortoise is the most trafficked of all the tortoise species in the world. This small reptile has a scaly, almost spiny body, protected by a distinctively patterned hard curved shell like a bumpy star-studded helmet. Combined with its calm, unthreatening demeanor and slow movements, these attributes make it dangerously apt for the exotic pet trade, and easy to poach and smuggle.
As per CITES, the authority that regulates the international trade in exotic species, the star tortoise being listed under Schedule II can legally be sold into the pet trade so long as wild populations of the species remain unthreatened. This shocking declaration is rendered further problematic when factoring in that there are no thorough and reliable studies into wild populations of star tortoises and the devastating effect such large scale poaching must have on their numbers – even as the species' decline inches it slowly from Vulnerable to Endangered on the IUCN Red List of Threatened Species.
Despite their ominous threatened status, the Indian Wildlife Protection Act of 1972 places the tortoises in Schedule IV, according them little protection and callously allowing poachers that are caught to get away with shockingly minimal fines.
Poaching occurs most commonly in the monsoon months, and tortoises are then transported over long distances from the point of their origin to a city with an airport or port from which they can be trafficked across international borders. So long as temperatures remain cool, these cold blooded captives show little movement – making it difficult to detect. Tortoises end up in Thailand, Malaysia, Singapore and China as exotic pets in people's homes, as symbols of good luck and spiritual upliftment as the reincarnation of the Hindu God Vishnu. At least those that do survive the journey – many die in the cramped, traumatic conditions of being smuggled as contraband, the dehydration, malnutrition, suffocation and stress proving to much for them.
But for 97 of these unfortunate little animals, there's a second chance at a life of freedom on the horizon. Officials in Singapore seized the tortoises early last year, and they were transferred to the Singapore Zoo and Singapore animal rescue facility ACRES. But as an alien species in the country, release in Singapore was out of the question. That's where Wildlife SOS comes in.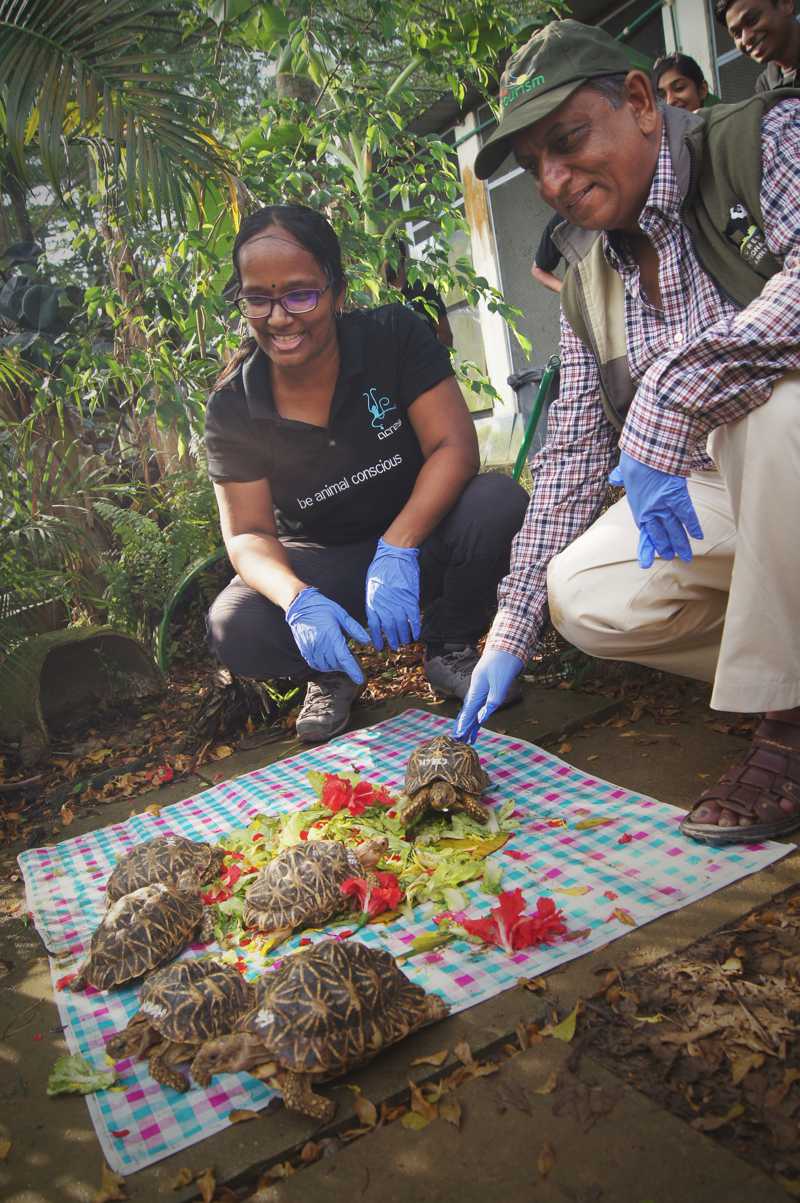 Working closely with the Karnataka Forest Department, the Ministry of Environment and Forests, and the Wildlife Crime Control Bureau in India, as well as AVA Singapore and ACRES, we have been able to secure most of the permissions required to repatriate these tortoises into their native habitat in Karnataka. A spot inspection by the Chief Wildlife Warden of Karnataka and a team from Wildlife SOS clinched the deal – these 97 tortoises were coming home!
While the last of the paperwork is being put together, the tortoises continue to be cared for in Singapore, recovering from their traumatic ordeal and being prepared for their journey home. 12 of the tortoises are showing signs of less than ideal health and need to recover before the journey.
The tortoises will be flown back into India, escorted by a team from Wildlife SOS and officials from the Forest Department. They will travel to Karnataka, where about 20% of them will be micro chipped before all of them undergo a soft release back into the wild. They will be cared for and carefully studied by the Wildlife SOS team until such time that they are ready to take their first tentative (and characteristically unhurried) steps to freedom!