Possibly one of the most lovable and friendly sloth bears at the Wildlife SOS Agra Bear Rescue Facility, Elvis' life today is a stark contrast to what it was when he was rescued more than two years ago. He was only a couple of months old when poachers snatched him away from his mother, possibly killing her in the process. They had brutally pierced his delicate muzzle with a red hot iron poker, making it evident that he was destined to be sold into the cruel dancing bear trade that still persists in the neighboring state of Nepal. Like in the case of most captive sloth bears, he would have been forced to live his shortened life in trauma, pain and agony, while being exploited as a source of cheap roadside entertainment.
At the time of his rescue, Elvis was in a lot of pain. His baby teeth had been brutally shattered by a heavy metal rod and his gums and mouth were bleeding. There was a coarse rope strung through the piercing wound on his muzzle that was still fresh and there were flies buzzing around the sore wound. He was weak, dehydrated and highly emaciated, and in need of extensive veterinary care.  The trauma of being forcefully separated from his mother and possibly a sibling, and the excruciating pain inflicted upon him by the poachers had taken a severe toll on little Elvis, leaving him with severe emotional scars. When he first arrived at the centre in 2015, Elvis was shivering with fright and was cowering in a corner, expecting people to put him through more pain, as that is all he had experienced till then. Our veterinarians and keepers would speak to him gently and coax him into eating his meals, in an attempt to calm him down. Gradually over time he realised they posed no threat to him and eventually went on to develop a strong, trusting bond with his keeper, which persists till date.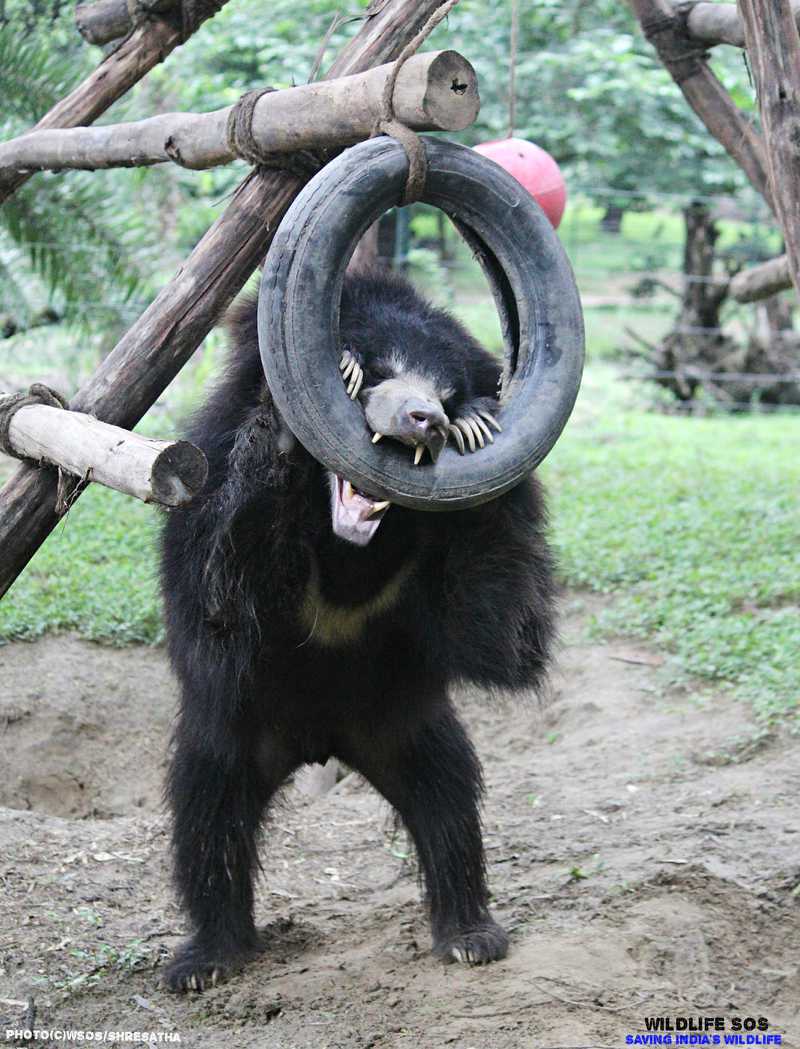 Today, Elvis is almost two years old and he has grown into quite the handsome young bear. He is best friends with siblings Bean and Hunny who happily welcomed him into their lives. This mischievous trio now spend their days climbing trees, relishing honey logs and grappling over enrichment balls filled with dates and nuts. It is delightful to see that that he has still retained his childish playfulness. One of his favourite activities involves sucking his paws while relaxing on his hammock. Elvis and Bean have recently developed a fondness for the suspended tyres in their enclosure and spend hours playing with them. Sometimes he ends up placing it over his head like a hat while Bean tries his best to knock it off!
Being hand-raised by our staff, Elvis is comfortable around humans but as he recently transitioned into a sub-adult, his behaviour is sometimes unpredictable. However, he retains his love for his keeper and eagerly awaits his visits to the enclosure. His keeper too loves pampering him with love and yummy treats. Elvis enjoys all his meals and is particularly fond of fruits, but can be sometimes be fussy about vegetables. Like all sloth bears, he too has quite the sweet tooth when it comes to honey. His favourite food however is eggs, which he always saves for last.
Elvis is leading a healthy, loved and happy life with his friends at a place where there is no darkness or fear. This would not have been possible without your unwavering love and support for our rescued animals.