A victim of man-animal conflict, four year old Hamsi was rescued from a village in Bandipur, Karnataka in February 2015. When the Wildlife SOS team found her wandering in the outskirts of the village, they were shocked to discover a bullet wound on her left shoulder which had resulted in a fracture, making it nearly impossible for her to move around or forage without feeling the sting of immense pain. After hours in surgery and progressive recovery, Hamsi, is now a permanent member of the Wildlife SOS four-legged family, and lives a safe life at the Banerghatta Bear Rescue Center.
Today, Hamsi's health has greatly improved, but the injury has affected the joints of the left forelimb, thus compromising her gait.  Being a wild bear, she remains wary of human presence and prefers to distance herself from the keepers. However, with positive conditioning with treats such as honey and peanuts, our staff has been able to coax her into coming in for regular dressing for her wounds.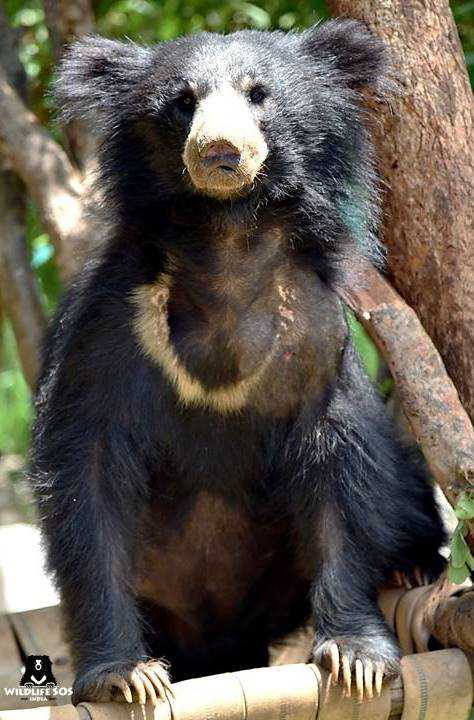 Perhaps the most heart-warming part of her recovery is her interaction with bears Ankita and Gokul. The three have formed a close bond and are often seen playing with tyres, sharing treats and napping together in their comfortable mud pits. When she is not playing with her best friends she enjoys sun bathing while relaxing on her hammock. An avid climber, Hamsi loves to sit on the high branches on the trees in her enclosure, enjoying a bird's eye view of the centre. As the monsoon season is associated with an abundance of ants and termites, you can catch Hamsi digging up termite mounds and foraging for her favourite insects. She is more active during the evening and can be seen playing with her enrichment ball that is filled with peanuts and trying her best to get every drop of delicious honey out of enrichment logs. Imam Saab is the only keeper at the centre, whom she feels comfortable around and he in turn treats Hamsi like a princess, showering her with the love and care that she truly deserves.
She has recently started playing on the see-saw, one of the many engaging structural enrichments that have been designed to keep the bears active, and has in fact become quite possessive of it.  However, when she realizes that she needs the company of one of her furry friends to engage in the fun filled activity, Hamsi will wait patiently for them to join her.
Over the course of the year, these activities and enrichments have helped with her physiotherapy and in overcoming the pain of her brutal shoulder injury. We are very happy to see Hamsi's steady recovery and we hope to see her grow into a more sociable bear. All of our rescued bears are living a peaceful and secure life, which would not have been possible the constant support of our donors.