Michael Oreo was only three years old when he and three other sloth bears were rescued in an anti-poaching operation carried by Wildlife SOS in Jharkhand in 2013. The poachers were attempting to sell the bears in Nepal where the barbaric practice of 'dancing bears' is still legal. Deprived of a nutritious and healthy diet, he was thin and highly emaciated. Young Michael Oreo's muzzle was crudely pierced with a hot iron needle and a coarse rope was forcibly pushed through the still raw wound and untreated. As a result he had developed severe mouth ulcerations as well as halitosis (foul breath). Moreover, his coat was rough and was infested with parasites.
All four bears have since been rehabilitated into the Agra Bear Rescue Facility. The rehabilitation process is not always easy and varies from bear to bear, the conditions they were rescued from, the impact on their physical and psychological well-being etc. In Michael Oreo's case, he was extremely stressed and displayed strong signs of stereotypic behaviour. Stereotypic behaviour is usually characterised by bobbing, swaying or weaving of the head and pacing which is commonly exhibited by animals that have been forced to live in captivity under harsh conditions.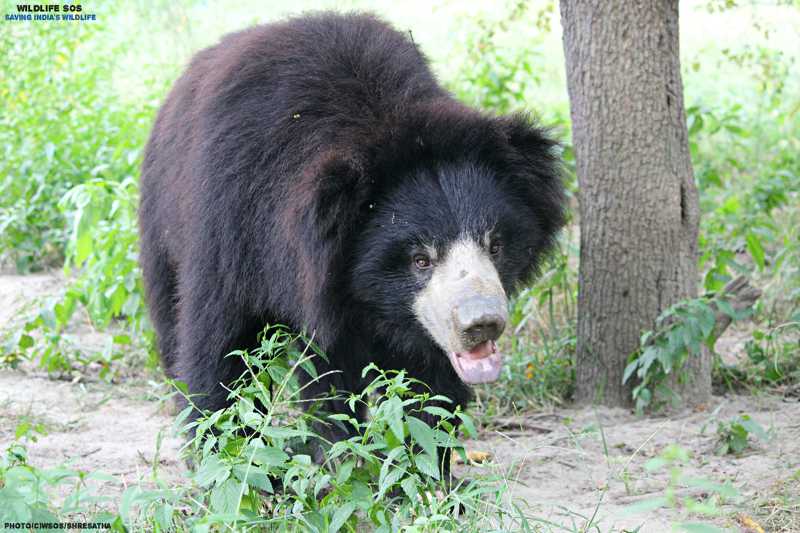 With our team of dedicated veterinarians and staff constantly by his side to ensure that he received the best medical treatment and care, today seven year old Michael Oreo (Oreo for short) has indeed come a long way. No longer forced to dance out in pain and inflicted with cruel punishment for not obliging to do so, he has been able to leave behind the scars of his past and has embraced his new found freedom with zest.
At 114 kilos, he is a healthy and active bear who is friendly with his keepers Jayprakash and Bhoori Singh. They have been caring for him since the day he walked into our lives four year ago.  "Being a young bear, Oreo is always bustling with energy and curiosity. He shares a strong, close bond with bears Raju and Rammi, whose company has also helped him to adapt to life at the centre.  They are rarely seen apart and spend most of their time climbing trees and playing on the bamboo platform, which is also Oreo's favourite structural enrichment" says Jayprakash.  He also enjoys taking long dips in the pool during the hot summer months.  Honey and dates are his guilty pleasure and will lap up handfuls of honey dipped dates from his keeper.
A recent veterinary checkup revealed that he was suffering from cutaneous (skin related) fungal infection and was under treatment for the same. He has now recovered well and back to his daily shenanigans.
Thank you for helping us in making a difference to the lives of former dancing bears such as Michael Oreo. His treatment and general care have played a vital role in keeping him safe and healthy, and providing him the free, happy life he deserves!