Rozy and Fancy were barely a week old when members of the Department of Horticulture stumbled upon the duo within the premises of the Botanical Garden, in Srinagar. Amidst a routine cleaning and maintenance of the grounds, the staff came across a huge den, only to find two abandoned bear cubs inside. Worried for their safety, they immediately contacted Wildlife SOS to intervene and aid the helpless cubs.
With an outstanding record of mitigating man-animal conflict situations in the state of Jammu and Kashmir, Wildlife SOS has for the past decade not only prevented conflict situations in the mountainous state but aims at inducing positive attitude towards a mutual cohesion with wildlife, by educating students and informing the public.
On receiving information on the marooned pair, the team from the Dachigam Bear Rescue Center arrived at the location and initially made multiple attempts to reunite the cubs with the mother. It is extremely important for the cubs to be reared by their mothers in the early years, in order to learn the survival skills of the wild. Unfortunately, the mother bear did not show up, so the team then decided to take the cubs under their care and housed the two at the Dachigam Bear Rescue Center.
Being raised under our care since a young age had helped Rozy grow comfortable around humans. She is also comfortable around her keeper, Mr. Shabir, and shares a warm bond with him. Having hand raised her, he has grown familiar with her temperament and respects her desire for space.
On a usual day, one can spot Rozy engrossed in playing with a barrel filled with treats. As part of the enrichments, she is provided with multiple things in her enclosure like the hammock, the swing, an enrichment ball, and a barrel. Rozy would spend hours rolling the barrel across her enclosure and could never seem to get enough of it. After she would get tired she would climb up her hammock and relax for hours. Her evenings are mostly consumed exploring the field while digging up earth in search of termites and ants.
With a shift in temperature, her supplement-rich diet has been nudged into a more balanced diet. She is served honey-laced porridge with fruits and nuts. She utterly loves apples and often plays with them before savoring them. With the summer months approaching, she has taken to spending more time in the pool.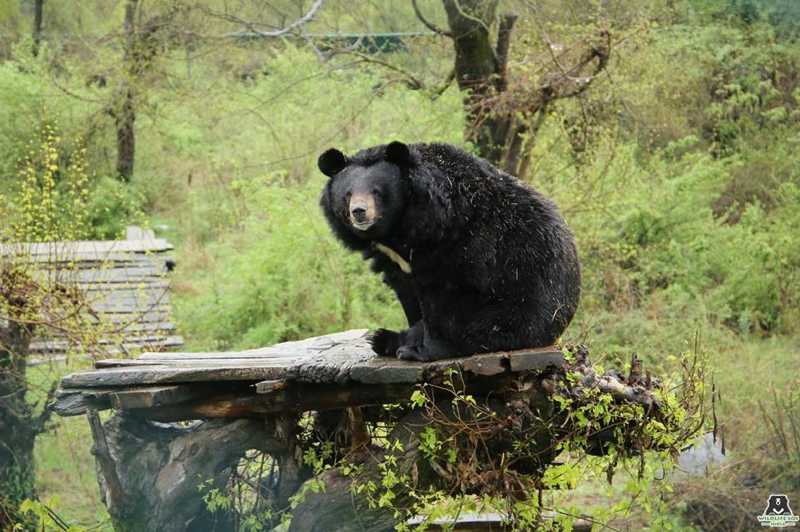 Rozy is described as a natural climber. She climbs to the tree tops with utter ease and haste. She races her fellow bear friends to the top, where she can be sighted cooling off on the relatively cooler summer evenings. Rozy is attached to her sibling Fancy and the duo is very comfortable in each other's company. Having been raised together, they are inseparable and indulge in everything together.  Rozy has also extended her comfort zone to Julie, who is almost the same age as her.
It fills our hearts with delight to watch Rozy grow and thrive under our care. She currently weighs 150 kilos and is in great condition. Providing Rozy a life she deserves would not have been possible without your support. Thank you!