Wildlife SOS's anti-poaching unit rescued Yogi bear from Bihar in 2011. Our team received a tip off about a group of poachers who were passing through the state with four sloth bear cubs as contraband. It was a laborious process tracking down as any signal alarming them would mean the cubs would be killed and the people would go into hiding. At times like this it's very tense and we try hard to ensure the cubs are rescued alive. So it was indeed special when Yogi was found safe and could be brought to the centre along with the other cubs. The baby bears were transferred to the Agra Bear Rescue Facility where they were given proper medical treatment and care and has since, been given a second chance at living a happy and healthy life.
Yogi was fortunate to have escaped the brutal fate of having his muzzle pierced by a crude hot iron poker and still had his milk teeth intact when we found him. When he first arrived at the centre, Yogi was scared of his new surroundings and would yearn for his mother's presence, who was presumably killed by the poachers during the seizure. With the love and care provided by our vets and staff, he has been able to take positive steps in recovering from his traumatic past.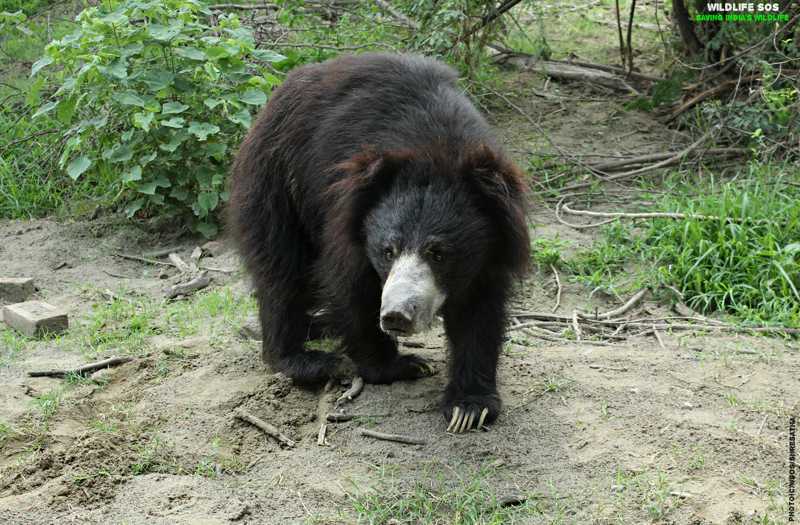 After spending the initial months in quarantine, Yogi was introduced to a suitable group of young bears, closer to his age. This gave him the opportunity to adapt and tap into his natural instincts by observing the others and to thrive in a near natural environment. Today this six year old can rarely be seen without his favourite companions Vidur, Valmiki and Digit, who were also rescued from a similar past. Though he is comfortable with his keeper Randheer, Yogi's behaviour can be very unpredictable when approached by other staff and visitors, so we think he still has a fear of strange hands.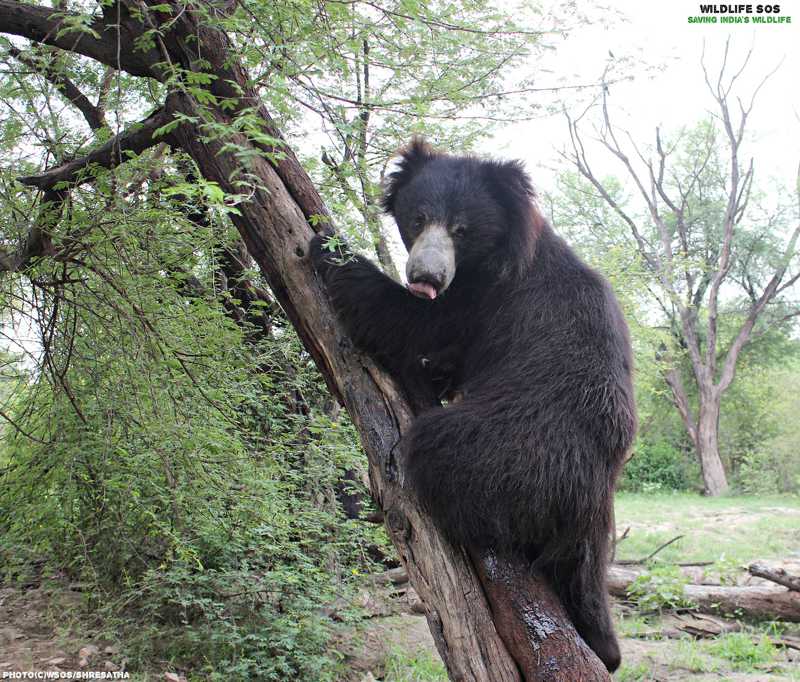 According to his keeper Randheer, "Yogi loves to explore the forested parts of his enclosure where he generally spends hours climbing trees and foraging for insects. During summers his favourite past time is to splash about in the pool. Yogihas a hearty appetite and is quite fond of fruits, especially mangoes and watermelons which he relishes with great joy. He enjoys playing with his hammock and mock wrestling with his friends."
Like all our rescued and rehabilitated sloth bears, Yogi will be able to spend the rest of his live in safe and free environment, which would not have been possible without the constant love and support that we receive from our generous donors.
Here's a little clip of Yogi running around his enclosure, searching for termites and licking honey at the Agra Bear Rescue Facility;