Renowned British Television celebrity Paul O'Grady, MBE has become a patron of Wildlife SOS India to support our efforts to protect elephants and other wildlife in India.
The Wildlife SOS Elephant Conservation and Care Center (ECCC) in Mathura and the Agra Bear Rescue Facility were featured recently in British TV series "Paul O'Grady: For the Love of Animals – India." In the two-part series, Paul headed to India for the first time in his life, to help rescue and rehabilitate some of the country's vulnerable wild animals and experience the jobs of the keepers and conservationists looking after them. It was at this time that he developed a friendship with the elephants at ECCC and with our founders- Kartick Satyanarayan and Geeta Seshamani.
During the visit to Mathura, he made a deep connection with some of our resident elephants – Mohan, Laxmi, Maya and Phoolkali. He was in fact moved to tears on seeing the painful abscesses and scars on Mohan from his years in captivity. Paul assisted our veterinarians to give Mohan a medicated foot pedicure when he was working with us. He was very sad to hear of Mohan's untimely passing and shared his condolences with us.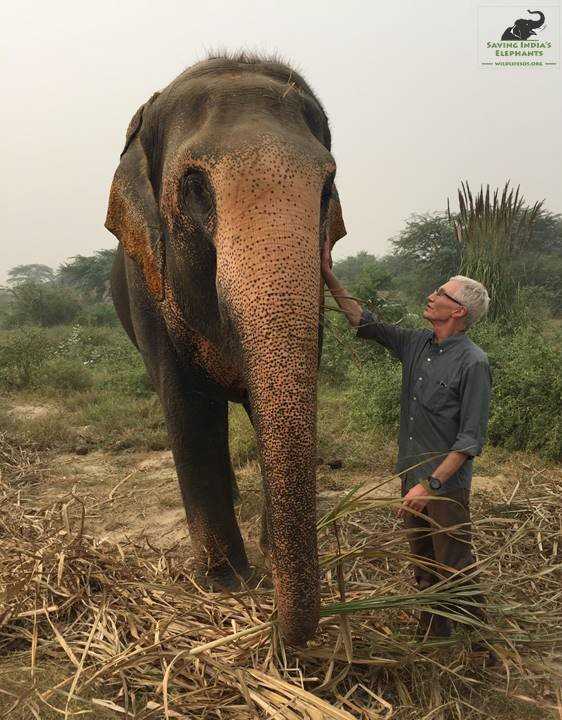 In a short video issued by Wildlife SOS, Paul has urged tourists visiting countries like India, Bali and Thailand not just to refuse offers to go on elephant rides but to also stick up for brutalized elephants in their travels. He also insisted that people should be wary of elephants used in circuses, temples and for begging. "Please have no part in it. It's an evil business and we are trying to save these beautiful creatures for posterity," he added.
 "Asian elephants are very special creatures and we need to protect them. If you'd like to see an elephant, don't go riding on their back or go looking at them at temples, come to Wildlife SOS. We can get you close up to an elephant and actually see what they're like. There are loads of elephants at Wildlife SOS, all leading a happy life now, all being looked after, being cared for and no more of this brutality" expressed Paul O'Grady.
You can follow this link to watch his testimonial here: https://www.youtube.com/watch?v=79jchSgGs4Q&t=1s
India is the last strong hold for the Asian elephant population where 50% of the remaining populations occur and it is critically important to conserve and protect this majestic species. Asian elephants (Elephas maximus) are listed as 'endangered' by the International Union for Conservation of Nature (IUCN) and protected under Schedule I of the Indian Wildlife Protection Act, 1972. India currently has a population of about 25,000-30,000 elephants out of which about 3,500 are captive elephants.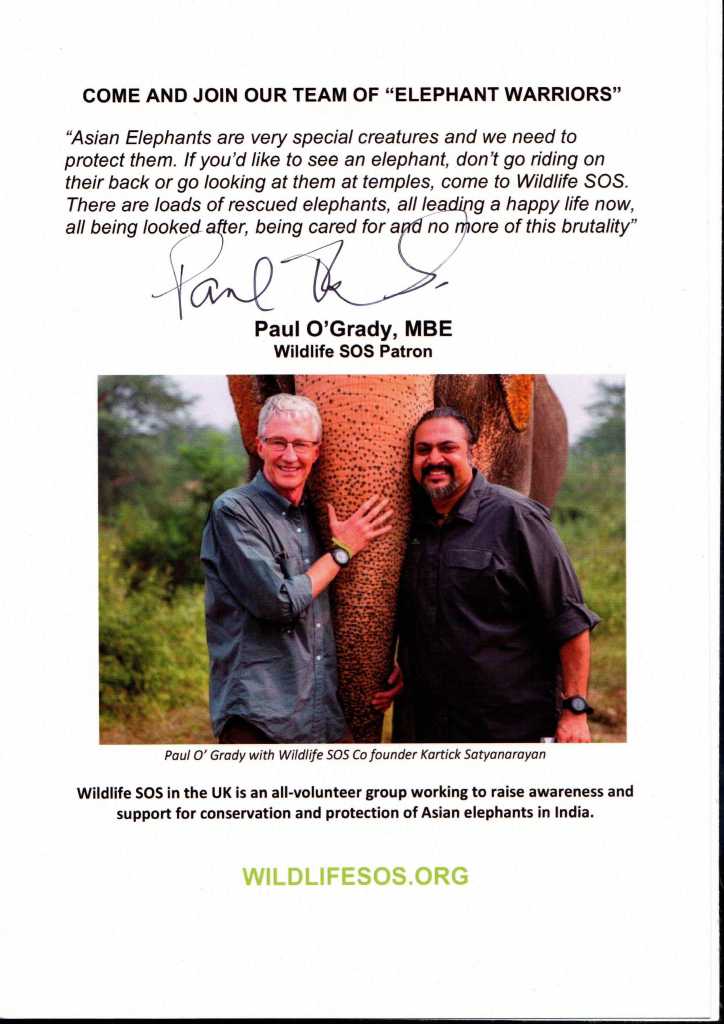 Wildlife SOS extremely thrilled and honored to have Paul O'Grady as our patron and we welcome him to our HERD OF HOPE! We hope that his compassionate support and love for animals will help draw attention to the plight of elephants in India!