Truffles was a little over a year old when he and three other young sloth bears were rescued from a group of poachers in Jharkhand. All four bears were fated to be sold into a life of misery as dancing bears across the Indo-Nepal border, where this cruel practice still persists. When we rescued him in 2013, we were met with the sight of a scrawny, weak bear covered in dry and matted fur. His tender muzzle had been pierced with a red hot iron poker and his canines were broken.
All four bears were transferred to the Agra Bear Rescue Facility where they were given proper medical treatment and care and have since, been living a happy and healthy life in their new home.
When he first arrived at the center, Truffles displayed stereotypical behavior which had manifested due to the trauma faced during his time with the poachers. This is usually characterized by bobbing, swaying or weaving of the head and pacing. He was aggressive and moody due to the throbbing pain on his muzzle and was scared of human interaction.
When it comes to rehabilitating animals, it is important to focus not just on their physiological recovery but also their psychological recovery, which is an essential accompaniment to the regular veterinary care we provide them to ensure their good physical health and welfare.
Under the tireless efforts and patience on the part of our veterinarians and bear keepers, Truffles learnt to gradually adapt to a life of kindness and camaraderie.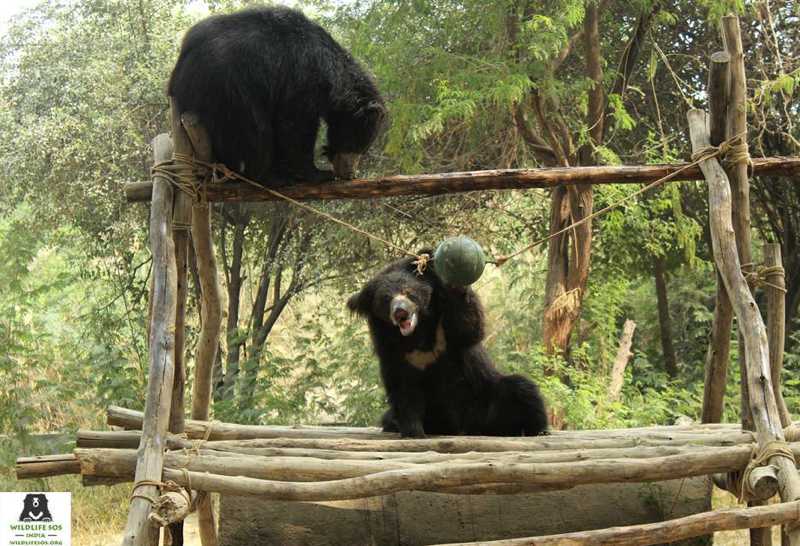 Truffles shares a very special bond with fellow bear Kandi as the two were rescued together and have been each other's strength ever since. Today, this five year old bear is quite energetic and is always on the lookout for mischief with his best friend. The duo is always keeping their keepers Dharmendra and Sunil on their toes as they often end up breaking the structural enrichment's, when in a slightly destructive mood. Truffles loves climbing trees, playing with honey logs and is quite curious to try out new enrichments that are designed to keep our bears physically and mentally stimulated. He has recently developed a fondness for suspended enrichments and spends hours trying to get them off the trees. Truffles is also very fond of playing with hammocks. With the weather becoming more pleasant this time of the year, he enjoys taking long afternoon naps on his favorite hammock.  According to Sunil, "Truffles has a funny and peculiar way of reacting to strangers where he spits on the unsuspecting person's face!"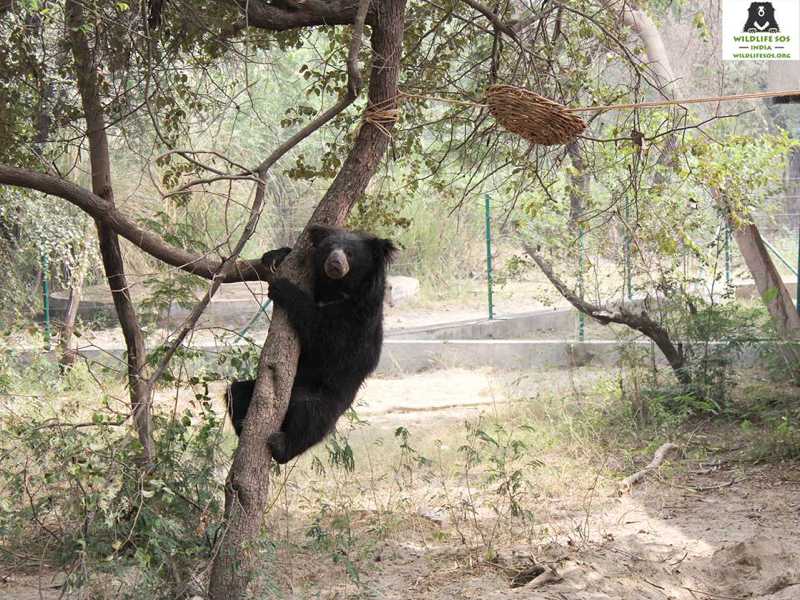 Truffles' rescue and rehabilitation was a task that seemed almost impossible to accomplish but with your love, kindness and unwavering support, we have been able to make this happen. For this and for everything else that you do for these beloved bears, we will forever be grateful to you.