February 2017 brought some much welcomed respite from the chilly weather and a rather unexpected new arrival at the Elephant Conservation and Care Centre, Mathura. A call from the local Forest Department alerted the team to the plight of a young bull tusker whose owners had hacked off parts of his tusks in the hopes of selling them for money. Luckily, the Forest Department was alerted regarding the same and was able to get the elephant under their custody for the time being. However, the clock was ticking as the owners planned to file a case in court asking for the elephant to be returned to them. If the tusker was not moved to our sanctuary in the next 24 hours we risked losing him forever in the murky underworld of illegal elephant trafficking and trade, even as his owners continued to evade the law.
The call about the elephant launched what was probably our quickest rescue mission yet, as a team was dispatched the same day to bring the elephant to safety. We had barely any information, not even the elephant's name, but we knew enough – he was being mistreated and abused, and exploited not just to work to earn money for his greedy owners, but also to supply them with ivory to sell on the black market!
We launched a campaign for him immediately, and our incredible supporters came through for us and for this poor elephant in an overwhelming display of compassion. Through an online poll, you helped us named him Sanjay, which means 'victorious', a fitting tribute to the success of his extremely challenging and time-bound rescue mission.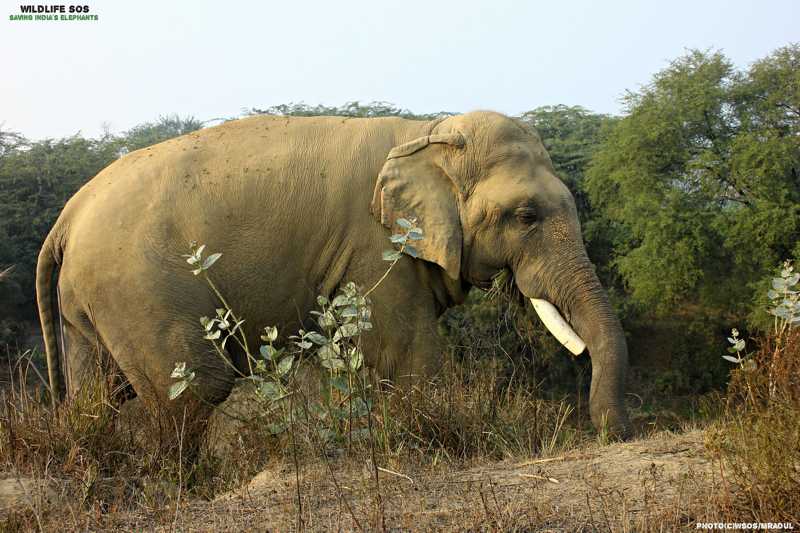 Since his rescue, we have had an entire year getting to know Sanjay, and finding out about his quirks and habits and his fascinating and unique personality.
We found during his preliminary medical checkups that he had a hairline fracture in his rear limb, which sadly deferred his introduction to the pool and long walks – soon to become his favourite activity at the rescue centre. His feet were in a dreadful state when he first arrived at the rescue centre, with overgrown and cracked toenails and painfully swollen foot-pads, the result of almost fifty years of neglect in captivity. The vets have been treating Sanjay for all the issues that ail him, with routine foot-care and prescribed supplements being introduced to his rich and varied diet of fodder and vegetables. He has proven to be quite a meticulous eater – careful not to waste even the tiniest portion of his food, using the tip of his trunk to gingerly picking up the last scraps and tiny shoots and leaves that remain after his meal is complete.
Even as his fracture progressively healed, and the condition of his feet began to improve, we had a minor scare recently when Sanjay came back from his morning walk with a bit of a limp. The veterinarians wasted no time – and a full medical assessment and an xray later, everyone heaved a huge sigh of relief on finding it was just a minor muscle cramp. Still, the vets prescribed a few days of rest and anti-inflammatory medication and our wonderful bull was back to his cheerful, active self in no time! Of course, even as Sanjay enjoyed all the attention he got on the day of the cramp, he was not too pleased with the idea of his 'rest days' resulting in him missing out on his beloved walks for two whole days straight!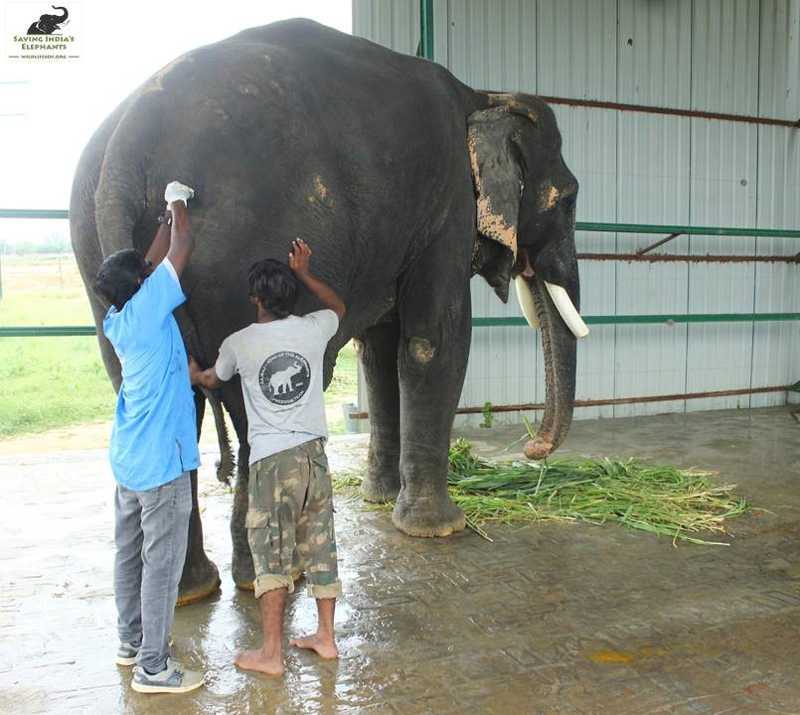 Even though Sanjay enjoys spending time in his pool, his absolute favorite time of the day is when he gets to go on long walks with his keeper Nekpal, during which he excitedly sniffs and investigates every new and exciting smell he comes across. Walks are a cherished and enriching experience for Sanjay, who is generally eagerly waiting for his keeper nearly an hour in advance, anticipating Nekpal's arrival and characteristic morning greeting signaling that the duo are going to set out on a stroll through the open expanse that surrounds the facility.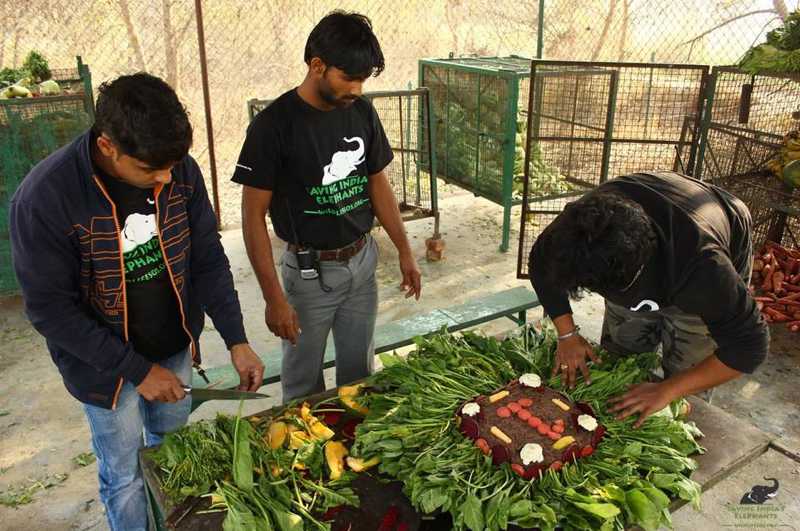 To celebrate the incredible journey we have been on with this amazing elephant over the last year, the staff had a special surprise in store for Sanjay on his first rescue anniversary, making him a healthy 'cake' out of delicious cooked pulses and vegetables. Sanjay was delighted to find the treat waiting him as he returned from his walk, and scooped up every bite of the cake with his trunk and stuffed it all into his mouth within minutes!
With a whole year having gone by with this magnificent tusker, we are excited to see what the next year has in store for Sanjay on his journey of recovery and rehabilitation that we are so privileged to be a part of. You too can become a part of Sanjay's life at the center, and receive regular updates on his progress, by sponsoring his care at this link.