India was in the spot light this week for a mega-wild cause!
The Conference of Parties to the Convention on the Conservation of Migratory Species of Wild Animals (CMS CoP 13), 2020 was held in Gandhinagar. The prestigious UN wildlife summit represents a unique opportunity for national public and private stakeholders in wildlife conservation to observe the official debates and participate in promotional side events/exhibitions. Deliberations at CMS CoP 13 focused on how best to protect migratory species in a rapidly changing world and a human dominated landscape.
This year, the CMS Cop 13 adopted India's motion to include Asian Elephants, Indian Florican and the Great Indian Bustard in Appendix I of UN Convention on Migratory Species.
Wildlife conservation charity Wildlife SOS was invited by the Govt. of India to present and participate at the Conference of Parties to the Convention on the Conservation of Migratory Species of Wild Animals. We were called upon to address the forum on the importance of community participation in wildlife conservation efforts on 21st February. Kunalika Singh speaking on behalf of Wildlife SOS highlighted the organisation's work with local indigenous communities and the phenomenal results yielded by the community outreach approach adopted by the organization.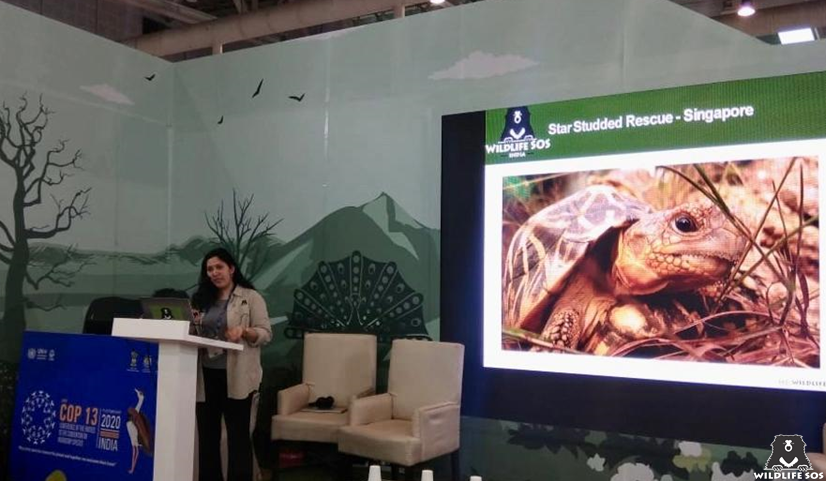 Over the past 25 years, Wildlife SOS has always banked on community outreach when working towards protecting India's animals and habitats, and has found the results quite satisfactory. They were especially successful with reforming communities dependent on illegal poaching for wildlife such as the Kalandars and snake charmers. Today, 40% of the staff at Wildlife SOS comprises of reformed community members, who are now working toward saving wild animals. Wildlife SOS also spoke about conducting awareness workshops in forest-fringing communities and the work carried out by their teams pan-India.
Wasim Akram, Deputy Director, Conservation Projects, Wildlife SOS, was present via Skype at the talk at the India Pavilion on the subject of 'community participation, livelihoods and species conservation'. Cofounders Kartick Satyanarayan and Geeta Seshamani were also present at the event, where the NGO had set up kiosks to spread awareness about our cause.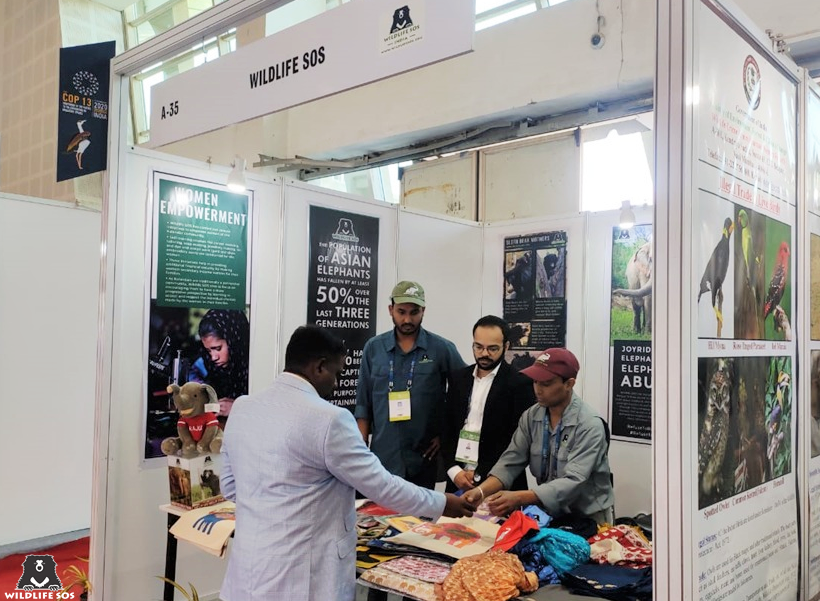 In the current scenario of climate change and threats of emerging infectious diseases, there is need for committed global policy support and cooperation for developing long term conservation action plans. Hopefully, CMS CoP 2020 will play a key role in building and strengthening partnerships amongst parties to work towards designing effective conservation planning framework for the coming decade.
The need of the hour is positive, responsible human-wildlife interaction. We observed in our work of over 2 decades that there can be a positive aspect to this relationship if done the right way. We attempted to highlight the positive aspect of human-wildlife coexistence and the beneficial results of this interaction. It is important to remember that community participation can have long term and sustainable results in conservation efforts and that there is more to human-wildlife interaction than simple avoidance behaviour.