Our magnificent planet has an incredibly complex and vibrant ecosystem. All organisms interact with one another to create the ideal conditions for life. People all over the world celebrate Earth Day on April 22nd to appreciate our planet's unique place in the universe. Each year has a concern to help draw attention to a specific environmental issue and the theme for 2019 is "Protect Our Species". It highlights the importance of protecting species that include all life forms such as birds, insects, plants, fungi and even microscopic organisms. To maintain a healthy ecological balance on this planet, animals, plants and marine species are as important as humans.  Every organism on Earth has a unique place in the food chain that contributes to the ecosystem in its own way. But, unfortunately today, many animals and birds are endangered.
A mega diverse country, India only covers 2.4% of the world's land area; accounts for 7-8 percent of the world's recorded species. This includes over 91,000 species of animals and 45,000 species of plants. However, due to rapid increase in human population and subsequent urgency for agricultural land resulted in destruction of our ecosystems. Poaching and hunting of animals for human needs are other important factors contributing to this disruption in balance. Rigorous measures need to be taken to save all fauna at the earliest. It would not be long before more species find a place on the list of extinct species. And that would not be all! The extinction of wild species will have a fatal impact on the human race as well. Hence, for us human beings, it is our duty to save all the species, and ourselves.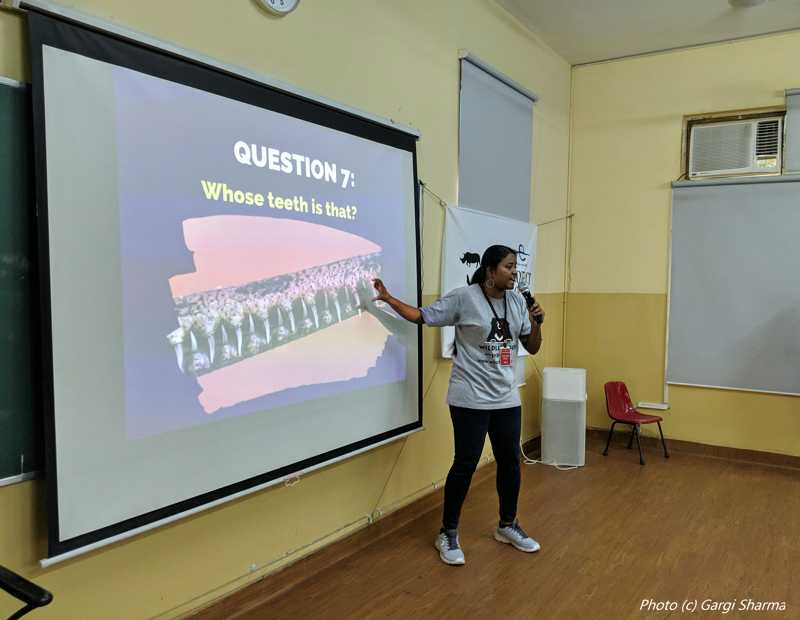 Wildlife SOS celebrated Earth Day in the Shri Ram School, Aravali with approximately 200 enthusiastic grade six students. A quiz was conducted to assess the understanding and awareness among the school students about the wild species found locally around them and across India. The session began with a camera trap video of a Leopard cub reunion with its mother, which everyone was surprised to see on the screen. As the quiz proceeded there was great excitement among the students as they answered the questions one by one. Along with each answer, our team tried to explain and provide interesting facts about Indian species.
Our colleagues shared the work and commitment of Wildlife SOS since its inception in 1995. At the end of the session a much better understanding and appreciation was gathered by the students and the teachers about coexistence with all living beings. We thank the Shri Ram School, Aravali for organising this event and for giving us the opportunity to engage with the young generation who are positive and want to make a difference in the world.
Each year 'Earth Day' reinforces the importance of environmental education and affection for all living beings. It is an opportunity to raise awareness of today's most challenging environmental problems and celebrate the progress everyone has made in conservation and environmental protection over the past decades. Let us do our part for the planet we call home.