BREAKING NEWS!
Gajraj, the 70 year old bull whose name literally means 'the king of the elephants' has finally been rescued! As he makes his journey from Aundh to reach the Wildlife SOS' Elephant Conservation and Care Center in Mathura along with our expert paramedics and rescue team, it will take them a couple of days to cover the 1500 kms journey. We shall be posting updates from his journey on this blog and our Facebook.. So stay tuned and keep checking in!
Before The Journey Began; About 24 hours ago the team started preparing to get ready for the rescue. One of the things they did was to put down a rubber mat on the floor. This was done because the vet knew he had bad feet and felt this would help make him more comfortable for the journey.
A team of about 10 were involved in the rescue and are accompanying Gajraj on his journey. This included vets, mahouts, drivers, assistants and mechanics. We will introduce them all to you in upcoming posts. Shortly before arriving at the designated point, there were a few mechanical problems with the support truck which were addressed by the mechanics.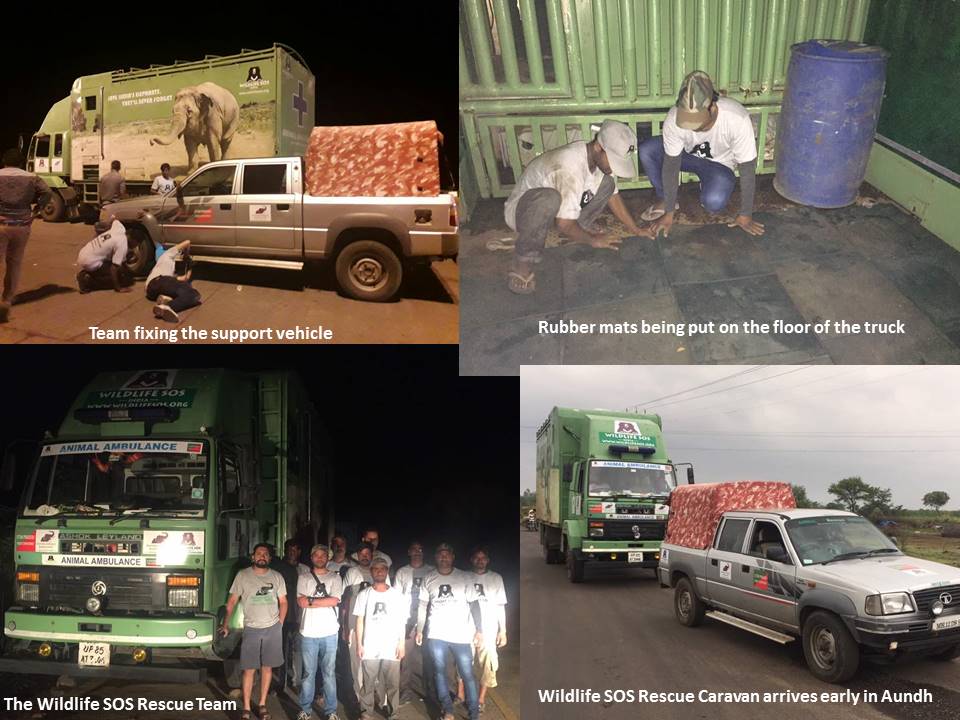 Our team arrived at Gajraj's location before sunrise, and began preparations to load him onto our elephant ambulance. We were set up a couple of kilometers outside of the village. Gajraj was led out and started a slow trek to the awaiting ambulance. Local villagers gathered to pay their final respects and bid farewell to the former temple elephant, giving him offerings and even decorating him with a bright red ceremonial robe. It began very peaceful, then the situation turned hostile . We are most grateful to the police and forest department for their great backup.
The unruly crowd made it very difficult to get Gajraj onto the ambulance. He was therefore taken to a private area and loaded on an open truck. He was then transported a short distance where the ambulance was waiting in an undisclosed location and he was transferred to the ambulance. He is now safely on his journey to our center!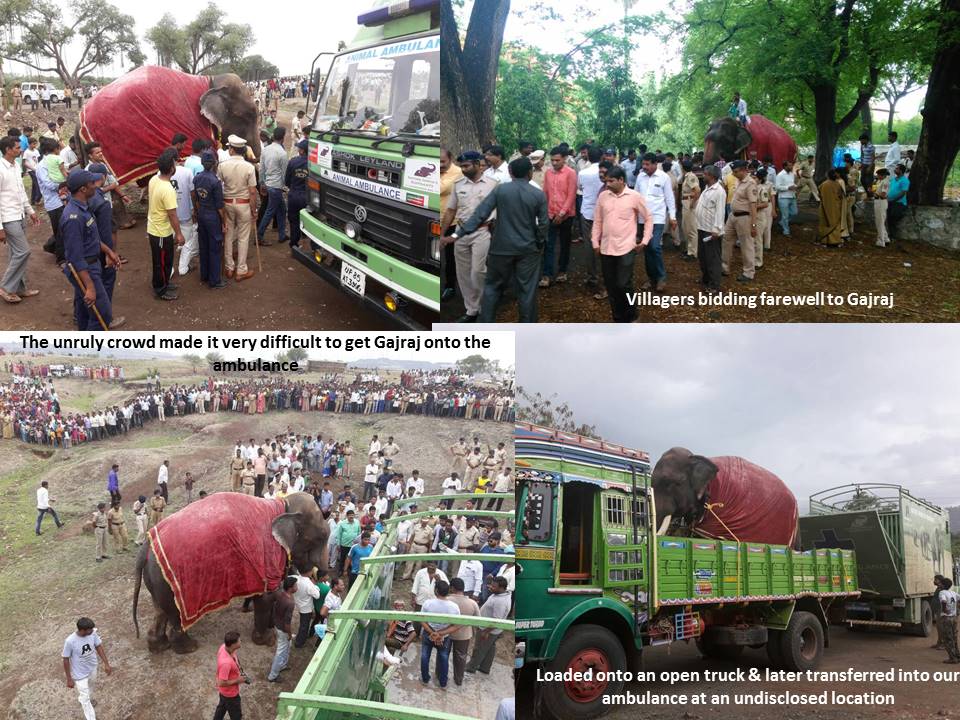 UPDATE – 15th June, 2am: The team stopped for the night on the outskirts of Pune after dinner. It rained through the night and the team used tarpaulin to protect Gajraj from the rain. Gajraj has been calm and eating green fodder that the team collected prior to the journey.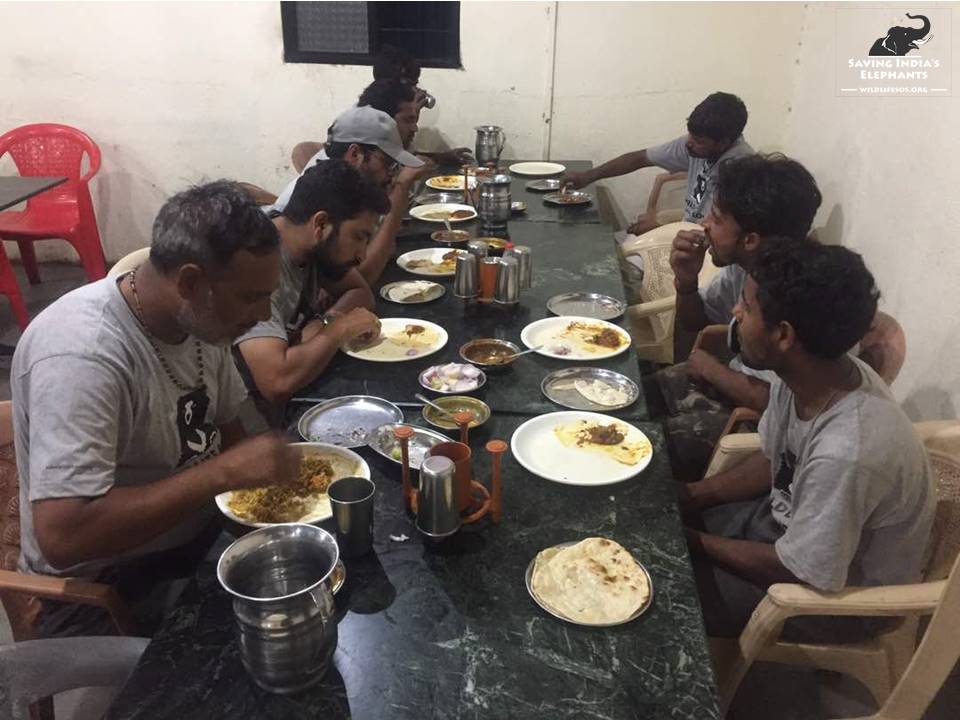 UPDATE- 15th June, 5am: The team is back on the road after cleaning out the truck and filling some fresh green fodder for the journey ahead. Our team was helped by a local farmer who was kind enough to offer fodder from his field.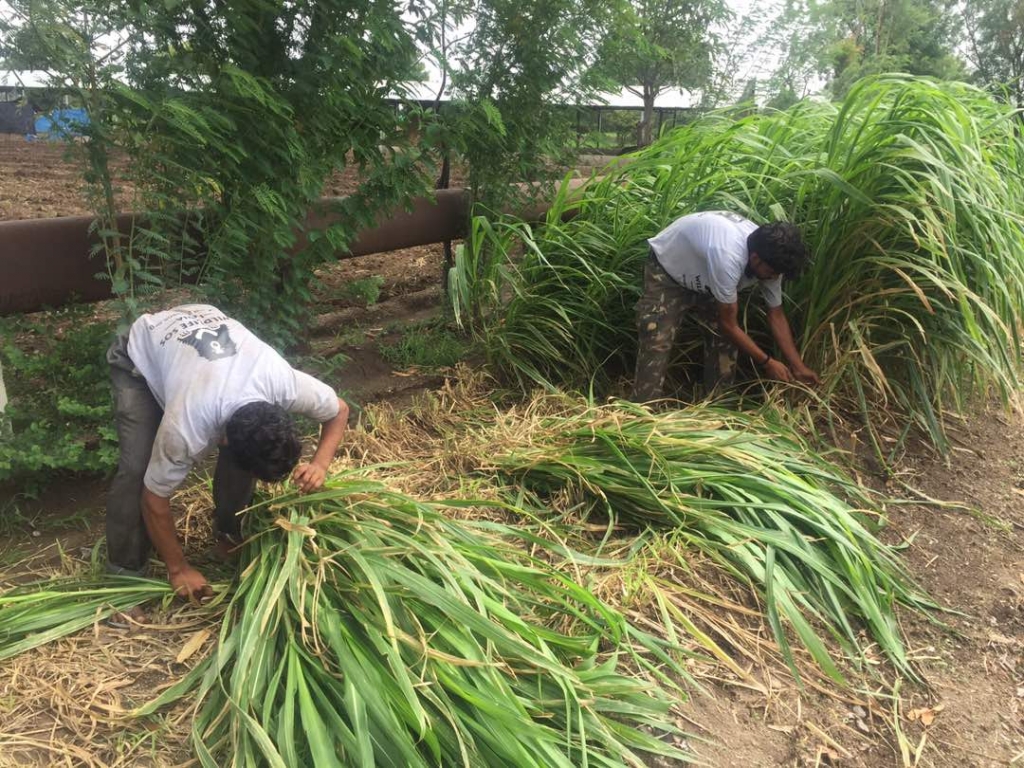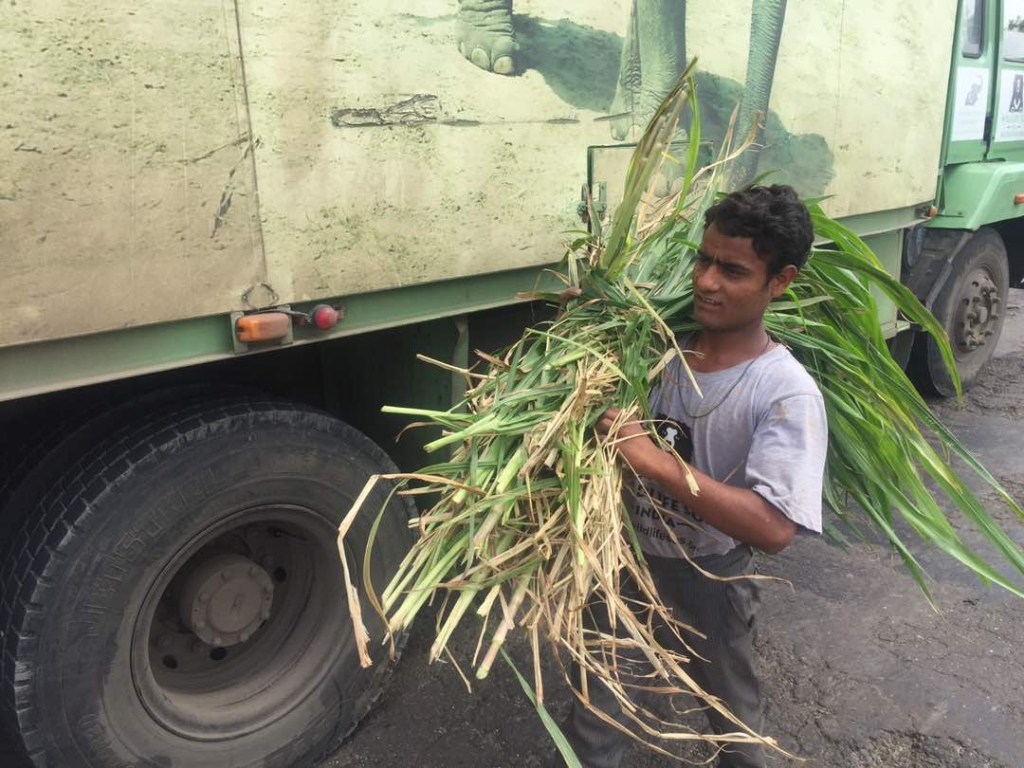 UPDATE- 15th June, 10am: The team can be seen negotiating to buy watermelons for Gajraj during the rescue journey.
UPDATE- 15th June, 3pm: Along the way, our veterinarian, Dr.Yaduraj began treating Gajraj's ailments following a thorough checkup of the elephant. Gajraj has two large abscesses on either hip and one on his right shoulder. The abscesses were cleaned with pressurized water and drained thoroughly before being cleaned with antiseptic solution and treated with a topical antiseptic ointment and spray. Similar treatment was carried out for the wound observed on Gajraj's right hind-limb knee. He was extremely calm and cooperative during the process of treatment.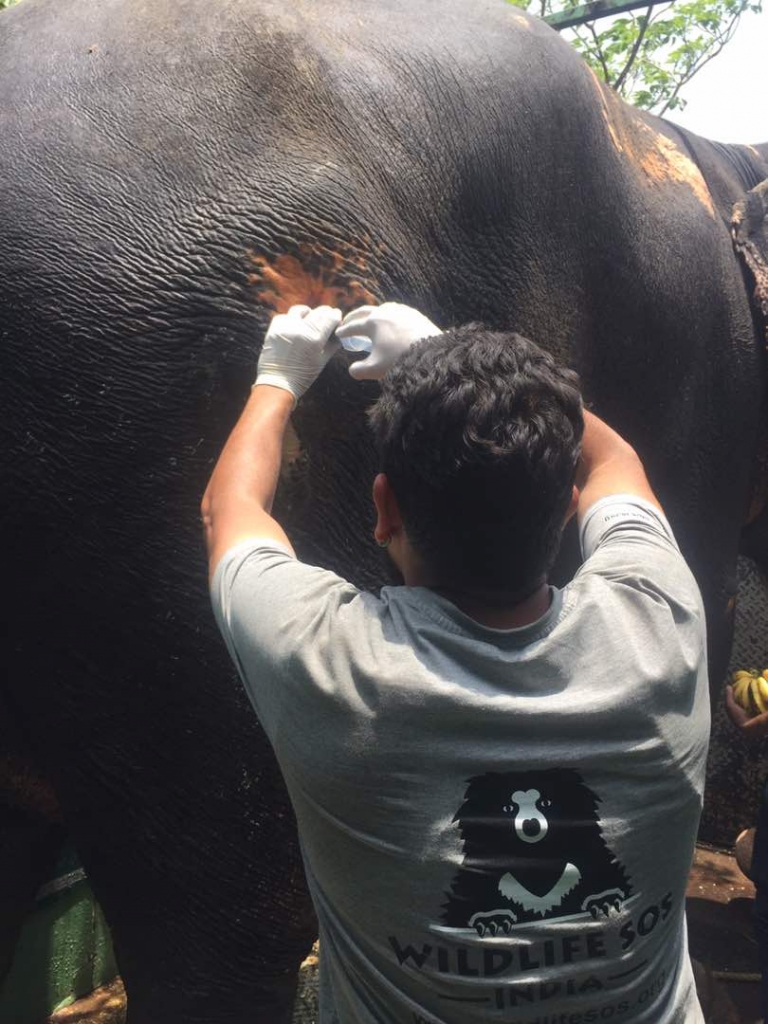 UPDATE – 15th June, 5:30pm: Our elephant ambulance zooming with Gajraj in the back seat!
UPDATE- 15th June, 10pm: The convoy has crossed the state of Maharashtra and entered the state of Madhya Pradesh. While that's another 745kms to cover before reaching the Elephant Conservation and Care Center, the team is happy to report that Gajraj is well hydrated and fed for the night.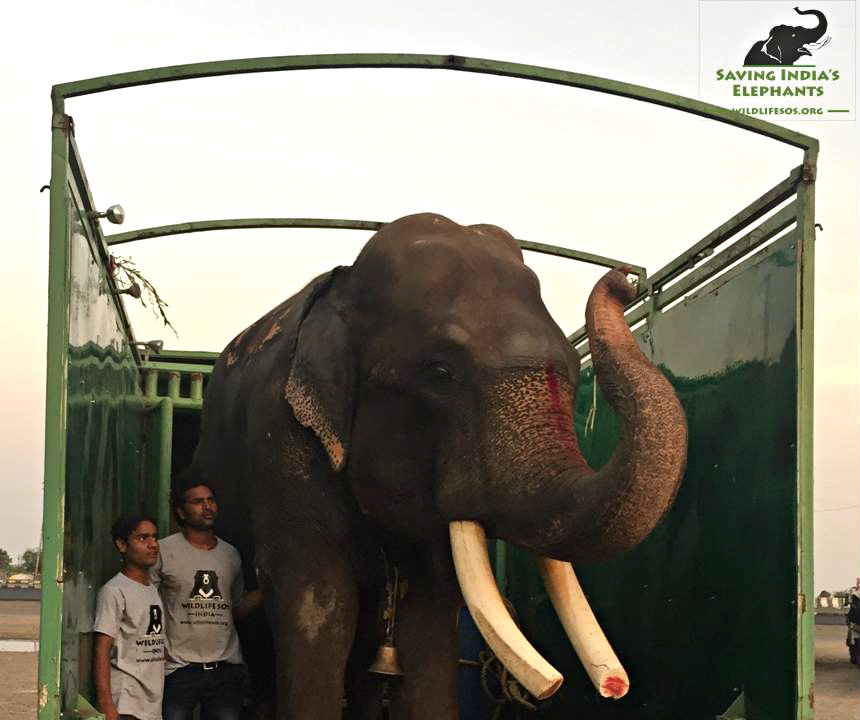 UPDATE- 15th June, 10:38pm : Our rescue team reports that Gajraj loves holding a watermelon in his trunk even while he is being served with chopped ones by the team. Here's another watermelon loving elephant joining the herd at Wildlife SOS!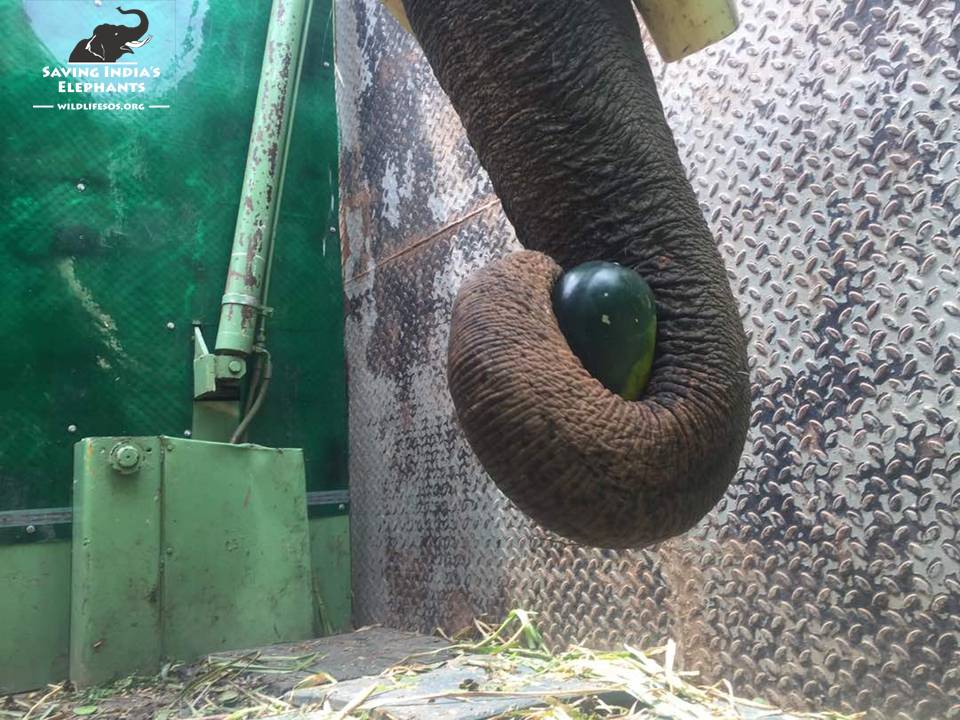 UPDATE- 16th June, 2am: The team has taken a halt to rest for the night and have dinner at a dhaba (local road-side restaurant).
UPDATE – 16th June, 7am:  Have you ever wondered how we keep the elephants fed on rescues? We usually have to buy lots of food along the way. However, today we really lucked and and a farmer generously donated chari/makka fodder and the team can be seen chopping some from the field and filling it in the ambulance for Gajraj to enjoy.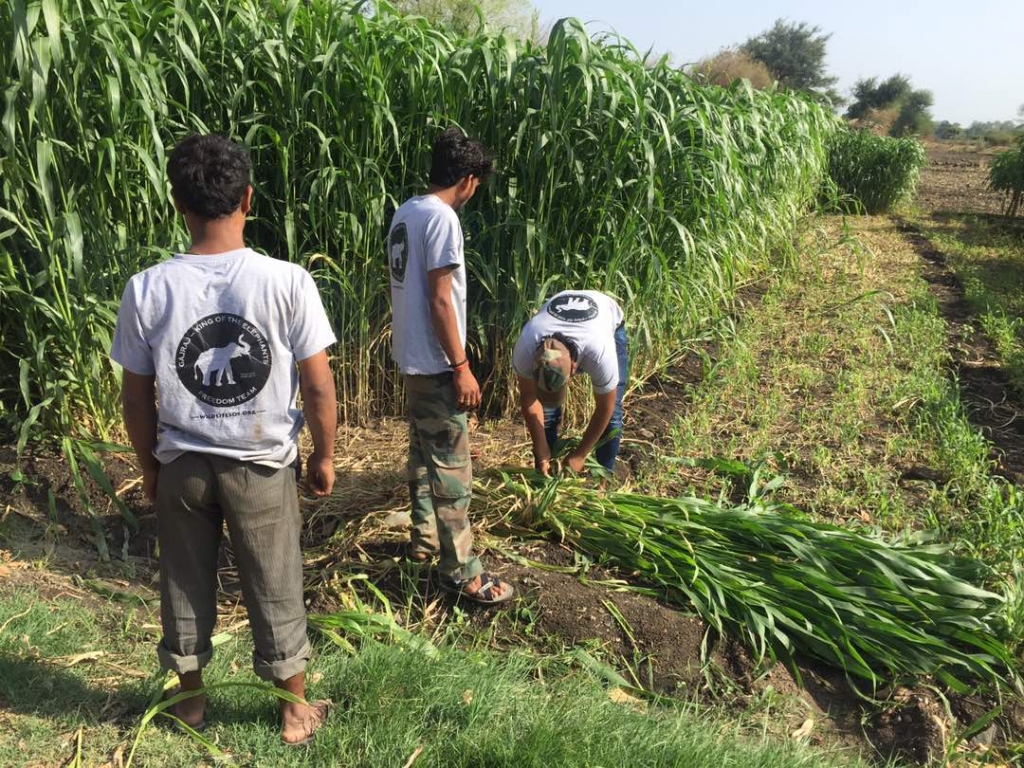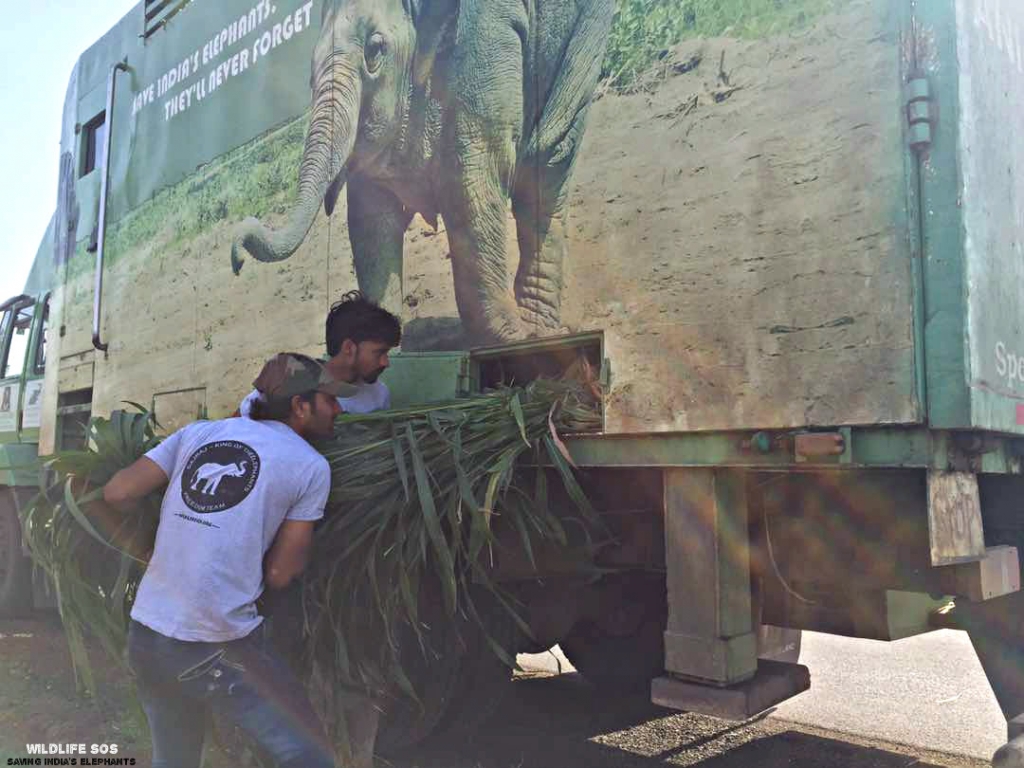 UPDATE – 16th June, 11am: The weather seems to be getting hotter, thus to keep Gajraj hydrated, our senior veterinarian Dr. Yaduraj mixed ORS (Oral Rehydration Solution, a type of fluid replacement used to prevent dehydration) in 10 watermelons and feed those to the elephant.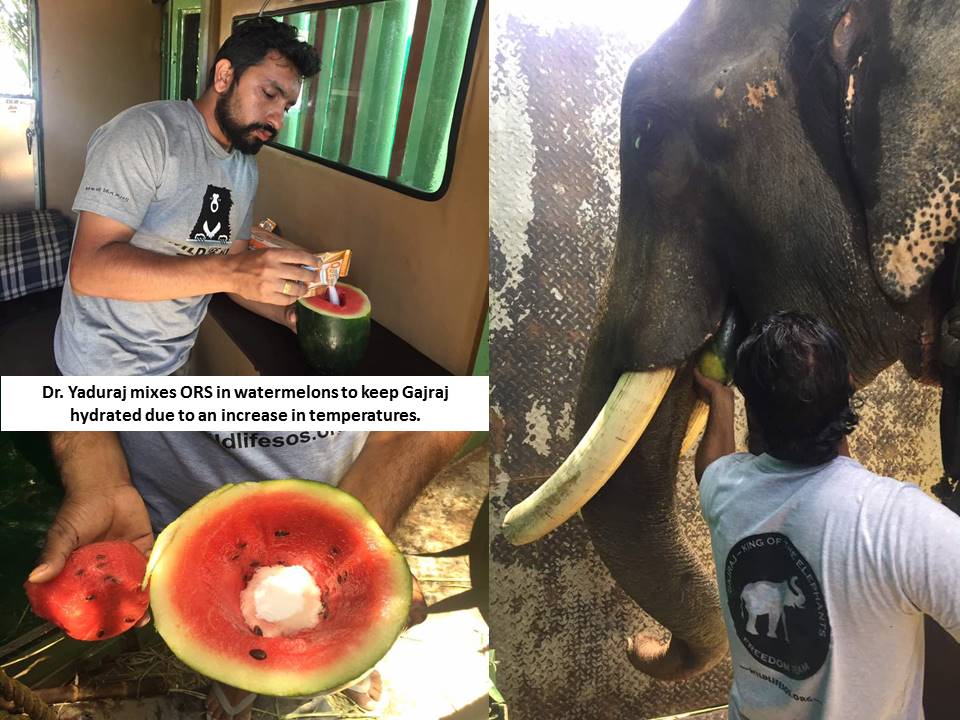 UPDATE- 16th June, 1:30pm: The team arranged for a water tank to give Gajraj a refreshing drink and to cool him down.


UPDATE- 16th June, 3:30pm: Shopping for fruits again! The team is buying fresh fruits for Gajraj. We've got yummy bananas, mangoes to watermelons! Would you like to help us buy fruits for him? CLICK HERE to donate.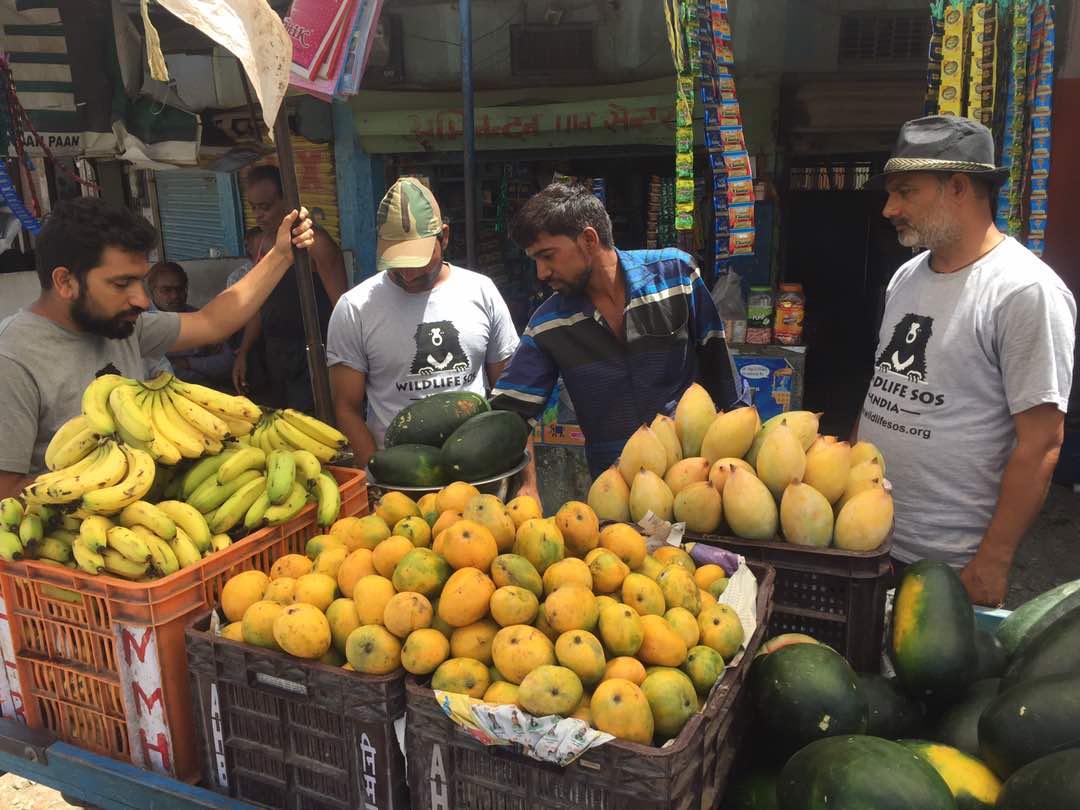 UPDATE- 16th June, 5:00pm: Look at this adorable elephant exploring and waving out his trunk from the Elephant Ambulance!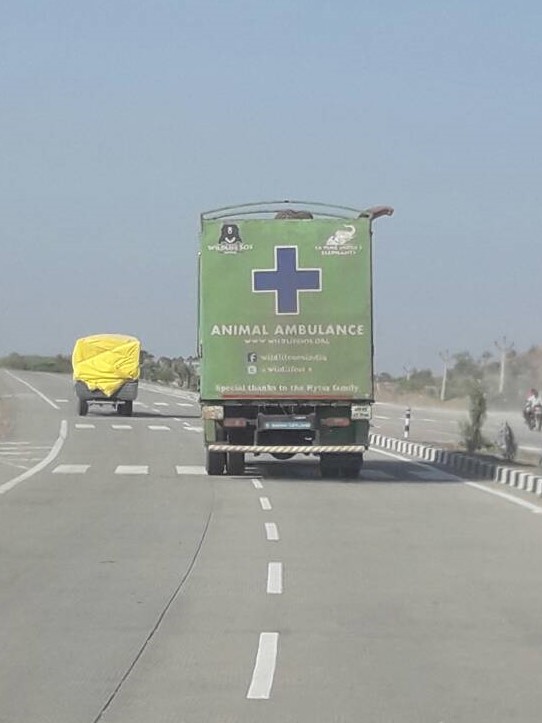 UPDATE- 16th June, 6:15pm: Catch the Wildlife SOS Team giving Gajraj a cool shower to keep the summer sun at bay! This is just some of the pampering that Gajraj will now get every day once he reaches the Elephant Conservation and Care Center!
UPDATE – 16th June, 11:30pm: We have just had a breakdown in the middle of the night with our support vehicle as one of the tyres burst. This is likely to delay our journey as it is a lonely stretch of road.

UPDATE – 16th June, 11:45pm: Luckily one of our drivers knows mechanical work and was able to fix the tyre! We're back on the road. Yay!



UPDATE- 17th June, 5am: The team had stopped to get the weight of Gajraj in the truck. Together they weigh 15,060 kg!


UPDATE – 17th June, 8:30am: The team is just 50 kms away from the Elephant Conservation and Care Center. Almost home now! Here is a quick glimpse of what it is like to be in the driving cabin of the elephant ambulance.
UPDATE – 17th June, 11;50am: Great news! Gajraj has finally arrived at the Wildlife SOS Elephant Conservation and Care Center! Catch Gajraj's adorable trunk taking in the first whiff of his new home.
UPDATE- 17th June, 12:15pm: Gajraj taking his first steps to freedom at the Elephant Conservation and Care Center! We would like to take this moment to thank all our supporters for being a part of his journey & making this rescue possible!
Please consider making a generous donation to support a healthy future for Gajraj: bit.ly/2sWMnV7