FREQUENTLY ASKED QUESTIONS (FAQ) ABOUT GAJRAJ ELEPHANT
1. Who is Gajraj — what's his story?
Gajraj is a 70- to 75-year-old bull elephant who was given as a wedding present to the Queen of Aundh Maharani Gayatridevi Bhagwantrao Pant Pratinidhi the day she married King Bhagwant Rao. Gajraj played a vital role in the celebration. Ever since, the elephant has been a star attraction at the temple of Aundh, playing an important role during annual festivities and temple processions. Temple devotees see Gajraj as an icon of worship, as explained in the words of the Queen herself. Gajraj's plight was brought to attention by a PETA campaign to move him to an elephant care and rehabilitation center.
2. Where is Gajraj currently located and why does he need to be rescued?
Gajraj is currently located in the village of Aundh, which is in the Satara district of Maharashtra. He has been in captivity for more than 51 years of his life. Being chained for long periods of time has had a detrimental effect on his health. After Wildlife SOS veterinarians conducted an interim medical examination, it was revealed that Gajraj required urgent medical attention for severe toenail abscesses in his front and hind legs, and to prevent the infection spreading to the bone. Gajraj also requires extensive care to treat his hip abscesses. Both of his hind limbs show severe degeneration of foot pads, which is very worrying for us as his legs could easily become infected, making him severely lame. For the above reasons, he needs to be rescued.
3. Who is financially supporting Gajraj's rescue and care?
Gajraj's ongoing medical treatment, feeding, and lifetime care will be covered solely and entirely by Wildlife SOS. Some part of the one-time capital costs will be covered by PETA and other supporters.
4. Where will Gajraj be moved to?
Gajraj will be moved to the Wildlife SOS Elephant Care and Conservation Center (ECCC) in Mathura, where he will eventually live at the newly acquired land we call the "Field of Dreams" when his enclosure is ready.
5. Who will be responsible for his medical treatment, feeding and lifetime care once Gajraj is moved?
Wildlife SOS will have the sole responsibility for providing Gajraj all medical treatment, feeding, and lifetime care once he is moved to the ECCC.
6. How long will the journey take?
We will cover 1500 kilometers (or 933 miles) while traveling from Aundh in Maharashtra to the ECCC in Mathura in Uttar Pradesh. This journey could take from 3 to 5 days, depending on how well Gajraj handles the travel. Given that Gajraj is a geriatric elephant, our goal is to ensure that his journey is as comfortable as possible, and we will allow him ample time to rest and recuperate via frequent pit-stops along the long journey.
7. What are Gajraj's biggest health issues, and how will they affect him long term?
Gajraj is a very old elephant who suffers from poor body conformation, among other things. The veterinary report described him as very thin with opacity in his right eye as well as nutritional deficiencies. The report further details a serious toenail abscess in his right front foot and left hind foot, as well as severe wear and tear of his foot pads, which makes him prone to lameness and foot injuries due to soft tissue exposure. Abscesses on his hips are also a matter of concern for the veterinarians.
8. How did Wildlife SOS get involved?
As concerned elephant lovers from around the world learned about Gajraj's medical condition, thousands of requests for Wildlife SOS to intervene and help him poured in. We then sent a team of Wildlife SOS elephant veterinarians to visit Gajraj and conduct a physical assessment to further understand his condition. What we found confirmed that Gajraj required expert medical care and long-term support to rehabilitate him and offer him a safe place where he can live a retired life for however long his frail body can support him.
9. Can I come visit him?
At this stage, Gajraj requires a stress-free environment and a lot of medical attention with round-the-clock care to help him on his path to recovery. Our efforts will be focused on ensuring that he handles the transition well and settles in comfortably. We would not want him startled, excited, or disturbed, as that may be an obstacle to his recovery. To this end, we discourage people from visiting Gajraj. We hope you agree that his recovery is most important at this time.
10. What do you need to help with his recovery; do you have a wish list?
We need round-the-clock foot care more than anything else at the moment. We will be focused on managing the multiple toenail abscess and his critically worn-out footpads. As such, our wish list includes a laser-therapy wound-healing machine that would do wonders for his abscesses. We may also need to get a special foot-care medication that would protect his delicate feet, large tubs for giving him medicated foot baths, and also soft rubber flooring for the ground in his night shelter. For more, see the wish list at the end of this FAQ.
11. Did you have to go to court to get permission to rescue him?
No, we did not have to go to court. We worked with the Forest Departments of Maharashtra and Uttar Pradesh to secure the permissions and paperwork. When Gajraj's situation was explained by the Forest Department to his owner — Queen Gayatri Devi Pant Pratinidi — she very kindly consented to handing him to Wildlife SOS. We want to express gratitude for this because we can give Gajraj all the care he deserves. The Queen's note is appended here.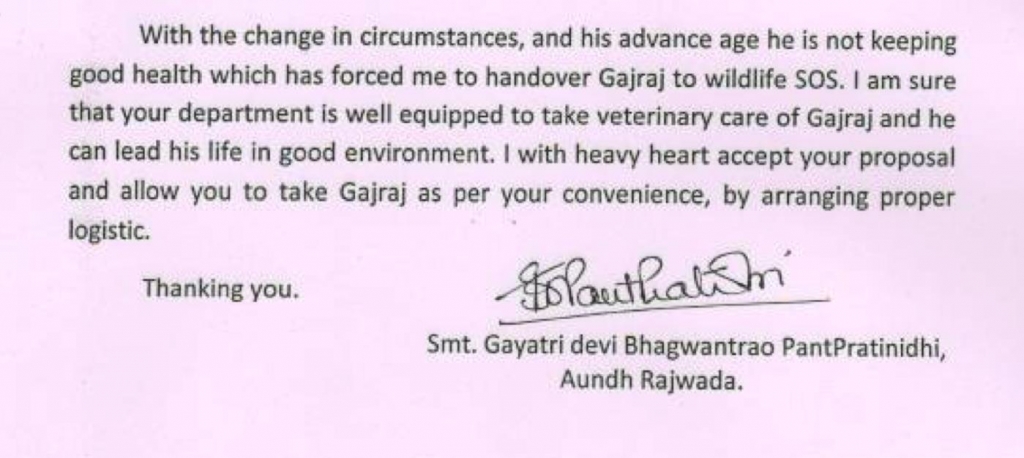 12. What can I do to help Gajraj?
You can donate toward the rescue and rehabilitation of Gajraj through this link: http://bit.ly/2sWMnV7
Please consider becoming a monthly donor to help support his ongoing, lifetime medical treatment and care. You can also share our email newsletters, Facebook posts, and YouTube videos to spread the good news about Gajraj and inform people about the plight of captive elephants in general. Please encourage your friends and family to connect with Wildlife SOS and become elephant supporters, too!
GAJRAJ WISH LIST: 
Rubber flooring for one shade shelter – $6000
All-terrain vehicle – $12,000
Overhead enrichment nets – $400
Bobcat for making beds – $30,000
Laser therapy machine – $12000
Elephant foot-protection solution $210 ($35 x 6)
Tractor and trolley – $25,000
Computers for documenting else records – $7,500 ($1500 x 5)
CCTV security cameras to protect elephants – $8,200
Camera to document elephant behavior – $4,000
4 TB hard drives to store photos and videos – $1,500 ($150 x 10)
Refrigerated medicine chest for vet drugs – $6,000
Water pump and plumbing for pool – $4,500
Solar panel and solar pump – $8,800
Solar lights – $3,500
GPS units
Flashlights
Rubber Tubs for elephant foot baths
Water storage tanks and pumps
Hose-pipes and pressure washers
Gajraj updates: If you want to receive breaking news and updates about Gajraj that we won't be posting anywhere else, please sign up for our email communications by clicking here.