The practice of dancing bears was a centuries-old tradition that inflicted terrible cruelty on thousands of highly endangered sloth bears in India. Although their 'dancing' bear days are long behind, our rescued and rehabilitated ursines still bear the horrifying physical and psychological scars that stand testament to the abuse they suffered at the hands of their Kalandar owners.
At Wildlife SOS we aim not only to rescue wildlife from distress and abuse in captivity, but also to provide our rescued animals with a safer, happier and healthier life post-rescue. Despite our efforts to provide better lives for our rescued bears in a near natural environment, they will never know to experience life in the wild having been robbed of this basic right to survive in their natural habitat.
During their time as performing dancing bears, our rescued bears lived in extremely stressful conditions, in cramped and unhygienic environments with little attention to their nutrition and veterinary care.  Under these circumstances, the animal becomes more susceptible to contracting diseases and viruses such as tuberculosis and many also suffer from hepatic disorders and arthritis, due to years of suffering and abuse.
On an average sloth bears can live up to 15-20 years in the wild but under captive care they survive up to 20-25 years. Sloth bears aged 16 years and above are considered as candidates for geriatric care by our veterinarians, depending on factors such as their health condition, range of activity and feed intake. Older bears have different physical and emotional needs from that of their younger counterparts. They go through behavioural changes with many taking on a calmer demeanour, their interest in playing with enrichments and interacting with other bears reduces as well. We have to understand these changes and need to help provide the most appropriate care for them.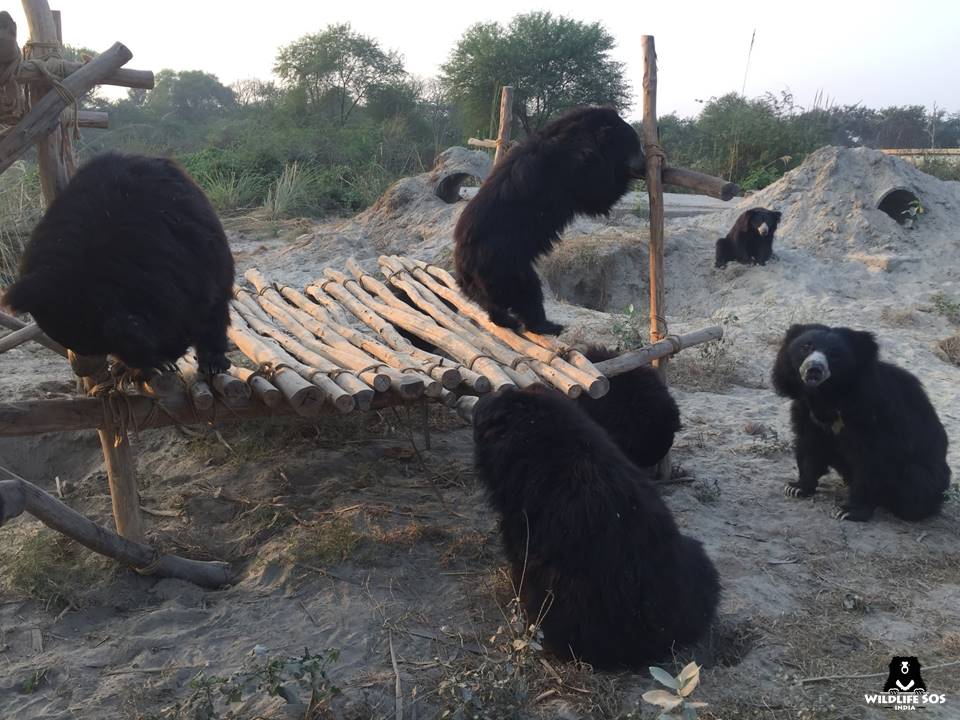 As their movement and range of activity wanes with age, we substitute most of the structural enrichments with food enrichments. Osto-arthritis is a common ailment amongst the aging sloth bears and this often makes it difficult for them to access the field as they are uncomfortable walking long distances. Therefore, the fields are regularly sprinkled with water to keep the ground soft and muddy, which makes it easier for them to walk on. The keepers also trim their claws to ensure that they do not hurt themselves while walking or playing.
Our veterinarians also prescribe a diet that is richer in proteins, calcium and fibre to help boost their metabolism and strengthen their immunity. As cereal based porridge is harder to digest and is high on carbohydrates, we give them milk with eggs in the morning and diluted porridge with more of fruits and vegetables in the evening. Additionally, the bears are given multivitamins and nutrient supplements such as liver tonics, Omega 3 fatty acids and hematinics.
Lifetime treatment and general care have played a vital role in keeping our rescued bears safe and healthy, and providing them the freedom they truly deserve. You can help us make a positive difference to their lives by choosing to make a generous donation; http://bit.ly/2rkPvNw