The residents of Bangalore woke up to yet another day of the hustle and bustle of the busy city life, meanwhile, just an hour away from the city; the residents of the laid back village of Hosadoddi were in for a rather unexpected morning.
Injured and hungry, a leopard wanders into a house located close to the forest area, in search of food and a quick place to rest. The big cat is quick to spot the hens feeding outside the house and braces itself to pounce on its prey.
The panicked cry of the hens as they run towards safety alerts the family of the unusual visitor in their backyard. Distracted and confused, the leopard rushes into a room and the terrified family members act quickly by locking the door from outside in an attempt to confine the wild animal inside the room. Fearing for their lives, they immediately alert the forest department and the Wildlife SOS team at the Bannerghatta Bear Rescue Centre, Bangalore.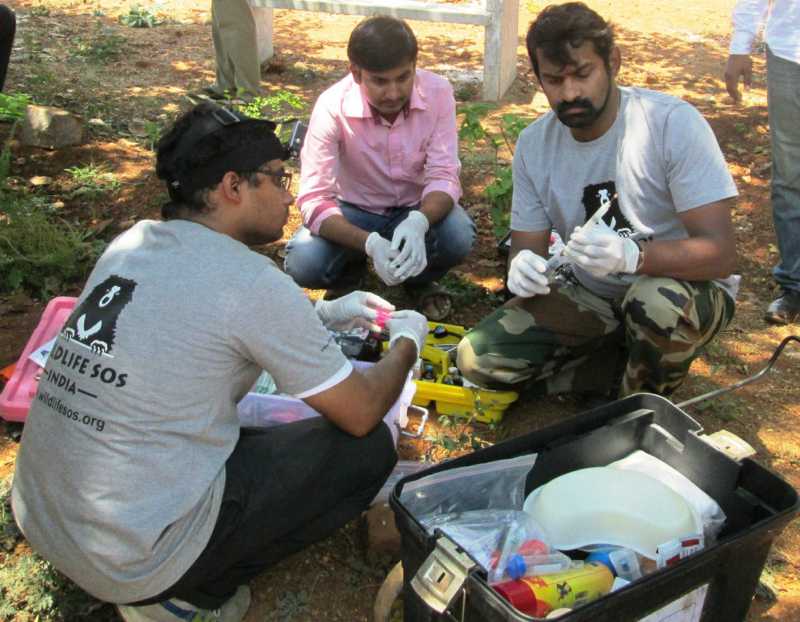 A three member team from Wildlife SOS is deployed immediately to aid the forest department officials in the rescue operation. On arriving at the location, they set up safety nets along the periphery of the house and successfully lure the big cat into a trap cage, after which the feline is gently sedated with tranquiliser equipment.
Once the leopard is immobilised, the Wildlife SOS team carefully transferred it to the rescue centre in Bannerghatta, Bangalore. Upon close examination, the vets confirmed that the leopard is a four year female and suspect her to be pregnant. It was further revealed that it had a major injury and a fracture in its tail and an emergency surgery had to be carried out due to the severity of the injury.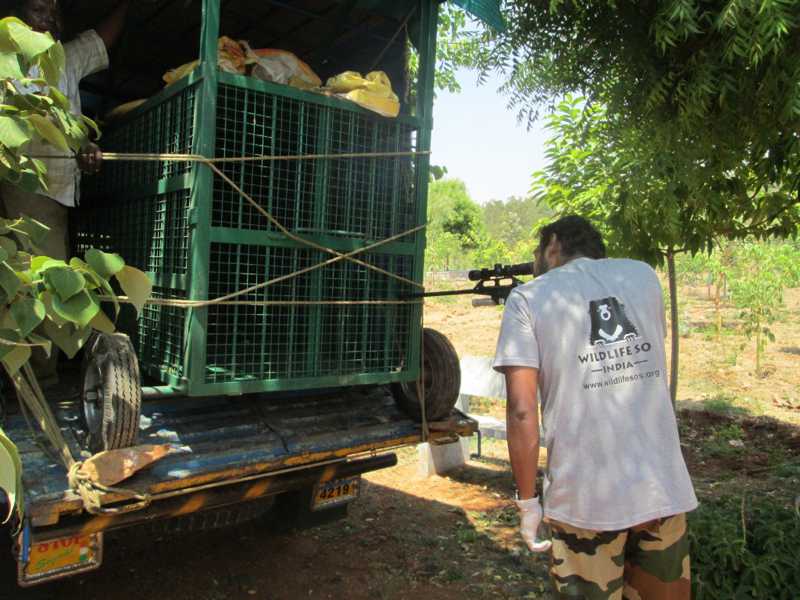 Dr. Arun. A. Sha, Director-Wildlife Veterinary Operations said, "The leopard is about four years old and we suspect it may be pregnant. The preliminary examination revealed that it had a major injury and a fracture in its tail and to prevent the spread of infection, we had to remove at least a foot length of the tail."
With rapid human encroachment into forested areas surrounding villages and crop fields, wild animals such as leopards often find their territory and prey base depleting and are forced to seek out shelter and food for survival. Most often they prey on domestic animals and livestock, causing financial loss and leading to human-leopard conflicts. The forest department has a compensation scheme for the loss of livestock in such situations to help farmers cope with the loss.
After being deemed fit by the veterinarians at Wildlife SOS the leopard has since been released back into its natural habitat.