Laxmi was 18 years old when we first heard about her. She worked as a begging elephant in the state of Maharashtra, standing outside a temple with her companion elephant and begging for alms from the devotees that visited. Every day, as devotees thronged the temple, the two elephants would stand mournfully at the entrance, gingerly picking money from outstretched hands and handing them to their mahout, or accepting a handful of oily, sugary prasad (food offered by devotees at temples) that they would quickly gobble up. At the end of a long day standing in the hot sun, on the hard flooring at the temple gates, the elephants would slowly make their way home along the bustling streets of Mulund, their footpads searing on the hot tarred roads. Along the way, hawkers would give the elephants whatever left over fast food they had – talking to the mahout later revealed that Laxmi used to eat nearly 200 vadapao (an oily snack of fried potato in buttered bun) each day. The negligible exercise the elephants got, coupled with the copious amounts of incredibly unhealthy food they were consuming took a predictably devastating toll on their health –the elephants got progressively obese to the point that they could barely stand. The weight on their limbs, along with the hours they spent standing on concrete and walking on roads had all but destroyed their footpads, and despite her young age, Laxmi showed signs of early arthritis and painful joints.
Then one day, Laxmi's companion elephant collapsed, her feeble limbs and aching feet no longer able to support her weight. Her condition was so far gone that there was nothing that could have been done to save her. As Laxmi looked on mournfully, barely able to walk herself, veterinarians struggled to revive the collapsed elephant, but to no avail. Her death set off a series of legal battles against Laxmi's owner emphasizing that his complete neglect and apathy towards the elephants, and the abuse inflicted upon them to force them to work had led to the death of one elephant, and serious health implications with possibly fatal consequences for Laxmi unless we were able to intervene. We were determined to get justice, and to prevent Laxmi from meeting the same fate.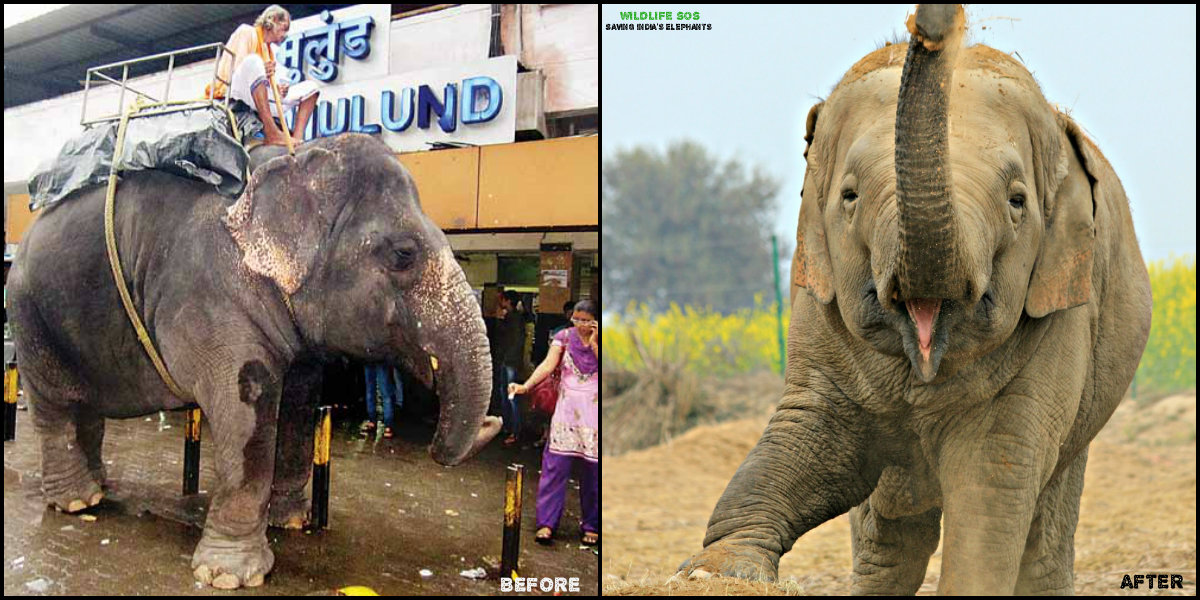 As soon as we could, we prepared to move Laxmi to the Elephant Conservation and Care Centre in Mathura. Struggling to stand, let alone walk, it was blatantly obvious that there was no way Laxmi was going to be able to walk up the ramp and into the truck, so a crane was arranged to lift her on. Along the way, we discovered the horrific extent of her condition, the extreme lethargy and weakness that had resulted from her obesity, and the pathetic state of her feet, joints, footpads and nails. The pockets of fat that had accumulated around her eyes made it nearly impossible for her to even open them. But we also discovered Laxmi's spirit and her delightfully unique and playful character that emerged once she felt comfortable enough around us. Convinced that she could do a better job of driving the truck, this chubby elephant would constantly manoeuvre her trunk into the driver's cabin and try to grab a hold of the steering wheel, forcing us to keep the windows rolled up for the entire journey!
The first time we weighed her at the centre, we were mortified to find the scale tipping at nearly 5,000 kilos – more than even our much taller bull elephants! Laxmi was immediately put on a diet of fresh green fodder and a nutritious variety of vegetables, even though she initially appeared confused by it, as if she'd never before seen food that wasn't fried, greasy or dripping with oil! The vets prescribed supplements for her, including vital Vitamin D3 to check the progression of her arthritis and other joint and bone disorders resulting from her obesity. Her exercise regime includes two walks every day, and although initially reluctant to move more than a few steps, she has slowly and steadily been coaxed on much longer walks, particularly thanks to the delightful company of her two best friends at the centre – Bijli and Chanchal.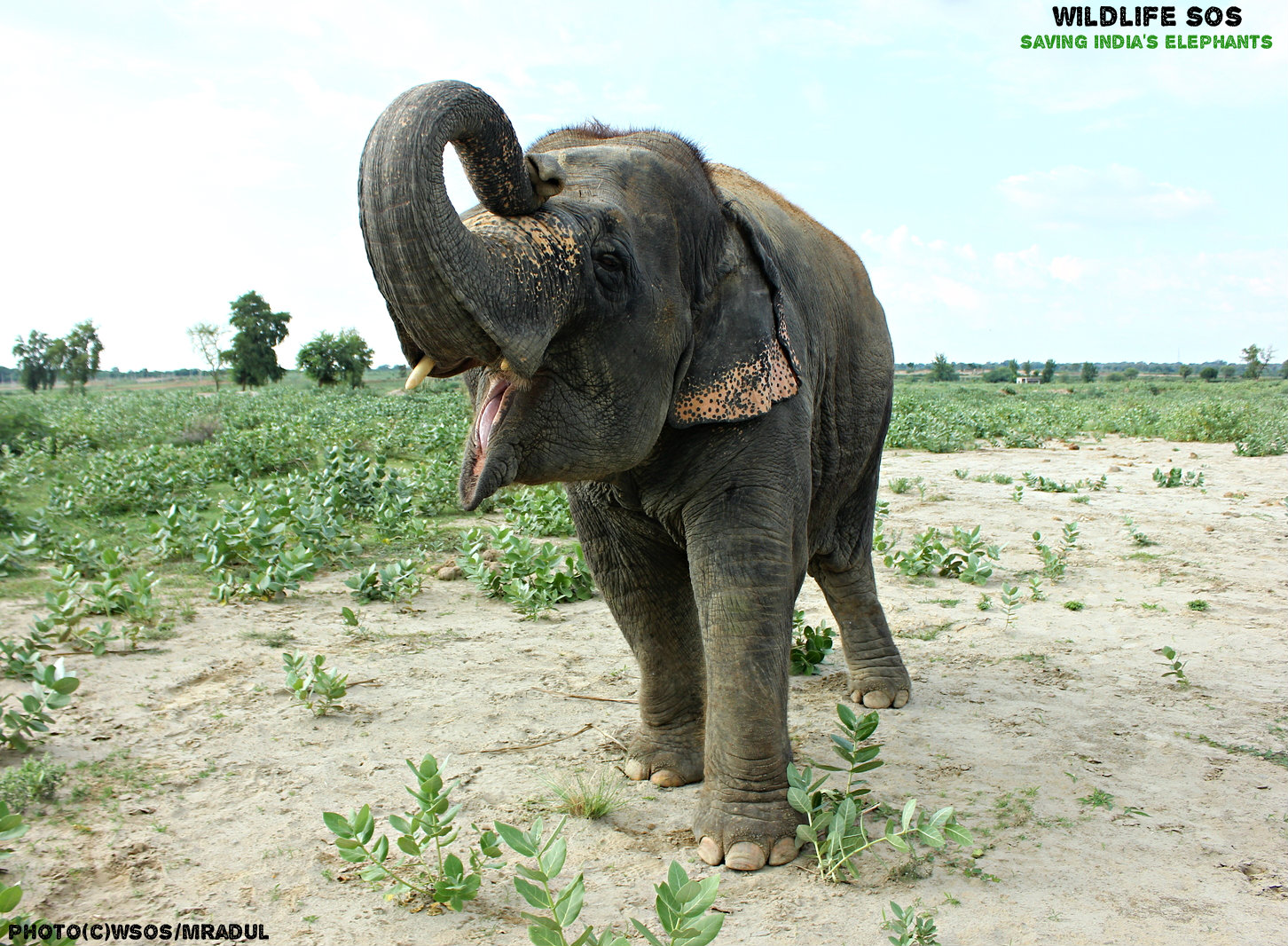 Over the last few years, Laxmi's weight has steadily decreased, and the abscesses in her feet have healed over. Not only can she walk now, she can even play in her pool or with enrichment toys! She's become a lot more comfortable in our care, and has let her guard down completely – allowing us a delightful insight into one of the most endearing, and amusing personalities we have encountered. Laxmi is, unsurprisingly, a complete foodie, and while we were initially apprehensive about how she would take to our humane positive reinforcement training, we found that it was easy to get Laxmi to cooperate during her veterinary treatment with a little love and lots of treats (even if they are healthy protein treats!). She loves getting a bath, particularly from young volunteers, and is exceptionally friendly with all the other elephants. Our naughty little girl is particularly fond of the bulls, and squeaks with excitement whenever she so much as smells one of them while out on her walk!
But caring for an obese elephant is a huge uphill challenge, and has been one of the toughest tests of our capabilities. While the diet and exercise had tremendous impact early on – with Laxmi shedding the pounds quickly over the last few years, till she was almost 600 kilos less than when she first arrived – we found her progress plateauing over this year. Her diet was becoming tough to control and monitor, so we started separating her during feeding giving our wonderful elephant a fair chance at getting the nutrition she needs to manage her metabolism. We're also making attempts to increase her exercise, trying to get her to go on longer walks – even though she's always more content to stop at the stream and wallow in the mud, or lazily graze on grass rather than keep walking. Our young, spritely pachyderm also throws little tantrums when the mahouts try to egg her onward, stubbornly refusing to move on unless she sees some sort of incentive in the form of treats!
We're working with Laxmi, and within her comfort and capabilities, to keep her on the path to recovery. We're designing new enrichments to make her forage a little harder for her meals and get a little exercise in pursuit of food, as well as introducing new toys (like a sprinkler system!) for her to enjoy, and to convince her to play around in the pool, rather than just laze about in it. Laxmi is a constant source of joy for all of us, and a favourite amongst volunteers, visitors, and staff, with a network of loving supportive friends all over the world that constantly check up on her, as well as elephant experts that are always on hand with great new suggestions to try and help our delightful, loveable pachyderm drop those kilos in an effort to ensure she has a healthier, happier and safer life for many more years to come. On the fourth anniversary of her rescue, we at Wildlife SOS wanted to send out our most heartfelt thanks to all of Laxmi's sponsors, supporters and her many many friends and fans, for continuing to stand by us and her through all the challenges and celebrations on what has been a mammoth of an adventure with our beloved plus-size pachyderm!
Here's a glimpse at Laxmi's life at the Elephant Conservation and Care Center;