Last month, the sight of a leopard wandering in the sugarcane fields caused major uproar in a remote village near Satara, Maharashtra. In recent years, there has been a rise in the number of leopard encounters in the state due to human encroachment and rapid deforestation caused by creation of sugar cane fields for farmers, forcing these majestic cats to adapt to the changing landscape. Desperate to find a foothold in the shrinking forests they have been forced to seek out shelter in the tall dense sugarcane fields while depending on easy prey such livestock, pigs, dogs etc. for survival. Consequently, locals live in fear of the close proximity of leopards as it often results in man-leopard conflict.
Due to the persistent pleas from the frightened villagers and in an attempt to prevent a possible conflict situation, the Forest Department was compelled to capture the wild feline, after ensuring that there was minimum force and trauma to the animal. Word of this incident soon reach the Wildlife SOS team at the Manikdoh Leopard Rescue Centre in Junnar and on request of the Deputy Conservator of Forests, Satara Mr. Ajit Anjankar a decision was taken to microchip the leopard so it could be released back into its natural habitat. Dr. Ajay and his team have experience and the necessary expertise in micro-chipping wild animals, having conducted nearly 40 such successful procedures in the past.
The leopard was identified as a young female of approximately two years and was given a clean bill of health upon thorough veterinary examination conducted by our team. The leopard was implanted with a microchip comprising of a unique identification number that was fitted near the tail as per the guidelines issued by the Central Zoo Authority of India. Wild animals that are kept in captivity or are to be released back into the wild need to be micro-chipped; in fact all 34 leopards under our lifetime care too have been chipped. It is important to microchip animals before release as it helps monitor their range and movement patterns as well as to study. This also helps keep a track of conflict animals under man-animal conflict guidelines issued by the Ministry of Environment & Forests.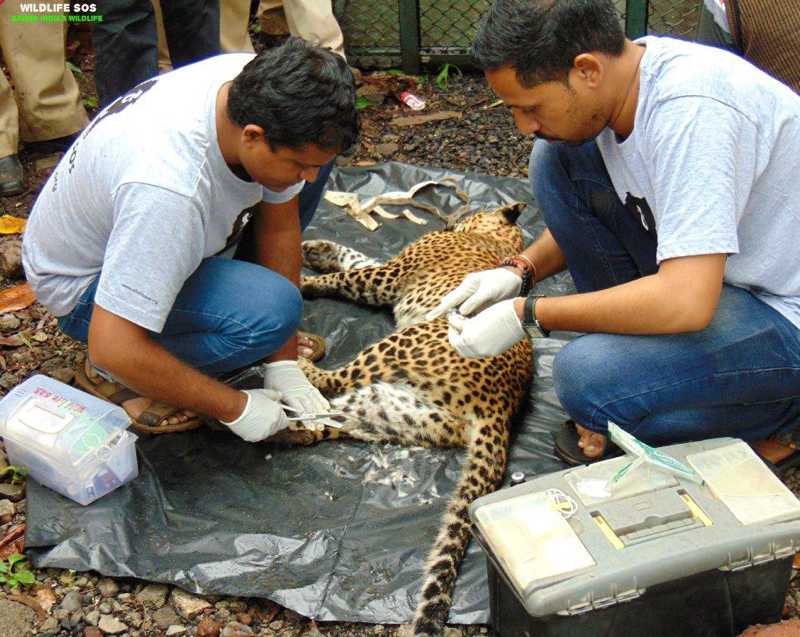 Post being micro chipped the leopard was released back into the same forested area, from which she was trapped. As there has been a steady increase in human-leopard conflict in recent years, it has become imperative to adopt such techniques.
So far in the state of Maharashtra, only the Sanjay Gandhi National Park in Mumbai and the Wildlife SOS team at MLRC are qualified to carry out micro-chipping procedures on wild cats. We also conduct awareness programs and training sessions for Forest Department officials to improved knowledge about handling such rescue and release operations. Our primary goal is to contribute to the conservation of the imperilled Indian leopard population on one of the most heavily human populated and dominated landscapes in the world.