Every year, the onset of the harvest season brings about the unavoidable encounter with leopards and leopard cubs that have sought refuge in the tall dense sugarcane fields in the state of Maharashtra. Due to a variety of factors including deforestation, habitat encroachment and poaching, leopards are continuously forced to leave their forested homes and move out into buffer areas.  Over the years, these resilient wild cats have learnt to adapt to the new surroundings by moving into neighbouring sugarcane fields in search of safe cover, to breed and rear their young. Consequently, this gives rise to Man-leopard conflict situations, which tend to escalate during the harvest season.
In a recent incident, sugarcane farmers of Takali Haji village located in the Shirur range stumbled upon four tiny leopard cubs while out harvesting their crops. Their eyes were barely open and they were huddled together for warmth and comfort. Knowing that the mother leopard was probably in the vicinity, the farmers immediately alerted the Forest Department. Soon after, Range Forest Officer (Shirur), Mr. Tushar Dhamdhere reached out to our team operating out of the Manikdoh Leopard Rescue Center in Junnar for their assistance.
A team of four Wildlife SOS rescuers & three Forest officers rushed to their aid. Our senior veterinarian, Dr. Ajay Deshmukh confirmed that the cubs were about twenty days old and identified them as two males and two females. As they were found to in good health, we arranged for the leopards to be reunited with their mother. The team initially received opposition from the scared villagers and had to be convinced that reuniting the leopard family was in everyone's best interest. Mother leopards are very protective of their young and can turn very aggressive and frantic when their cubs go missing which often leads to retaliation in the form of man-animal conflict.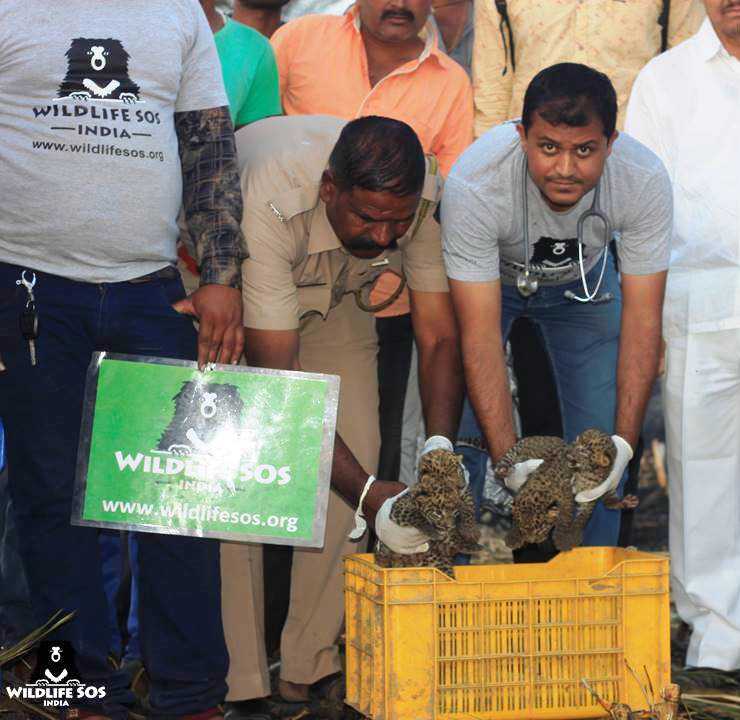 We carefully placed the cubs in a safe box and took them back to the field so that the mother could find them. A camera trap was also set up nearby to monitor & record the reunion. Within an hour's time, the leopard emerged from the forest and rushed towards the crate, sniffing curiously around before pushing the top off. After carefully scrutinizing her precious babies, she gingerly picked each one by the scruff of the neck and carried them away to a safer place.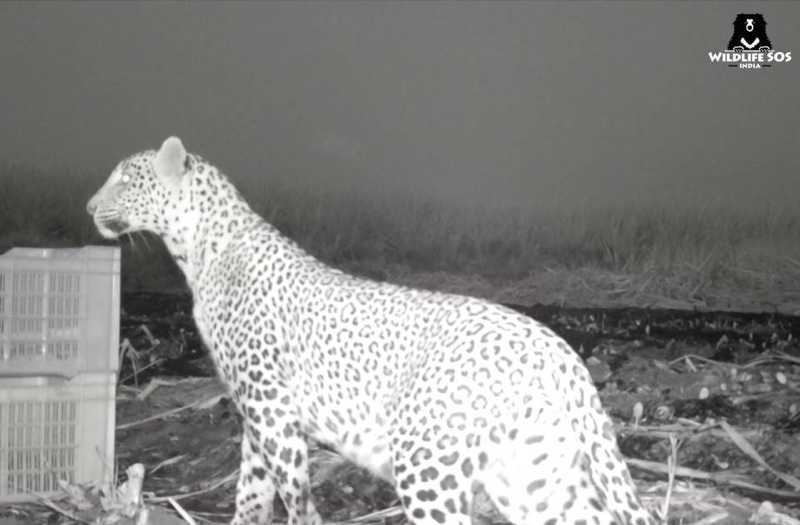 Happy ending such as this makes our efforts to help conserve and rescue leopards in Maharashtra all the more gratifying. It is also immensely rewarding to know that each one these cubs will now have a chance at a free life in the wild! You can CLICK HERE to see an exclusive camera trap footage of the reunion.