Wildlife SOS had the fortune of witnessing a one of a kind event at the Bannerghatta Bear Rescue Centre in Bangalore, Karnataka- the birth of a sloth bear cub! This birth was the result of mating that may have occurred between a wild male sloth bear and Kavi bear. It is a good news indeed that an endangered species like the sloth bear had given birth in captivity. After several years of rehabilitation efforts at the BBRC, it is good to observe that bears are now displaying natural behavior.
The Bear Rehabilitation Centre is home to many rescued sloth bears who once experienced the plight of dancing bears in India. One such bear is Kavi who was rescued by Wildlife SOS in 2008 from Gadag district in Karnataka. Incidentally, a wild male sloth bear from the Bannerghatta National Park accidently breached the moat and entered the bear safari. It was love at first sight as he set his eyes upon Kavi bear.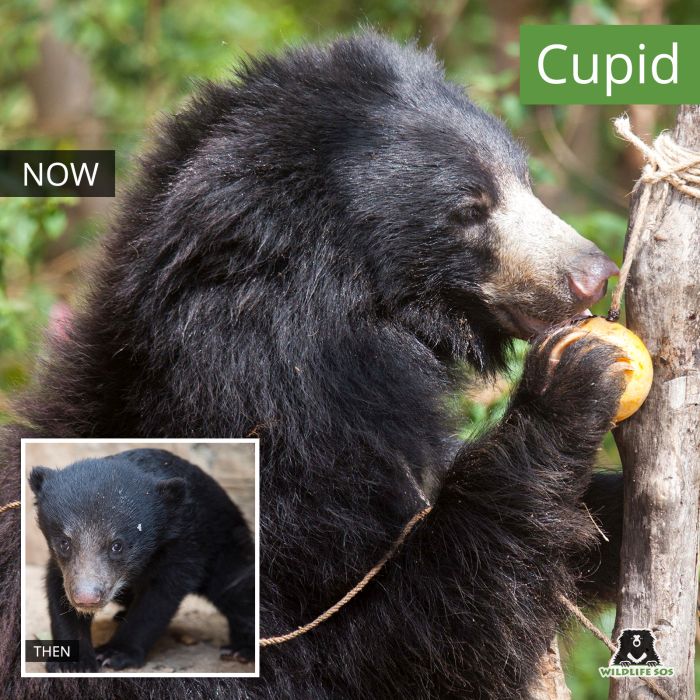 Kavi delivered the bear cub in a deep cave in the large 65 acre bear safari area who is now 6 to 7 weeks old. We have named him "Cupid" which defines the story of his birth. Camera traps installed close to the rescue centres in the safari area confirmed the presence of wild male sloth bears in the Bannerghatta National Park area.
Dr Arun A Sha, Director- Research and Veterinary Operations said, "The mother bear kept the cub hidden until she ventured out of her cave to forage. We are currently gathering data on the maternal care behaviour of the bear with the help of camera traps and field biologists to document this for scientific purpose."
Kartick Satyanarayan, Co-founder of Wildlife SOS said "Shrinking forest cover, habitat fragmentation and change in land use has rapidly increased incidences of HBC human bear conflict in recent times. In the last 12 months, Wildlife SOS has assisted the Forest Department in rescuing and releasing 9 sloth bears from conflict situations in and around Bangalore & Tumkur. In most cases the bears are rescued and then relocated to safe forest habitats to prevent further human Bear Conflict situations. Wildlife SOS also carries out education and outreach efforts to create awareness and help educate people in avoidance behaviour."