Each year, Makar Sankranti is celebrated with a lot of enthusiasm in many parts of India. The day brings along social festivities such as colourful decorations, people singing and dancing, fancy treats and feasts, fairs, bonfires, and kite flying. The rejuvenating, joyful activity of kite-flying is particularly popular during this festival. People brimming with joy, colourful paper or plastic kites fill the skies on this day, celebrating the onset of spring. But this day also brings along horrifying fear amongst wildlife rescuers and conservationists as they brace for another year of avian fatalities. As the colours in the sky become even more radiant, higher goes the number of bird injuries. As delightful as the kite flying experience may be, the colourful string or "manjha" has proven fatal for thousands of innocent birds.
How does a festival become a blood bath?
Glazed and coated with powdered glass, the strings are purposely designed sharp to slash the opponent's kite mid-air, as a part of the kite fights. Meant for traditional festivity, unfortunately, it is causing a dramatic rise in bird injuries as kites continue to compete with birds for space.
Birds like pariah kites, rose-ringed parakeets, barn owls often fall victim to these deadly kite strings. Frequently seen birds like crows, pigeons, and sparrows aren't spared either. Peregrine falcons, numerous species of eagles, lapwings, peafowls, and Sarus cranes have also been rescued after being injured due to kite flying. Manjha becomes an additional danger to already threatened bird species such as vultures.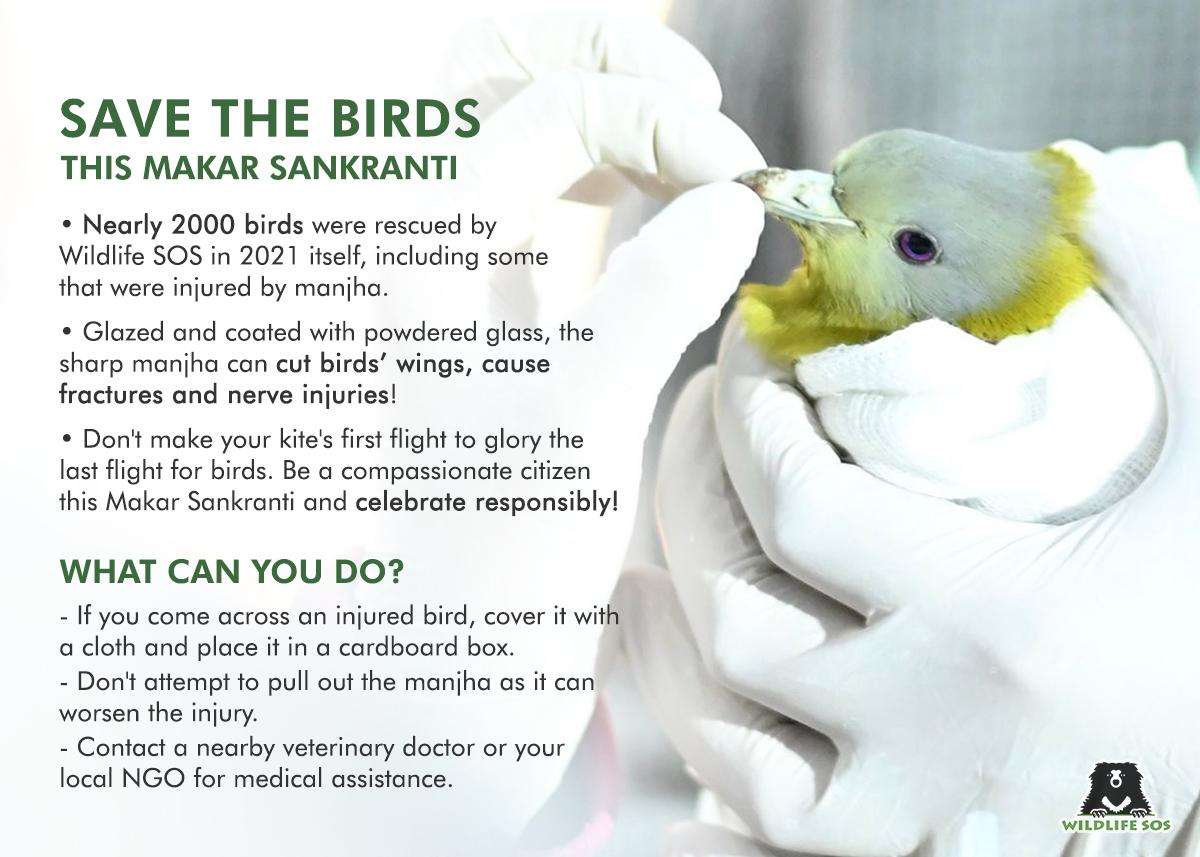 This is the season when birds from different regions migrate to the Indian subcontinent and proceed with their nesting rituals. Cities such as Ahmedabad are on the route frequented by migratory birds like pelicans, flamingos, Greylag geese, cranes, etc. During their flight, they are prone to coming in direct contact with the kites, thus raising the toll. The world's highest-flying bird, the bar-headed goose, was recently found wounded with cuts on its wings and fractured legs.
How does manjha cause avian fatalities?
During the kite-flying season, kites often cut off in the sky and fall on trees, shrubs, or electrical lines. Birds that use these areas for perching get entangled in the manjha, struggling to escape. The thread gets enmeshed in their wings, feathers, and claws, and if left unattended, they die in a matter of time.
Birds are at a high risk of sustaining injuries even in mid-flight and the string often entangles them. The powdered string of manjha can cut through the sides of the birds' wings and can also cause fractures and nerve injuries! At times, minute glass pieces also get embedded in birds, adding to their misery. Sadly, this non-biodegradable synthetic thread remains an issue for several years to come for helpless birds. Even after the festival, people usually discard the threads improperly, which the birds then carry for building their nests. In the process, manjha entangles the birds or their chicks and they succumb to serious injuries.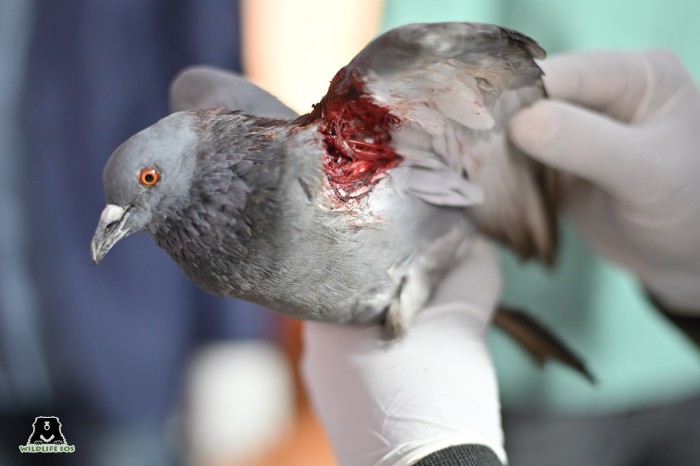 Why not ban the use of manjha?
Owing to casualties, Mumbai was amongst the first cities to ban the use of synthetic manjha in 2009. Soon, other cities like Jaipur, Bareilly, Amritsar, and Chennai also banned the use of Chinese thread. The Delhi Government also declared a ban on all forms of manjha and permitted kite-flying only using plain cotton threads. About four years ago, the National Green Tribunal finally imposed a ban on the usage of synthetic as well as nylon manjha to save the lives of these vulnerable species.
Though the authorities have banned the use of synthetic manjha, the 'death thread' manages to sneak past the eyes of officials, leaving many injured and even killing many. People still continue to enjoy cutting the opponent's kite, not realizing or acknowledging the ecological risk.
What can you do to prevent bird injuries?
Several volunteers and veterinarians work round-the-clock to rescue injured birds during Sankranti. Despite setting up several bird camps and awareness programs across the Indian cities, we still have a long way to go. As even after first aid treatment, birds may take up to several days or months to recover fully.
To minimise the risk, kite fliers must use plain, cotton threads with no coating. If one comes across strings entangled in trees, carefully dispose them off. People should practice kite flying in open ground and avoid the morning and evening times when birds are generally active. If one is aware of nesting areas of birds, avoid flying kites near them. Such measures will ensure a minimised danger and risk to the bird populations.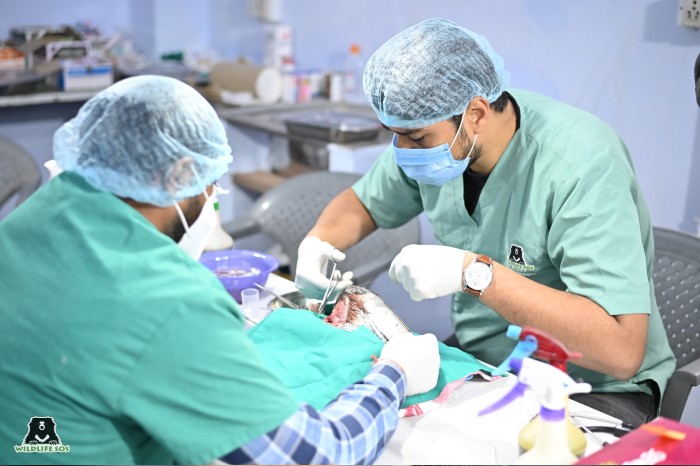 If one comes across an injured bird, avoid the application of turmeric, iodine, or ointment on the manjha wound as they are ineffective on the bird. One shouldn't pull out the string, because if the wound has clotted, pulling it will cause blood loss. You must put a cloth around the bird and transport it so a veterinarian can do a thorough assessment. You may also immediately contact a nearby animal welfare group.
What does Wildlife SOS do to help these birds?
The Wildlife SOS 24×7 Helpline, which runs around the clock relieves various animals in distress. Every year, our team rescues innumerable injured birds around Independence day and Makar Sankranti. Birds including pigeons, eagles, owls, and small mammals such as baby monkeys, squirrels, and bats succumb to severe injuries. In collaboration with Eco Rescuers Foundation, Wildlife SOS has set up a free bird treatment camp in Jaipur, Rajasthan, this year. The camp aims to provide aid to the injured birds in that area. Our veterinary team will treat affected birds as well as to conduct training sessions.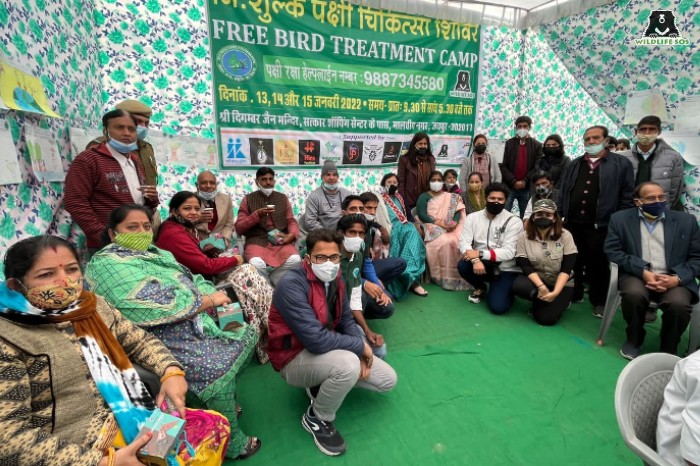 If you spot an injured or distressed animal, you can contact the Wildlife SOS 24X7 helpline:
Delhi NCT: +91-9871963535
Agra: +91-9917109666
Gujarat: +91-9825011117
Jammu & Kashmir: +91-9419778280, +91-7006692300