Rescued as a badly wounded and terrified cub from Bhopal in Madhya Pradesh, Rose has come a long way over the year since her rescue, but it is impossible for us to forget the heart-breaking condition she was in at the time of her rescue. She was found severely undernourished and weak after being left to fend for herself, having lost her left front paw and her mother to a poacher's snare. The wound on her paw was developing an infection and slowly deteriorating in condition- coupled with the absence of a mother to care for and protect her, she was lucky to be still alive.
Rescuing and treating Rose was a massive challenge because she was a wild bear in pain and extremely petrified of humans. She was also very aggressive and would not let anyone approach her. It took months of dedicated hard work to gain Rose's trust. Gradually, she began to realize that the people who surround her mean no harm and only mean to relieve her immense pain and suffering. Without her mother, she had been all on her own and we wanted to give her the love and care that she truly deserved. Trust was slow to build but it did come, and with it a surge of hope that we could finally change Rose's life for the better.
Of course there have been bumps along the road to recovery- Rose would wear out any bandage that we put on her paw, or chew it off as soon as she could, exposing the wound before it could heal. She refused to eat initially hindering her healing considerably. Our most recent hurdle has been an enteritis diagnosis, but our strong little bear recovered from this too in no time under the care of our vets, and has resumed normal feeding and activity.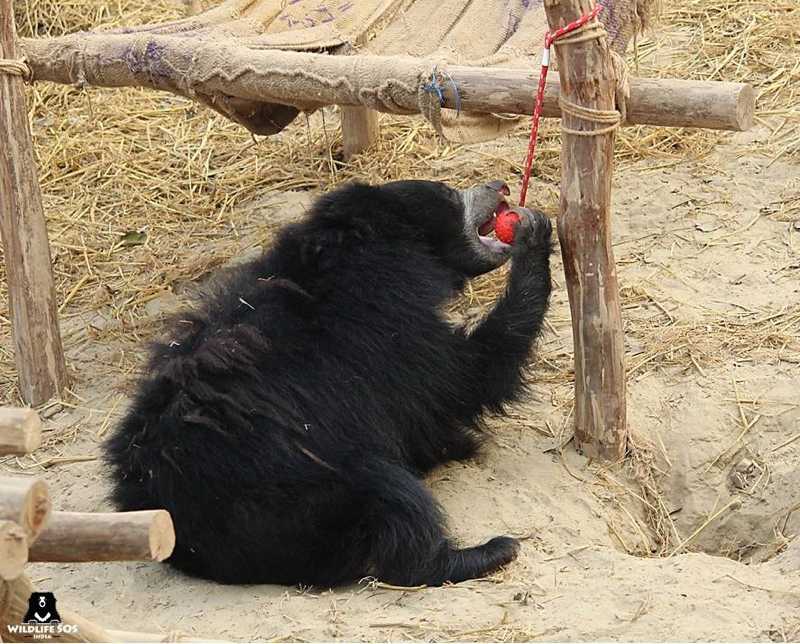 Over the year since her rescue, Rose has proven herself to be a bear of extraordinary willpower and her endurance has earned our most sincere respect. Not only is she getting over her bitter past, she is also overcoming her disability. It filled our hearts with joy and pride when we recently saw her successfully climbing a tree, using her teeth to grip the branches to compensate for her missing paw. It is so inspiring to us that she is not letting her handicap get in the way of her living her life to the fullest and exploring all her natural instincts as a bear. Every day, Rose proves to us that nothing can hold you back if you have the courage and determination to move ahead.
During the cold winters of Agra, Rose loves to take her afternoon naps in her hammock, soaking in the warm sunlight. She is always enthusiastic about her meal times and enjoys all kinds of fruits, coconut and jaggery. However, unlike most bears, Rose dislikes dates and even playfully throws them at her keeper if he brings them for her. Rose is still little wary of new people, although the terror she experienced on seeing people seems to have ebbed away with her recovery. Still, she only allows her keeper Durgesh Prasad near her without feeling the need to retreat and watch the visitor carefully from the safety of her den. Due to her compromised physical condition and extremely reclusive nature, we have so far been unable to introduce Rose to and other bears, but have found that she enjoys being on her own, relaxing in the solitude of her hammock – even shooing away any curious monkeys that drop by for a visit! Thankfully, Rose has begun to feel at home.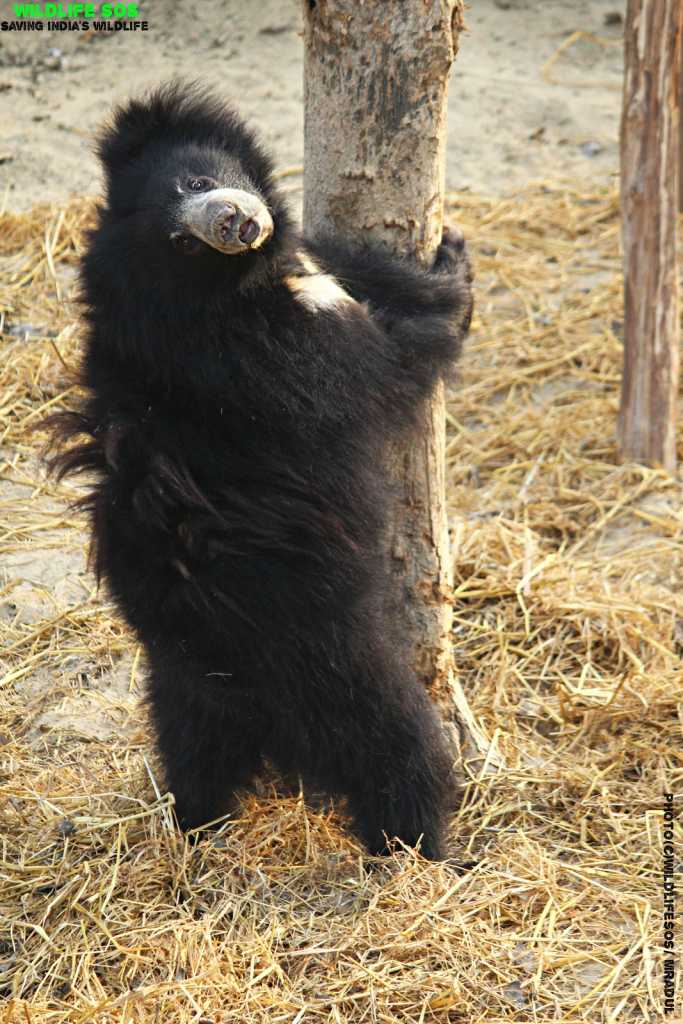 We are delighted at the extent of physiological and emotional recovery that Rose has made in the past year and we sincerely hope that in the coming years, she will allow sunshine and warmth to flood her life, putting every trace of her past behind her.
We would like to take this opportunity to thank each and every one of you who supported this baby cub and made it possible for her to enjoy the good life she so truly deserves! You can sponsor Rose and be a part of her journey by clicking this link HERE.