As the Covid-19 pandemic is overtaking countries, in its wake governments are taking the strictest measures to ensure loss of life is as minimal as possible. To avoid the novel disease that is transmitted through human contact and has no known cure, movement has been restricted with police forces deployed to ensure strict measures.

The Government of India has also issued a nationwide lockdown, shutting down borders between states, local public transportation systems including metro, buses, autos and cabs, and all passenger carrying trains of the Indian Railways. In turbulent times however, humanity shines through and heroes emerge; our rescuers continue to be out in the streets every day, providing assistance to wild animals and communities. There is no resting when it comes to conservation and our rescuers embody that spirit. They are dedicated and willing to put their lives at risk to continue to rescue monkeys, birds, snakes and other reptiles in pan India in the midst of the Coronavirus lockdown!
The NGO's 24 hour animal rescue hotlines continue in the midst of a nationwide lockdown. From injured monkeys to a wide variety of snakes finding themselves in people's homes to a wounded Coppersmith Barbet, our heroes are working round the clock to provide essential services and protect communities and wildlife in distress.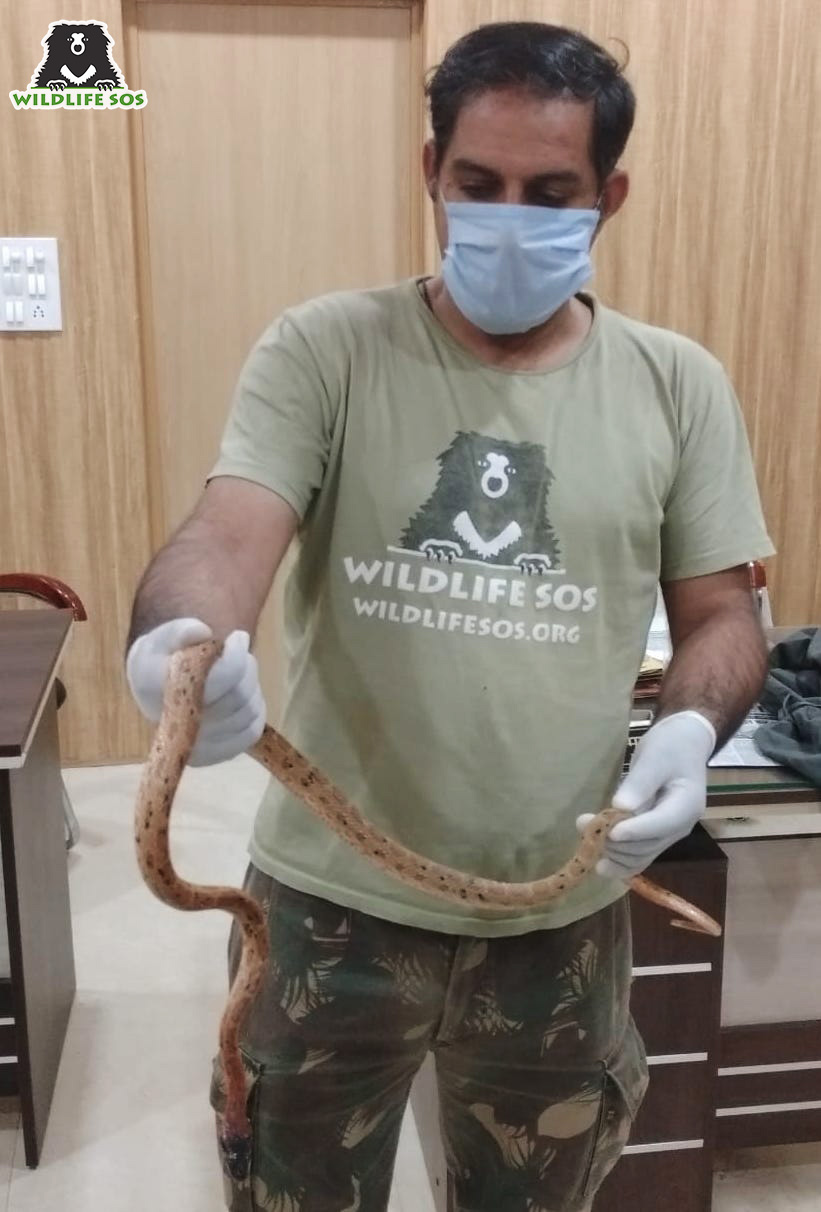 The organisation's 24-hour helplines continue to operate and have responded to an average of over 80 calls in Agra, Delhi and Vadodara since the lockdown was enforced. In Agra, amongst the many rescues were a Coppersmith Barbet that was found injured in Khandari Colony, a Wolf snake that was found stuck between a door in Sikandara and another snake was found inside a house in Runakta. One cobra was rescued from a storage room in a house in Shamshabad, while one Rat snake was rescued from a doctor's house in Dayalbagh. A 5 feet long Royal snake was found trapped in the IG office in Baluganj a couple of days ago, and despite it being midnight, rescuers reached the location with requisite equipment within minutes!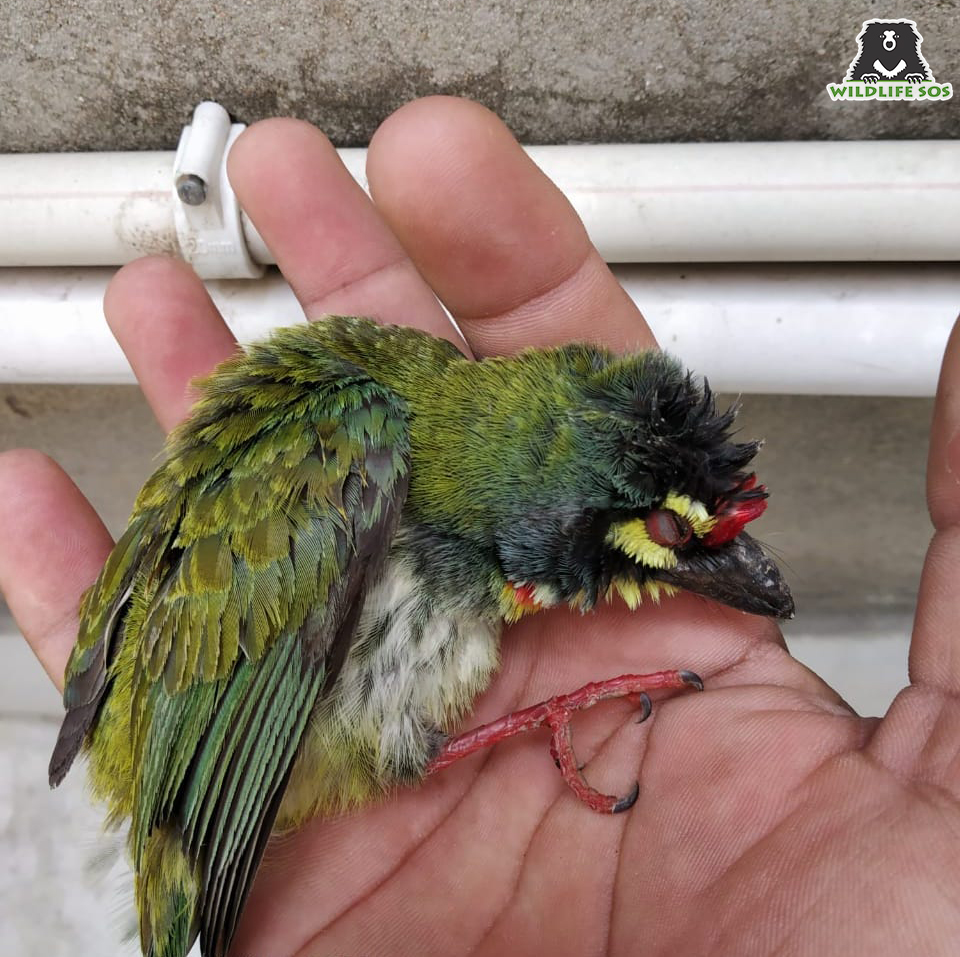 A Coppersmith Barbet was rescued by Wildlife SOS.
In Delhi, our teams have rescued 4 Wolf snakes from Najafgarh, Pitam Nagar, Tilak Nagar and Sarita Vihar, monkeys from almost every area of the city, a Black kite from Tyagaraj Marg, and a couple of injured peacocks from Greater Kailash. Apart from this, the team has also come to the rescue of a venomous 4-foot-long cobra that found itself stuck in a scooter by a temple priest along with a civet cat, rat snake and a wolf snake in various parts of the city.

Our rescue team in Gujarat has also been extremely busy rescuing birds, reptiles, monkeys and crocodiles in the time of the lockdown! The rescuers provided aid to 10 Cobra snakes, 5 Rat snakes, 2 vipers and 2 Banded Kukri snakes since the lockdown started. Apart from that, the team has also assisted over many bird rescues including pigeons, kites, sparrows, parrots and Koyal. The team has also rescued and rehabilitated crocodiles, monkeys, cats and squirrels in the past two weeks.
The rescuers have been stepping out every day and travelling long distances between locations within the cities. Schedules around the centres have been drastically changed to accommodate the finite resources at hand, while essential staff like rescuers and keepers continues duty on the ground, without resting. Keeping with health and safety guidelines, all rescue staff have access to gloves, face masks, alcohol based hand sanitizers and other necessary equipment to stay safe.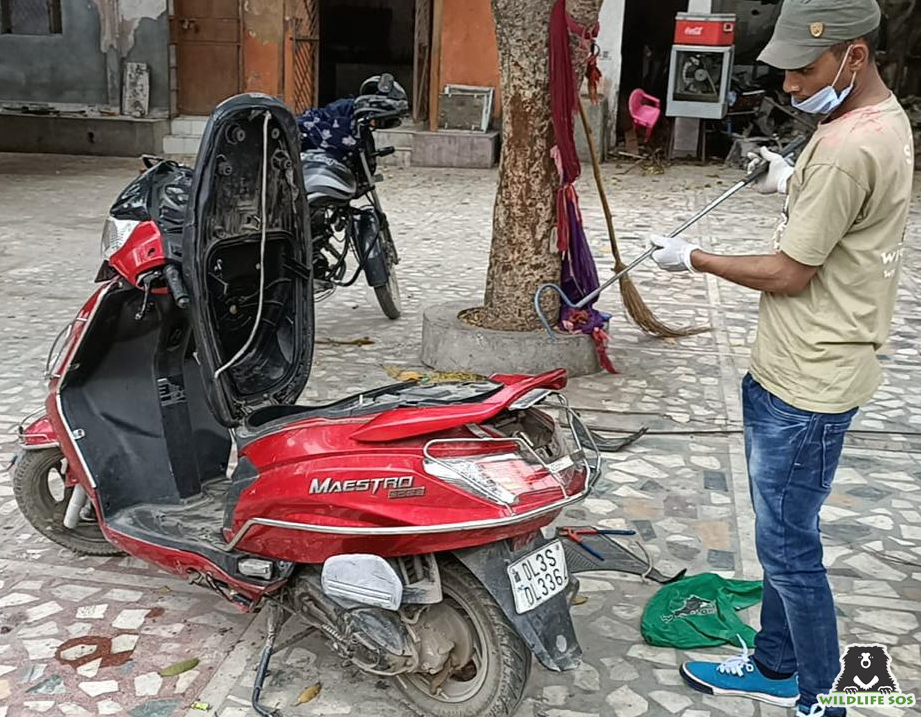 Wildlife SOS rescuers are continuing on their mission of saving every life in need, despite the nationwide shutdown.
These are trying times and it is best to stay indoors and stay safe by following guidelines set by the government. While we are trying our best to ensure no rescue calls goes unanswered, please remember it's essential to remain sensitive to the plight of people and animals during this crisis.

You can support Wildlife SOS' rescue efforts by donating face masks, hand sanitizers, fruits and vegetables, grains etc. through their 24 hour helplines (Delhi NCT: +91-9871963535, Agra: +91-9917109666 & Vadodara: +91-9825011117).