Not all heroes wear capes, some wear Wildlife SOS T-shirts and wake up every morning, ever-so-diligently to go check on the animals that they take care of – indeed, these are the unsung heroes of Wildlife SOS, they are the animal keepers at our rescue centres across the country. Hailing from different corners of the country, these men stand united on a front– their undying passion to take care of the animals, no matter what happens.
All over the globe, the outbreak of the coronavirus pandemic has led to an air of economic as well as emotional stagnation, with self-isolation and social distancing, a person could be under the same roof, yet away from the rest of the family members. Following the protocol to control this pandemic from gaining ground, the Government of India has issued strict guidelines for all citizens to adhere to during the lockdown, in order to prevent the country from entering third stage of community spread. In light of this judgement, all inter-state borders have been sealed and movement has been strictly restricted.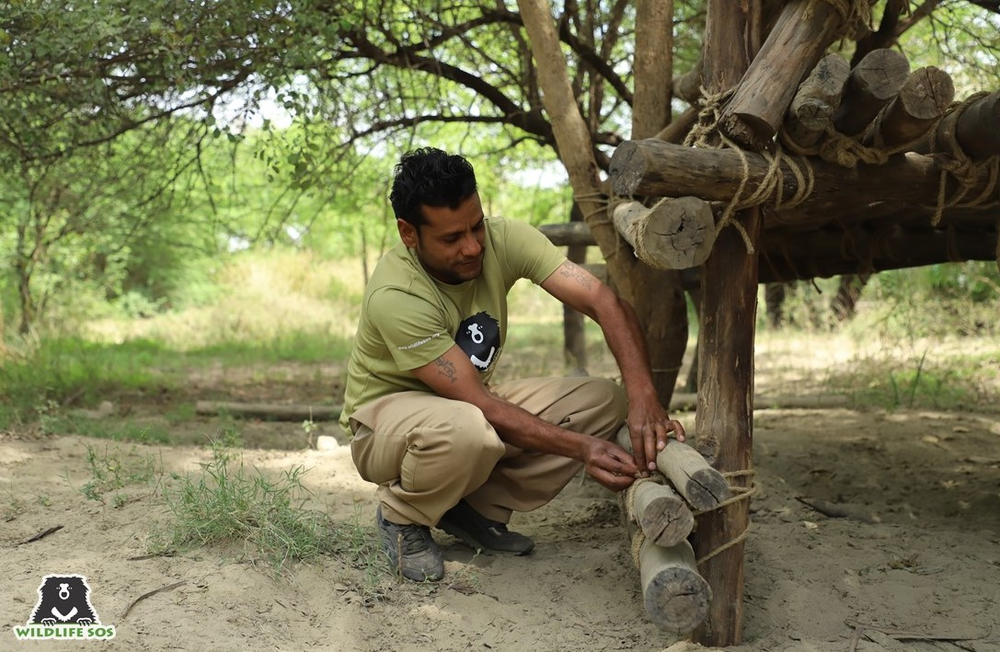 In troubled and dark times like these, the keepers at all rescue centres chose to not go home and instead stayed back with their rescued animals. Upon asking them why did they not go home to be with their family, Deenanath, one of our bear keepers at the Agra Bear Rescue Facility smiled and said, "My family back home still have each other's company, but our bears need us to be here for them. We are their family." These lines, said so causally, left a lasting impact.
"We often talk to our family on video call at night, after work and ask them how they are doing" said Satendra, who is another bear keeper at the Agra Bear Rescue Facility, known for his expertise in hand-rearing orphaned bear cubs, like Mowgli.
The bears are being served their daily porridge and fed fruits as a part of the usual routine; however, the gradually depleting resources and limited stocks stand as a cause of concern. In order to keep the bears occupied, our keepers come up with new and innovative ways to modify their enrichments and to make treats available to the bears. "We hide the dates and peanuts in different corners of the enclosures so that the bears have to dig them out! It keeps them entertained and helps us also to spend some more time in finding ways to keep them busy!" said Jay Prakash who takes care of 10 bears in their enclosure at the Agra Bear Rescue Facility and never lets them have their treat easily, always hiding them around on tree branches or deep inside the ground.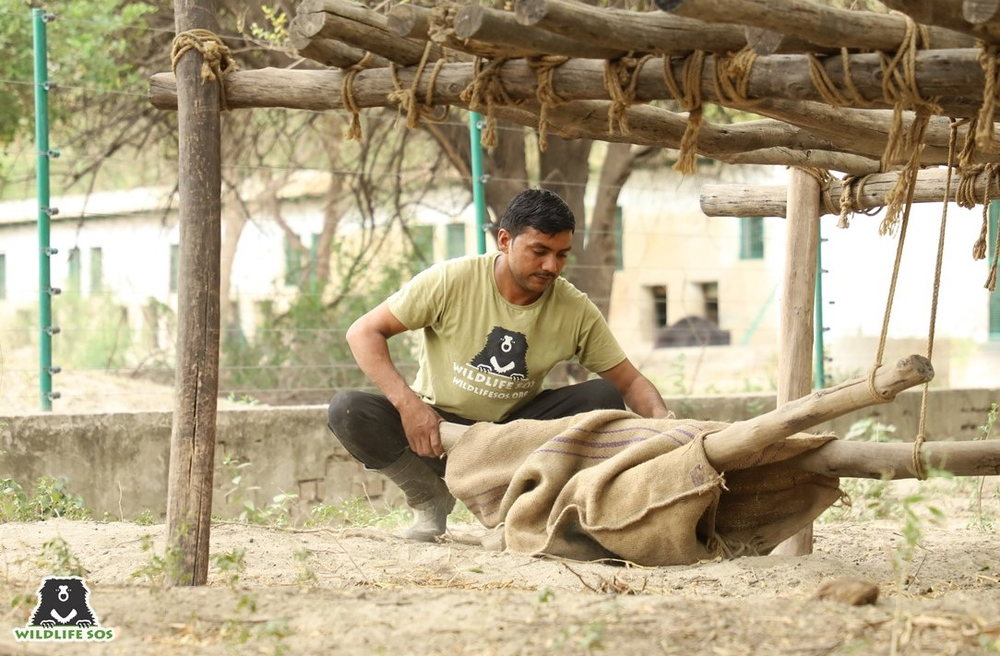 The keepers at all our rescue centres were given a detailed briefing on the intensity and severity of the Coronavirus pandemic outbreak, familiarising them with safety gears and protocols of social distancing and quarantine, but for them to leave their bears behind to go home was unthinkable. They wake up each morning, according to their routine, and clean the enclosures, ready the porridge and check on their bears. Choosing to stay with the bears to take care of them in these bleak times shows their deep attachment with the animals under our care.
Our elephant keepers are of the exact same opinion and opted to stay on with their elephants. They understand that the times of this pandemic, call for even more precautions, hence one will spot them squirting sanitiser onto their palms prior to each feeding for the elephants and diligently doing the same later. Raju, Holly, Kalpana and Karma's keeper, Surendra, adds, "I talk to my family twice a day and send them photos to assure them that I am fine. We support the Government in their decision and are very thankful to Wildlife SOS for taking care of us in these times."
Sanjay's keeper, Nekpal, checks on Sanjay , constantly worried about his health. "I am always worried about Sanjay, he is so calm and patient, he barely will show his discomfort unless I figure it out. I don't think I would have been able to stay reassured of his well-being while sitting at home" he states very matter-of-factly.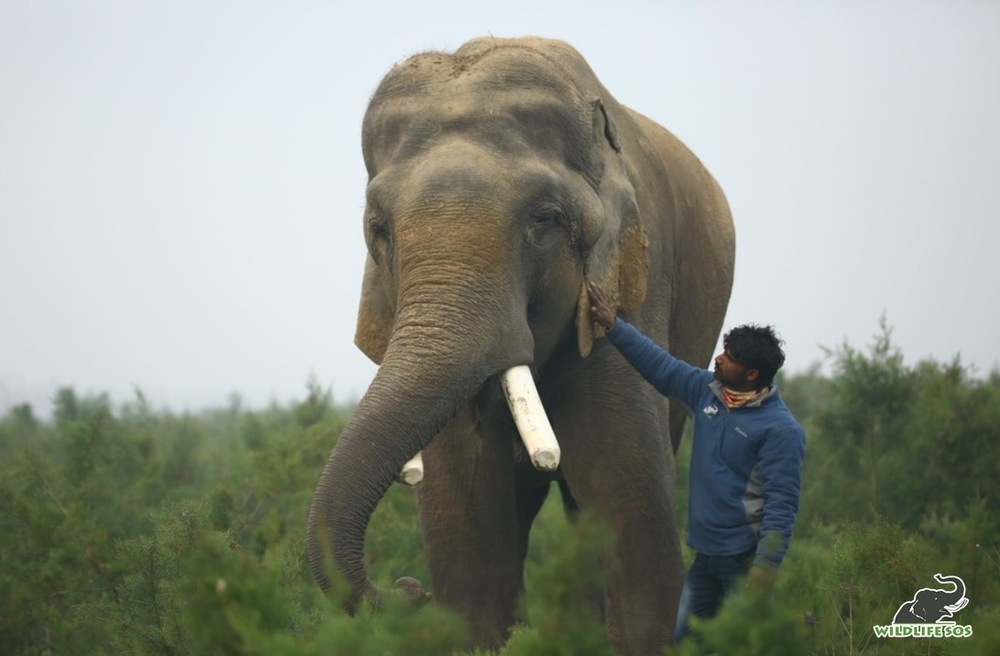 Even though, Maya and Phoolkali's keeper had to go home on precautionary measures, he is sure to call the other keepers who are looking after them now and asks for a detailed report on how they are doing! When we spoke to Munna, he said "Just because I am home does not mean that I will forget my elephants, they are a huge part of my identity and I miss them dearly. "
For our keepers at the Manikdoh Leopard Rescue Centre, in Maharashtra, the situation is upsetting as the highest number of coronavirus positive cases have come from this state and the healthcare services are hugely overburdened. Fortunately, the leopard keepers reside in villages close-by and are more than ready to go beyond the call of duty to regularly report to the Centre for cleaning and proper sanitisation of the place. They dedicatedly report for duty and keep the veterinarians constantly informed and updated on the health progress of the leopards, without fail. Jiya's keeper, Salim, speaks about the pandemic as he cleans her enclosure, "This virus is teaching us that we should be more respectful of animals and must not take nature for granted."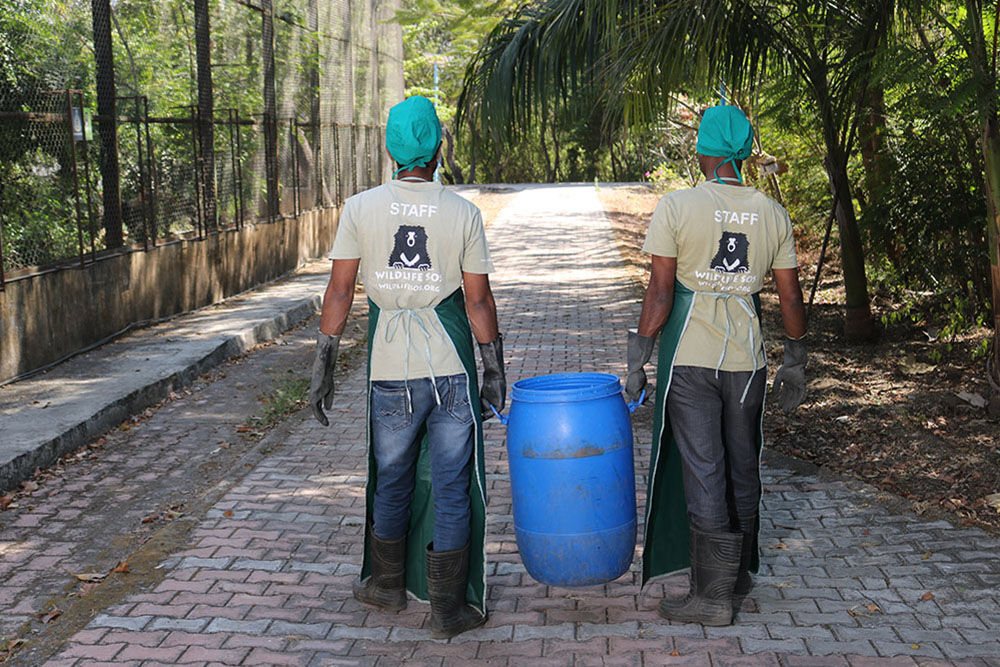 The leopard keepers are following all protective measures and are equipped with safety gear so that their health is not at stake. Their commitment and passion towards taking care of the animals makes our heart swell with pride that even in the darkest and most hopeless of times, they are reporting for work everyday and taking care of the leopards.
Each and every one of our animal keepers serve as true inspiration for us, as they work tirelessly in making sure that their animals do not suffer or bear the brunt of neglect during a global health crisis and the nation-wide lockdown.
For them, home is not only where they hail from, but also where they presently are, as they bathe their elephants, cut fruits for their bears or built enrichments for their leopards. For our heroes who are the heartbeat of the centres, home is where their animals are!