This year marked the 67th National Wildlife Week celebrations in India, observed from October 2nd to October 8th with an aim to generate country-wide awareness on the importance of all forms of wildlife and their conservation. A long-term ally of the mission, Wildlife SOS joined hands with various State Forest Departments to spread awareness about the challenges faced by India's urban wildlife and to encourage coexistence among humans and animals. As the 2021 Wildlife Week comes to an end, let's recap Wildlife SOS's bustling week:
Up in the northernmost state of Jammu and Kashmir, the Wildlife Protection Department inaugurated their Wildlife Week activities at the Sher-i-Kashmir International Conference Centre in Srinagar. Our team set up an awareness kiosk to highlight their vigilant conservation efforts in the valley. The kiosk was visited by over 100 guests, including several dignitaries who were keen on learning more about our endeavours to curb human-wildlife conflict and best practices to preserve the diverse fauna inhabiting the region. Amongst the dignitaries present was Sri. Manoj Sinha, the Lieutenant Governor of Jammu and Kashmir, who served as a chief guest at the inauguration. Lieutenant Sinha was gratified by our efforts and expressed his admiration for our cause and solidarity.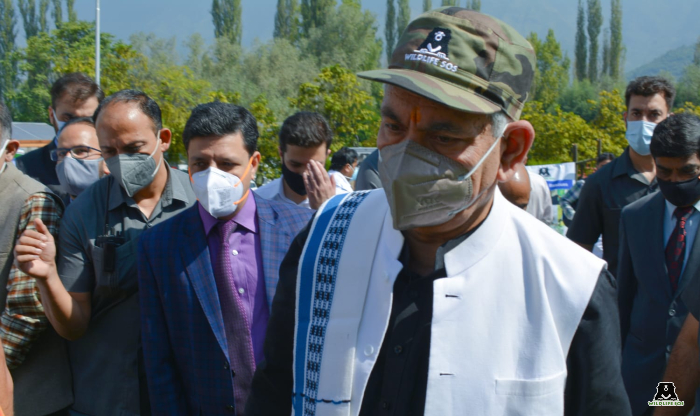 We also set up an awareness kiosk at the seminar organised by the Jammu and Kashmir Forest Department on forest biodiversity and climate change. The event conducted technical sessions on the impact of climate change, policy perspectives and discussed mitigation and adaptation strategies. The chief guest, Hon'ble Union Cabinet Minister of Environment, Forest and Climate Change, Sh. Bhupender Yadav visited the Wildlife SOS kiosk and was very eager to learn about our ardent efforts in curbing hostility against leopards.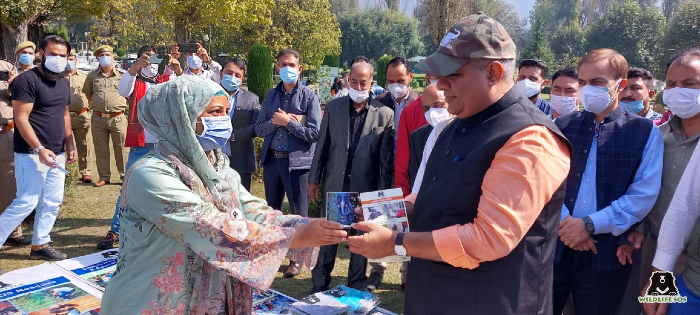 Read more about Wildlife SOS's leopard conservation initiative in the Kashmir valley: https://wildlifesos.org/chronological-news/wildlifesos-leopard-conservation-in-jammu-and-kashmir/
In Maharashtra, the Manikdoh Leopard Rescue Centre hosted two events in collaboration with the Forest Department. The event was held to familiarize our staff, forest officials and village rescue teams about human-wildlife conflict mitigation. The first session was held by Dr. Sadanand from the Forest Department, who demonstrated the do's and don'ts of snake bite cases and the precautions one should take to avoid such situations. The second session was led by Wildlife SOS's very own Dr. Nikhil Bangar who talked about leopard activity in the Junnar area and the various precautionary measures they must implement to minimise hostility against the felines.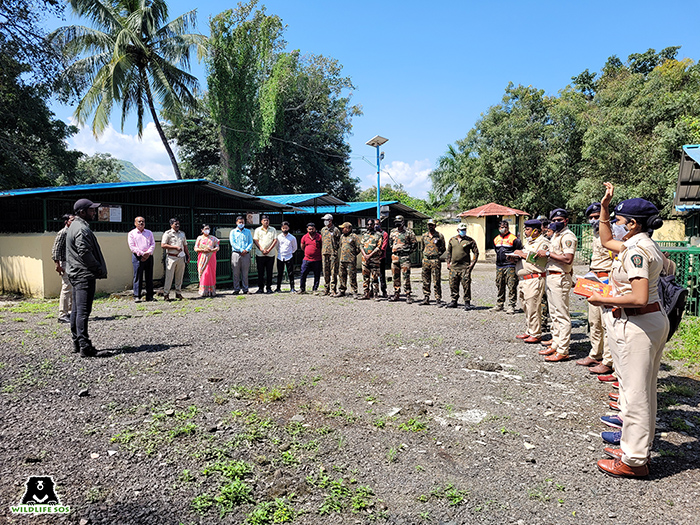 Read more about snake bite do's and don't's: https://wildlifesos.org/chronological-news/so-you-found-a-snake-in-your-house-heres-what-you-should-do/
The team also organised an interactive discussion on the leopard conflict in the region with students and teachers of Shiv Chhatrapati College's zoology department and research centre.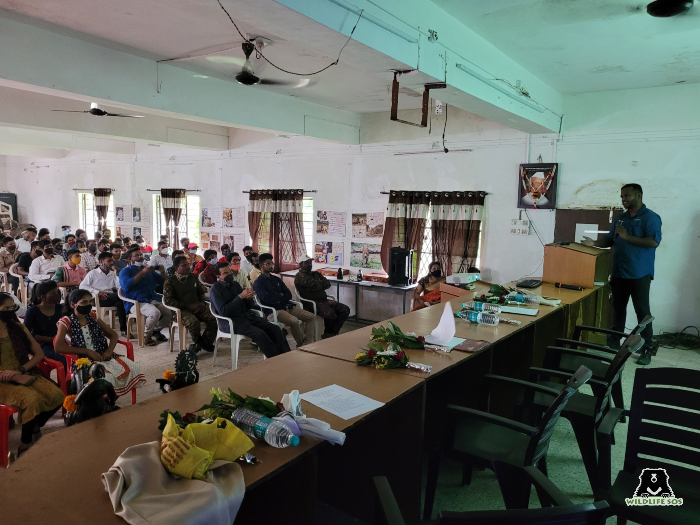 Meanwhile, down south in Karnataka, the Wildlife SOS team hosted a team of employees from Tata Global Beverages Limited at the Bannerghatta Bear Rescue Centre. Following a brief orientation session where the guests had a chance to learn more about the meaningful work done at our facility and the cruel history behind the Dancing Bear practice, they were given a tour of the bear enclosures, the hospital area and even our eco-friendly bear kitchen. After the tour, the group lent a helping hand to our staff in de-weeding inside the enclosures and installing two wooden structural enrichments for the bears.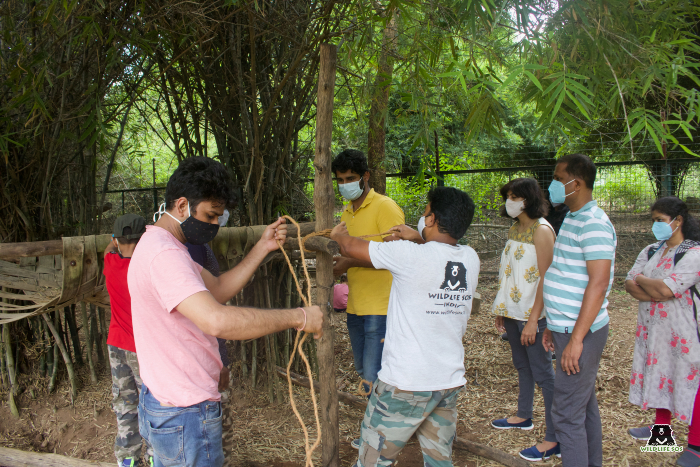 The BBRC team also organised a cleanliness drive where volunteers contributed to planting trees and making fun enrichments.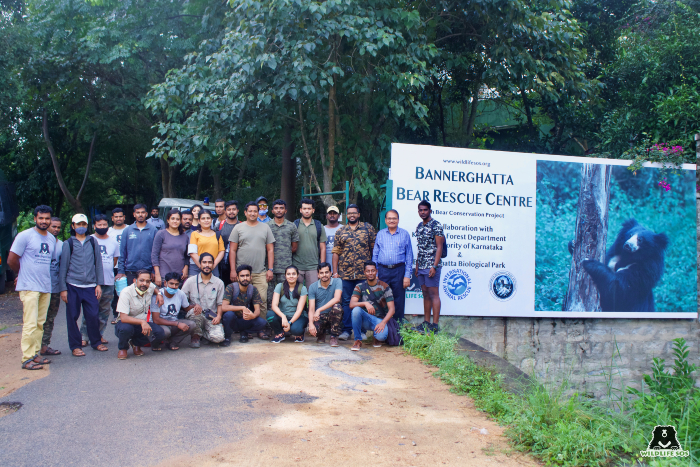 This year, we also roped in the Kalandar children to participate in various activities organised for Wildlife Week and asked them to share their experiences with us. Zeba, a young beneficiary of our rehabilitation programme participated in the mehendi drawing competition organised by her school, where she opted to honour Wildlife SOS's noble efforts by drawing a Barasingha (swamp deer)on her palm.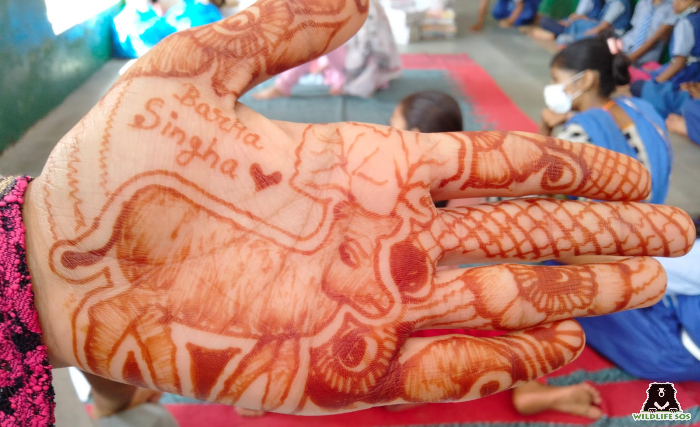 Zeba's education wouldn't be possible because without your generous donations. Help support our efforts to rehabilitate the Kalandar Community. Consider contributing to our mission: https://give.wildlifesos.org/page/16138/donate/1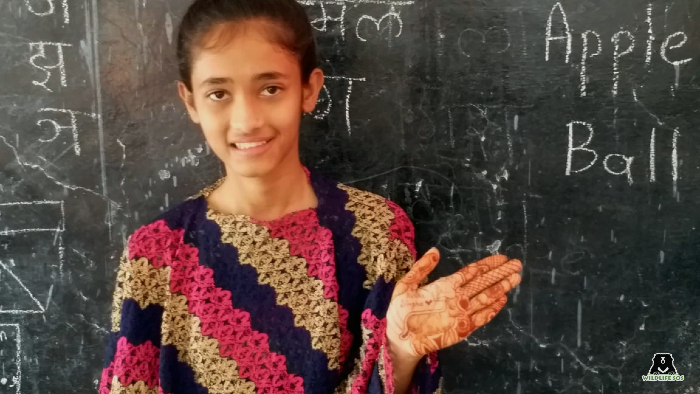 Our diverse flora and fauna play a significant role in maintaining the ecological balance and contribute to the human quality of life. Unfortunately, as a result of rapid urbanization, and habitat encroachment, our wildlife population is rapidly depleting. Wildlife Week aims to spark a movement that will sow the seeds of empathy and initiate a nation-wide momentum to take necessary action to safeguard India's vanishing wildlife.