The Maharashtra Forest Department recently organised a training program for their new recruits at the Manikdoh Leopard Rescue Center, run by Wildlife SOS in Junnar. The program was attended by 140 young officials who were accompanied by Deputy Conservator of Forests Junnar Mr.  A. P. Mhase, RFO Jayavant Pisal and ACF Mr. Yuvraj Mohite.
Wildlife SOS Senior veterinarian Dr. Ajay Deshmukh and Veterinary assistant Mahendra Dhore started the day long session by taking the recruits for a tour around the centre and of our  large free range enclosures which currently houses 34 rescued leopards. The staff discussed leopard management techniques and treatment procedures that are carried out at the centre. This was followed by a presentation about the work done by Wildlife SOS to protect and conserve wildlife across India.
In order to tackle the issues of human-leopard conflict it is crucial to first understand this majestic feline and its behaviour patterns. Leopards are a highly adaptable species, a trait which has helped them survive the threat of decreasing habitat better than most wild animals that reside the rapidly shrinking scrub forests of Maharashtra. However, this often gives rise to conflict situations as they are forced to venture into human territory in search of easy prey such as goats, cattle and dogs.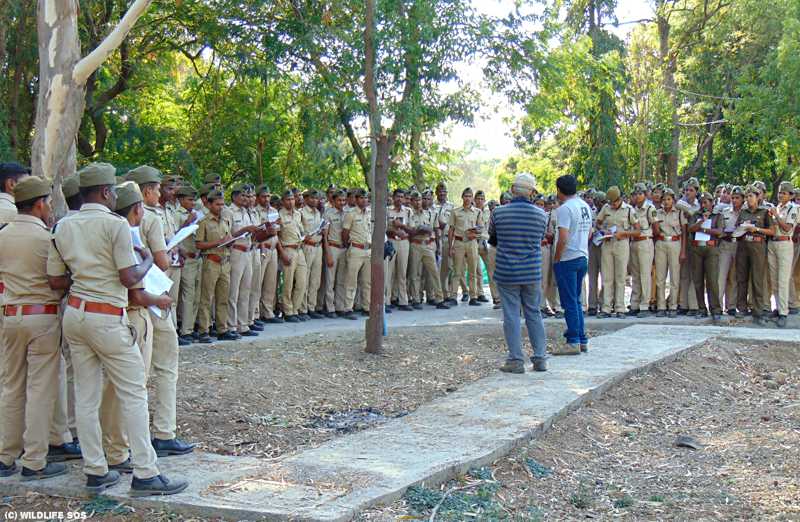 In order to reduce such encounters that tend to affect the lives of both humans and leopards, we believe that it is imperative to work with communities living near wildlife habitats to raise awareness and sensitize them towards the animals that they share their surroundings with.  Dr. Ajay helped spread awareness across villages by educating students and local communities about leopards and shared various strategies for conflict mitigation. He advised putting up signs and distributing pamphlets.
The team then talked about the various factors that come into play while carrying out a rescue operation as sensitive as one involving a leopard; how important it was to control the crowd, the dangers of leopards that have fallen into wells, the satisfaction of reuniting lost leopard cubs with their mothers, and post rescue treatment procedures for animals injured by panic-striken villagers. They also demonstrated techniques of trapping and releasing leopards in distress. The program also focused on developing communication skills in the field to help the Forest Department rescue teams to be better equipped for such operations.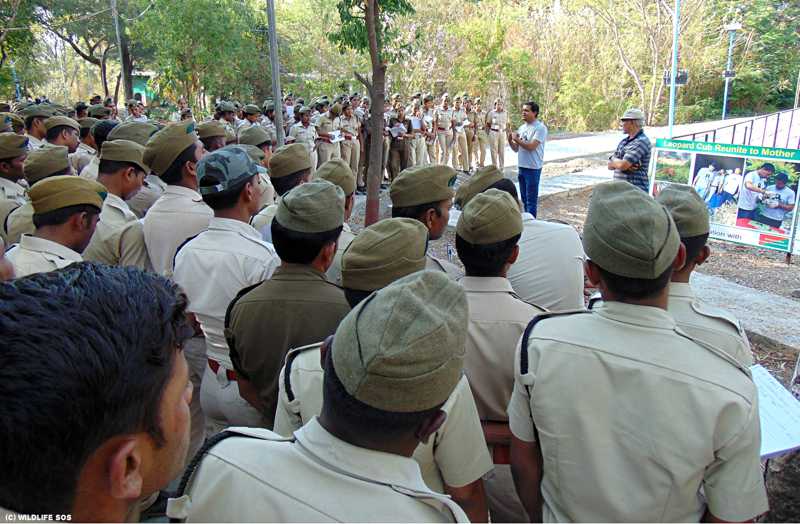 The Wildlife SOS team at MLRC works closely with the Forest Department and assists their officials in carrying our rescue operations throughout the state. The young recruits were excited to be a part of the training program and expressed their eagerness to make a difference and to help protect and promote the natural heritage of the state.