July 24 Update: Last week we held a ceremony to remove Gajraj's bell as a symbolic way to complete his journey to our Elephant Conservation and Care Centre (ECCC) in Mathura, ushering in his retirement and fully closing the circle on his previous life. In the photograph above, Kartick Satyanarayan smiles for the camera after removing the bell.
One month since Gajraj arrived at the ECCC, this wonderful elephant is settling in and slowly getting accustomed to his new life at the rescue centre. Transitioning into a new place is never easy, particularly for an elephant that has spent a large portion of his previous life in the same place, but Gajraj has taken to the staff and environment at ECCC with ease. Reciprocally, the Wildlife SOS veterinarians and keepers have also slowly gotten to know Gajraj better and are gradually getting to understand his likes and dislikes and his behaviour, making it much easier to care for him and ensure he is comfortable and happy.
Life in captivity can be extremely stressful and detrimental to an elephant, and takes a severe toll on the animal's mental and physical health. At ECCC, Gajraj has discovered the joys of space to roam and his very own private pool to lounge about in and relax, in a completely stress-free environment. Although he was initially wary about entering the water, we eventually managed to coax him in with bananas and muskmelons, and once inside, he was quick to realise just how wonderful it feels to be completely submerged in the pool – not just because the water is cool and soothing, but because of the weightlessness he probably experiences that takes the strain off his legs and extremely worn out feet.
Another thing the elephants can take time to get accustomed to is a new diet – as their meals in captivity are generally unvaried and rarely nutritious. However, to ease the transition, Gajraj is still getting a large amount of the staple diet he was used to in captivity – sugarcane – and we are gradually introducing other varieties of fresh green fodder crops into his diet. He also gets a delicious array of seasonal fruit including mangoes, watermelon and bananas, as well as corn and pumpkin. Gajraj has been prescribed nutritional supplements by our vets that he receives daily to complement his diet and promote his recovery.
After letting this beautiful tusker settle down into his new home, the veterinarians at ECCC got started on checking his wounds thoroughly and determining the best possible course of action for his treatment. The painful abscess on his right hip has reduced slightly since we first started treating him, and the vets are happy with the progress even as they continue draining and disinfecting the wound regularly. Standing on unnatural surfaces for long periods of time has led to Gajraj's footpads wearing out, which can be exceptionally dangerous for an elephant – making him prone to developing wounds and abscesses underfoot. When he came to us, he already had an abscess on the median aspect of his left hind foot and another on the footpad of his right forelimb. We are treating these as well, whenever he feels comfortable enough to allow us access to his feet, while also introducing him to the safe and humane process of target training which will in the future allow us to easily treat Gajraj's feet and carry out a host of other treatments with his happy and willing cooperation. Gajraj is an extremely smart elephant and has taken quickly to the basic stages of target training, so we're proud to say that we can see him progressing pretty fast in his training – which will soon make it much easier for us to treat the abscesses under his feet.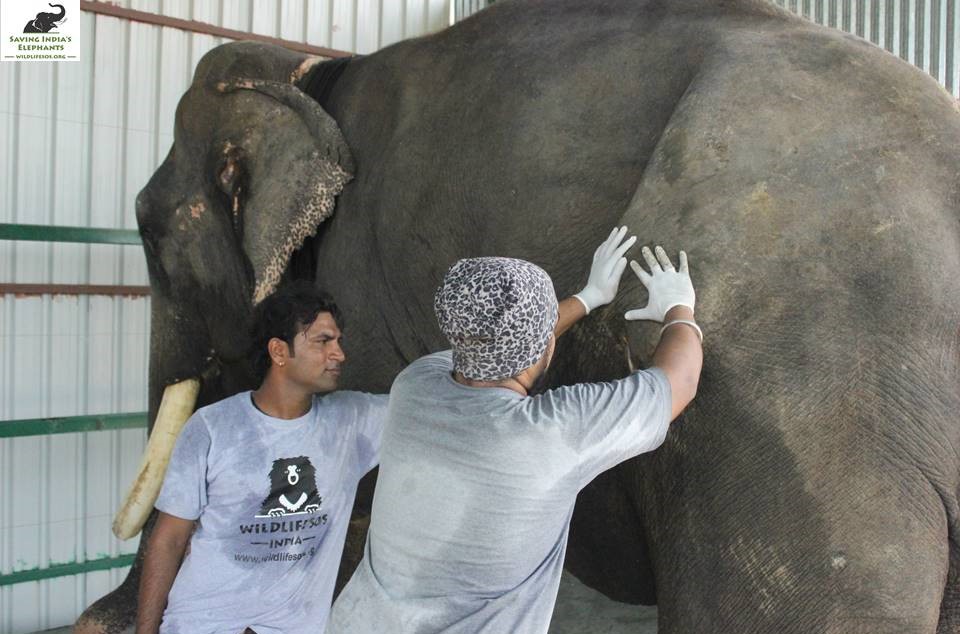 As part of his preliminary examinations, which included testing blood, urine and faecal samples, our veterinarians also took an x-ray and thermal radiograph of Gajraj's feet that yielded troubling results. The visible deterioration of his footpads and his cracked and overgrown toenails were only the beginning of Gajraj's foot-related woes – long term nutritional deficiency, standing on hard flooring and limited exercise coupled with a lack of footcare had caused Gajraj to develop osteolytic changes in the bones in his toes, weakening them to the point where one of the bones in the foot of his left forelimb showed a fracture, possibly aggravated by the excessive pressure on his nail bed by the overgrown toenail. Unfortunately, the condition is chronic and cannot be cured, but the vets will be doing everything in their power to control it and prevent further deterioration – he'll be getting regular footcare, have access to a soft mud bed and ploughed mud floor to walk on and free access to his pool to take the pressure of his ailing feet.  He is also getting calcium, phosphorous and D3 supplements to support the treatment he is receiving along with painkillers to minimize any pain he is experiencing.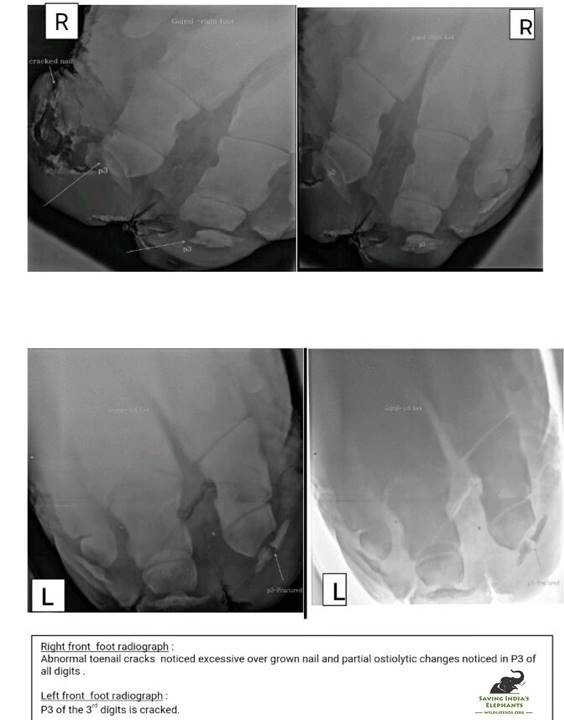 Now that he is a little more comfortable in his new home, Gajraj has even started lying down and getting some rest! Once the sun goes down, this majestic bull will often lie down against the mud beds that we create for him every day and take a nice relaxing nap.
After his initial period in quarantine, Gajraj will soon start going out on walks with his mahout, and get a chance to explore the sights and sounds of his new home beyond his spacious enclosure. This couldn't come at a more perfect time, with the rains just beginning in Mathura, and the elephants' walks covering a vast expanse of lush green vegetation, and an array of exciting flora and fauna for Gajraj to discover and investigate! While the concerns regarding the condition of his feet might keep Gajraj from going on long walks immediately, we know that when the time comes, he will take as much delight in the free space to roam and wander just as much as all our other elephants do.
Please consider making a generous donation to support a healthy future for Gajraj: bit.ly/2sWMnV7