Mohan gently lets his head sink below the cool water, loving the calming sensation of the water around him and the weightlessness of his body in the pool. His trunk pokes out from among the ripples at the water's surface, like the snorkel of a diver, sucking in the crisp morning air. The pool is gradually becoming Mohan's favourite place in his new home at the Elephant Conservation and Care Centre, Mathura, and he expresses his delight with a soothing, low rumble.
Mohan has been at ECCC since the successful and incredibly happy ending to our long and tumultuous rescue efforts to get him, the world's "unluckiest" elephant to safety. It's been exactly two weeks since he stepped off the Wildlife SOS Elephant Ambulance and onto the welcoming soil of the elephant centre, and Mohan seems to be adjusting with a graceful ease.
His first morning at ECCC, Mohan went for a long walk and discovered the unsurpassable joy of ambling freely through open spaces, stopping only occasionally to investigate an exciting new smell or sound with his inquisitive trunk, or to indulge in a good scratch against a nice sturdy tree! He has discovered the simple pleasure of a good dust bath, and seems blissfully happy, strolling leisurely along, and seemed at peace with the world. Both the pool and his walks provide Mohan with the necessary natural stimulation and enrichment (besides the man-made enrichments we provide each of the elephants in our care) he requires to keep him active and healthy, and to heal the emotional and psychological scars of his former life.
At ECCC, Mohan gets a special diet of fresh green fodder and seasonal fruit, to help him put on weight on his gaunt frame, supplemented by nutritional supplements that have been prescribed by the Wildlife SOS veterinarians to help boost his recovery. Although pitifully thin after his more than fifty-five years of starvation and neglect, Mohan is taking his first steps on the road to good health – and seems to quite enjoy both his fodder and the fruit, with a special fondness for watermelons!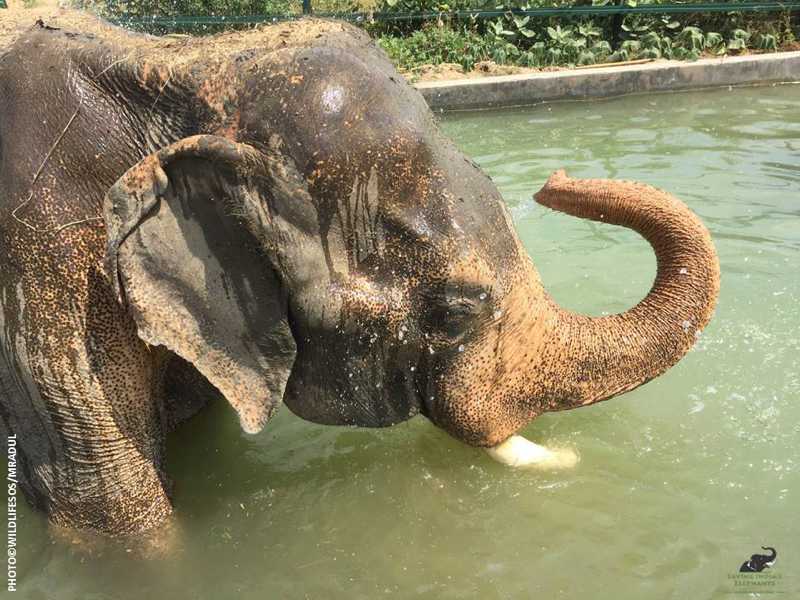 Of course, his lifetime of abuse has mandated a strict veterinary treatment regime for Mohan, and veterinary staff at ECCC was hard at work from the outset, creating a treatment chart and getting started on his medical care. Mohan's feet are in a terrible state, requiring intensive foot-care by way of regular medicated foot-soaks, accompanied by trimming of his cracked nails and overgrown cuticles. The swellings on his limbs will be soothed and healed with medicated balms, and we look forward to seeing Mohan walking comfortably, and with ease – but till then, he has the pool to help temporarily take the weight off his worn out limbs. Every abscess, cut and wound on Mohan's body has been identified and checked thoroughly, and each will be carefully disinfected and cleaned out till it heals over. The partial cloudiness in his right eye, indicative of the onset of visual impairments due to malnutrition and injury, is being treated as well, and the vets are hopeful that his sight can be restored.
Mohan's preliminary veterinary reports revealed shocking results that reaffirmed our worst suspicions about the cruelty and neglect he had incurred at the hands of his previous owners – he had a parasitic worm infestation and appeared to be having trouble with his liver as well, likely due to improper nutrition, generalized inflammation and dehydration. As a result, since he came into our care, Mohan has been dewormed and started on liver tonics.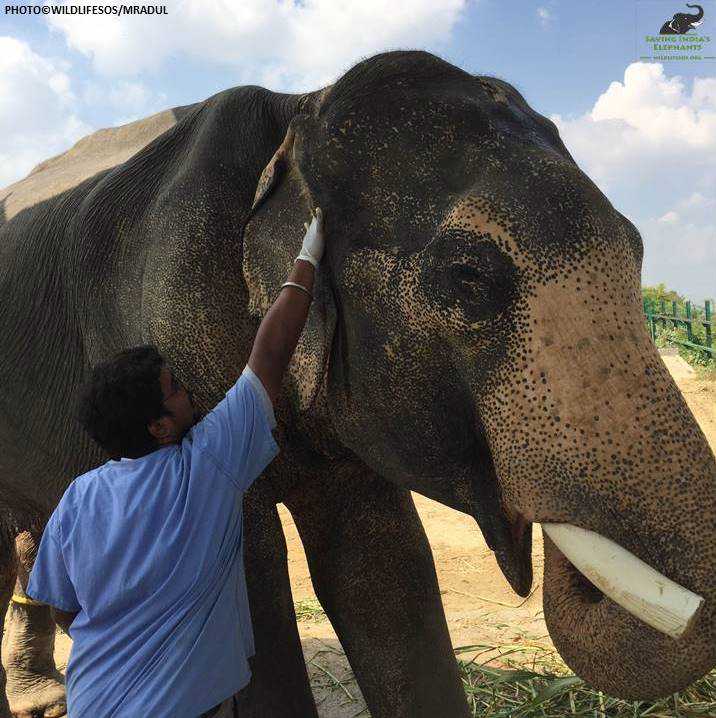 The ability to interact with others of his own species will be instrumental in Mohan's mental and social well-being, and we are eager for him to meet our other wonderful rescued elephants. However, for the time being, Mohan will be given time to adjust to his new life and surroundings, and begin recovering from his physical ailments, following which we will gradually begin introducing him to the herd.
Luckily, Mohan is in good hands now, and the staff at ECCC is dedicated to his care and determined to do everything they can to help him recover from the trauma of his past. While he slowly but steadily makes his way along the path to a full recovery, Mohan will have the comfort of knowing that there are gentle human hands to help him along, and the freedom to finally just be an elephant – a right he has been denied for his entire fifty-five years in captivity.
You can donate towards his on-going care and treatment HERE.